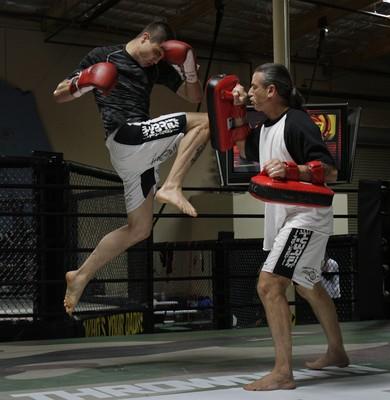 Carlos Condit's intensity and devastation inside the World Extreme Cagefighting cage has earned him the nickname "Natural Born Killer."
It's not the moniker you would expect for a quiet kid from Albuquerque whose father, Brian, is the deputy chief of staff to Bill Richardson, New Mexico's governor and a Democratic presidential candidate.
But Condit becomes someone else when he steps into the cage, a persona that will be on display when he defends his WEC welterweight title for the first time tonight at the Hard Rock.
"Outside the ring, I'm a pretty laid-back guy. I'm very respectful. But when I get in the ring, I'm just about business, and that's my game face," Condit said of his demeanor.
Though he's only 23, Condit has been an active fighter, posting a 20-4 professional mixed martial arts record while bouncing around several smaller promotions. But he thinks he has found a home in an organization that is also coming into its own.
"It's nice to be in the WEC. It's cool to have a home, but it's also cool to have a home in such a great organization," he said. "They are helping me get recognition, and I'm going to go in there and fight my ass off every time and hopefully make exciting shows and make people want to watch the WEC."
It will be a new feeling for Condit to step into the cage as a champion, though.
"I always fight like I have nothing to lose. I have the belt now, so technically I do have something to lose," he said. "But people don't want to see somebody going in there (just trying to) keep their belt by any means necessary, so I'm going to go in there and take the fight to (him)."
Condit will meet Brock Larson, an Ultimate Fighting Championship veteran and highly skilled grappler. Larson has been impressive since joining the WEC, scoring first-round stoppage victories in each of his two fights, including a technical knockout of Kevin Knabjan at the Hard Rock in June.
As for Richardson, he has watched Condit fight but is busy now on the campaign trail.
"But he always wishes me good luck and tells my dad to wish me good luck," Condit said.
The WEC's vacant middleweight championship also will be determined with Pride veteran Paulo Filho putting his undefeated mark up against Joe Doerksen.
Filho (14-0) may be one of the top middleweights in the world in any organization, but the Brazilian has not fought in the United States
Filho's fellow Brazilian Top Team mate, Anderson Silva, has the UFC's middleweight title, which probably is the reason Zuffa — the promotional company that owns and operates UFC, Pride and the WEC — chose to place Filho in the WEC instead.
Sherron Leggett will meet Jamie Varner to establish one of the two as a contender for the WEC lightweight championship.
Jeff Curran returns to the WEC to take on Stephen Ledbetter in a featherweight bout.
One of the five nontelevised bouts carries local interest as Las Vegan Blas Avena finds himself in an odd position: Like many up-and-coming fighters, Avena maintains a day job. In addition to training, he has spent the last two years as a security guard at the Hard Rock.
He will be going to his place of work tonight as usual. The difference is he will be trying to win a fight instead of maintaining order at the property.
"As long as it's organized, it's OK," Avena said jokingly.
The bout will be Avena's second WEC fight at the resort. He fell to 4-1 in his professional MMA career with a third-round technical knockout loss to Logan Clark in January but thinks he is much better prepared this time.
"I let the pressure get to me a bit too much," he said. "I am a little more relaxed this time and I will be ready."
Avena eventually hopes to make fighting his full-time profession and, perhaps, to one day open a gym to teach MMA.
The card will begin at 4 p.m., with the televised portion on Versus (Cox 67) airing at 6.