Wranglers don't bring back Mougenel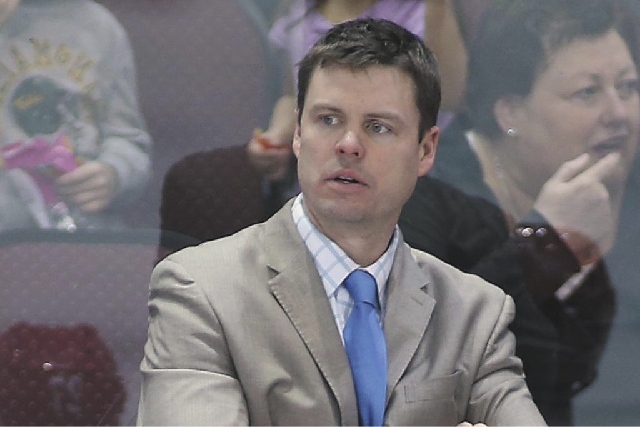 Less than a year after guiding the Wranglers to the ECHL Kelly Cup Finals, Ryan Mougenel's four-year tenure as Las Vegas' coach and general manager is over.
The 37-year-old Mougenel, who compiled a 151-111-26 record after replacing Dallas Stars coach Glen Gulutzan as the Wranglers' coach and GM in 2009, won't return for the 2013-14 season, the team announced Tuesday.
"We decided not to offer him a new contract," Las Vegas owner Gary Jacobs said. "He gave us a great four years, but it's time for another person's opportunity."
The Wranglers went 37-30-5 (79 points) this season before losing in the first round of the playoffs — in seven games to the Stockton Thunder — for the third time in four years.
"We're all very disappointed this year with getting bounced in the first round," Jacobs said. "We thought the team would do much better, especially after last year having the opportunity to go to the Finals."
Las Vegas squandered leads en route to overtime losses in the first two games in Stockton and blew a 3-0 third-period lead there in Game 6, but Mougenel said he thinks he would have been gone even if the Wranglers had won the ECHL title this season.
"I don't think it would've been different if we won it," he said. "I think they were ready for a change, and I was ready for a change.
"I'm thankful for the opportunity they gave me. I had a lot of success here, not just in wins and losses, but a lot of my players had career years and moved on to the American (Hockey) League. I can be proud about that."
Las Vegas team captain Mike Madill sounded stunned Tuesday shortly after learning that Mougenel would not return next season.
"I'm surprised. It's crazy. It's always sad to hear stuff like that," he said. "We had a great relationship. He knows everything about your personal lives, too. He knew my family, and I knew his. He's a great person.
"He was a player's coach, for sure. He connected with everyone."
The team hasn't named a replacement but plans to do so in short order.
"We're going to do this as quickly as we can," said Jacobs, who declined to name any candidates. "We want to give the new person a good opportunity to recruit and get people together for next season."
Mougenel came to Las Vegas after four years as an ECHL assistant under Stockton coach Matt Thomas. He'll leave with fond memories of a city where his wife, Kim, gave birth 13 months ago to their first child, daughter Reese.
"It's a little bit disappointing we couldn't get something done," Mougenel said. "I do have a young family, and we have made our home here in Las Vegas.
"I'm a passionate guy, and I gave everything I could to Las Vegas. It's been an awesome place for my family."
Madill played for Mougenel and Gulutzan, who coached the Wranglers in their first six seasons and guided them to the Kelly Cup Finals in 2008, when they lost in six games to Cincinnati.
Las Vegas fell to Florida in five games last season.
"They were totally different coaches," Madill said. "Mouge is probably a little more emotional than Gully, who is more reserved."
Gulutzan coached Texas of the AHL for two seasons before the Stars hired him. Mougenel would love to follow a similar path.
"I want to get to the next level," he said. "This has definitely prepared me."
Contact reporter Todd Dewey at tdewey@reviewjournal.com or 702-383-0354.