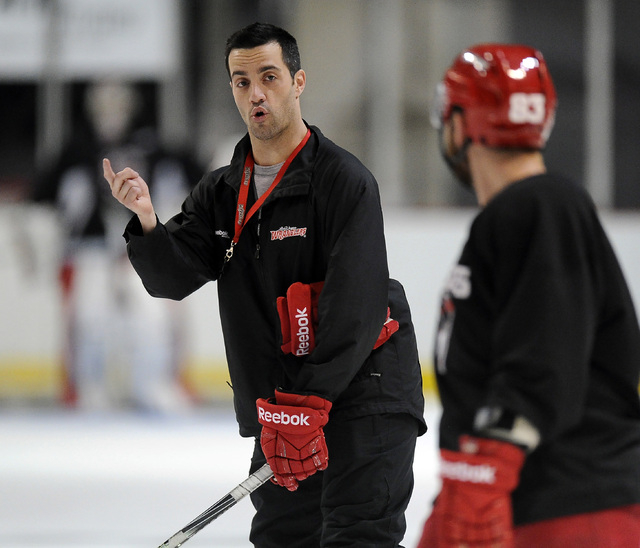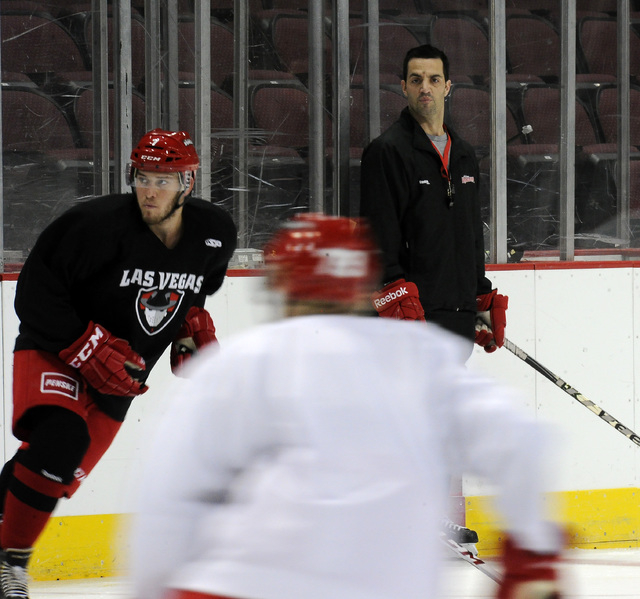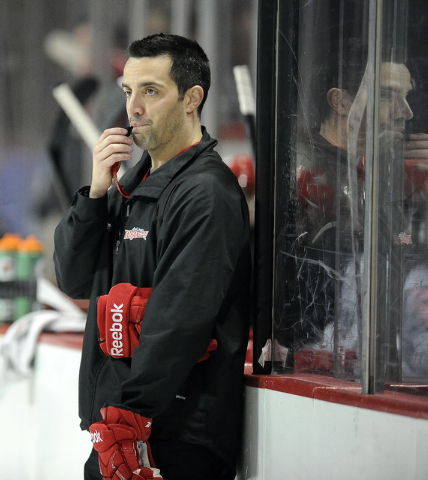 Skill wasn't enough for the Wranglers to overcome will last season, when Las Vegas lost in the first round of the playoffs for the third time in four years to eventual ECHL Western Conference champion Stockton.
Will shouldn't be a problem for the Wranglers this season, their 11th in town, as they're expected to feature perhaps their toughest team yet under first-year coach Mike Madill. The former Las Vegas defenseman and team captain will make his coaching debut tonight in the season opener against the Utah Grizzlies at Orleans Arena.
"I think we'll have a lot more grit this year," said the 31-year-old Madill, who as a player helped lead the Wranglers to the Kelly Cup Finals in 2008 under former Dallas Stars coach Glen Gulutzan — now a Vancouver Canucks assistant — and in 2012 under Ryan Mougenel, the coach he replaced.
"We didn't have a lot of players like that last year," Madill said. "We had a lot of speed and talent, but we fell short in the playoffs when it came to grinding out a goal. We've got a lot of fight in this team and no quit. I'm pumped. I love our team."
While Las Vegas was outscored 14-5 during an 0-4 preseason, Madill and his players aren't concerned.
"I could care less about that. To me, they're practices," said Madill, a former ECHL All-Star. "Four games in five nights in three different states, that's a tough thing for anybody. I'm not worried at all."
Veteran team tough guy Adam Huxley, who will serve as a player-assistant coach this season, said he was encouraged by the way players stuck up for each other in the preseason.
"We lost four games, but there were a ton of positive things that weren't happening the last few years," he said. "There's not just one or two guys fighting for each other when there's a dirty hit.
"It's going to be a whole different look for the Wranglers. We've had some pretty good teams here, but I think this is the grittiest team we're going to have. Our team toughness has doubled."
Las Vegas, which went 37-30-5 (79 points) last season before losing in seven games to Stockton, lost its top four scorers in Andrew Sarauer (62 points), Scott Pitt (53), Judd Blackwater (50) and Eric Lampe (49) but is expected to feature a more balanced attack.
"We've replaced some great players with guys almost as talented but way grittier," Huxley said.
Local product Chris Francis, an ECHL All-Star last season, is the team's top returning scorer (21 goals, 48 points) and the Wranglers also brought back forwards Robbie Smith, Geoff Paukovich and Adam Hughesman, who is expected to return within two weeks from offseason knee surgery.
Joining the team up front are newcomers Chad Nehring, Cody Purves, Geoff Irwin and Matt Tassone. Nehring and Purves spent last season with Arizona of the Central Hockey League, with Nehring netting 33 goals and 57 points. Irwin had 19 goals and 48 points for Ontario in 2011-12, and Tassone saw action in the American Hockey League last season.
"We've got a lot of guys that'll chip in goals and also go in the corner and run some guys if they have to," Francis said. "It's going to make us a tough team to play against."
Former NHL goalie Ilya Bryzgalov signed a tryout agreement with the Wranglers and took part in training camp, but the Russian didn't appear in any exhibition games before leaving the team on Thursday. It's unclear if he has any NHL offers, but the Edmonton Oilers scouted him in Las Vegas.
Goalie Mitch O'Keefe returns to the Wranglers and will share time in net with Travis Fullerton, a rookie from the University of New Brunswick.
Veteran Charlie Cook returns to anchor a defense featuring returnee Nolan Julseth-White and former Las Vegas players Jeff May and Eddie DelGrosso, a local product.
"We have speed up front, grit up front, good goaltending and a strong corps of defense back there. Guys can play physical and move the puck," Cook said. "It's all about getting the ball rolling in the right direction. If we have a good start, I think we can have a great season."
Setting some boundaries as the boss, Madill won't be sitting in the back of the bus playing cards with the boys or handing out free haircuts anymore, but that's understood by his players, who have the utmost respect for him.
"It's been a seamless transition for him so far," Cook said. "I know all the guys respected him as a player, captain and leader, and that translates right into the qualities you look for in a coach."
Madill, whose twin brother and father are former hockey coaches, wants his players to focus less on systems and more on supporting each other.
"Picking each other up when they fall," he said. "That's the biggest thing I want to look for this year."
Contact reporter Todd Dewey at tdewey@reviewjournal.com or 702-383-0354. Follow him on Twitter: tdewey33.
LAS VEGAS VS. UTAH
WHERE: Orleans Arena
WHEN: 7:05 p.m. today
TV: KVMY (12)