Inland port could speed delivery of goods to Strip, clear truck traffic
February 15, 2016 - 4:08 pm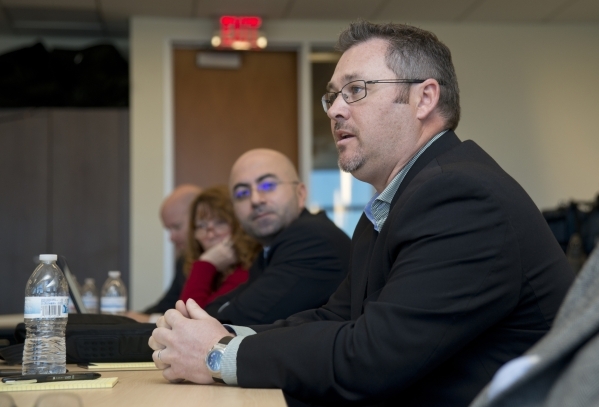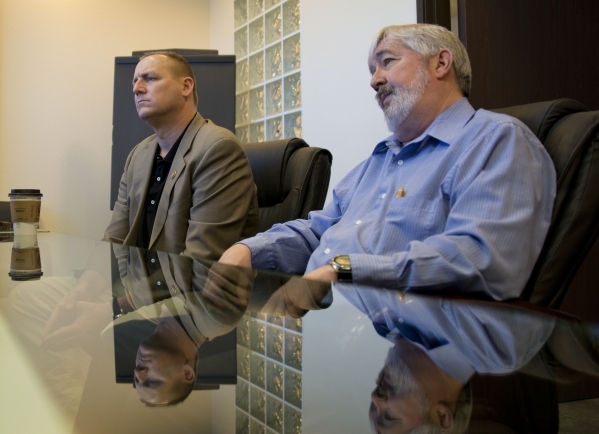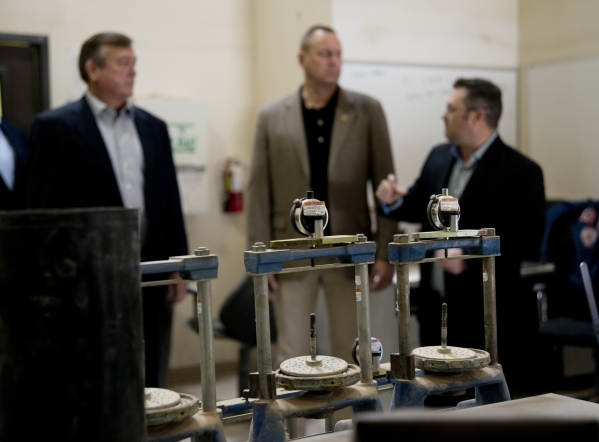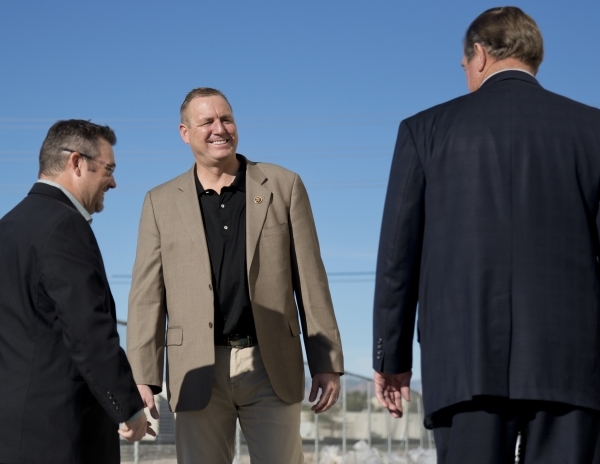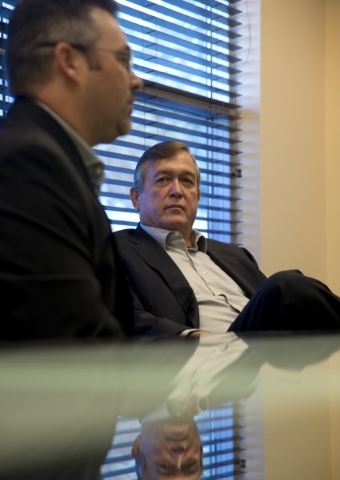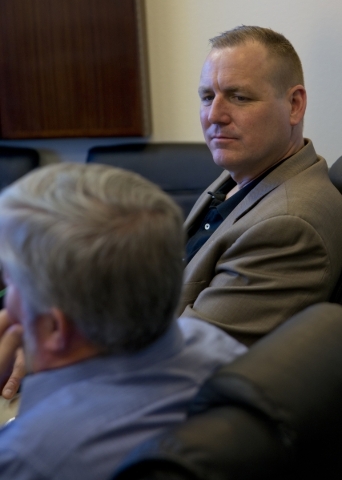 If Southern Nevada were to develop an inland port, it could result in speedier delivery of goods to the Strip and clear some truck traffic from Interstate 15 south of Las Vegas.
The inland port concept was one of several topics discussed by two representatives of the House Committee on Transportation and Infrastructure in a Presidents Day meeting Monday with state and local transportation leaders.
Reps. Cresent Hardy, R-Nev., and Jeff Denham, R-Calif., fielded questions and took suggestions from about 15 people gathered for the wide-ranging discussion on transportation that took place at North Las Vegas City Hall, which was closed except for that event because of the holiday.
"I know this is a project we've talked about and what some of the benefits would be," Clark County Commissioner Marilyn Kirkpatrick said of the port proposal. "But my question is, how do we do it? How do we get started?"
Kirkpatrick noted how important it is for the resort corridor to receive goods coming from Southern California ports. But several at the meeting said truckers avoid runs to the ports of Los Angeles and Long Beach because they don't want to get tangled in Southern California traffic congestion.
Tourism industry leaders would also like to see less traffic on I-15. Former Las Vegas Mayor Oscar Goodman was a vocal proponent for finding remedies to heavy truck traffic, advocating banning trucks from passing lanes or developing completely separate lanes for trucks.
But there's another potential solution: building a train terminal for transporting goods directly from the California ports by rail and then moving them from that rail terminal to Strip destinations by truck.
Kirkpatrick noted that there's renewed interest in developing a rail port at Apex where Faraday Future is building a car manufacturing plant.
Kirkpatrick said it would be relatively easy to build a small tilt-up port building and to guarantee that it is staffed by two U.S. Customs and Border Protection officers for less than $300,000.
It's a timely discussion because goods movement and logistics are likely to change in the months ahead with the completion of the Panama Canal widening and deepening project later this year. Asian exporters are evaluating whether it would make more sense to ship some of their goods to the Southern California ports or to take advantage of the expanded canal and ship to East Coast ports.
There could be even more shipping options when deep-water ports are completed in Mexico. Part of the concept of the new Interstate 11 is to have a four-lane highway from the Mexican border through Phoenix to Las Vegas to bring in goods from Asia via Mexico.
The Port of Long Beach is adding capacity in preparation for future competition, Denham said, but its next step would be improving the rail corridors there.
Hardy said development of an inland port would likely start with negotiations with railroad companies to gauge their financial interest.
Denham suggested starting small and then growing.
"I think it starts out with a smaller get-your-foot-in-the-door type of infrastructure plan and then grow it," he said. "If we wait until the volume has already past us, you never get the chance to even get your foot in the door."
He also suggested seeking outside investors.
"We need to seek local leadership as well as local planning as you've got investors around the country that are looking to have an inland port," he said.
Other topics raised at the meeting:
— Local officials suggested that future transportation bills be written to have automatic rollovers to previous funding levels if Congress can't reach agreement on future funding. The reason: Local planning organizations need the assurance that funding would be available for projects five years out. Without that, progress on long-term projects grinds to a halt. Hardy said it's unlikely the majority would agree to the concept.
— The congressmen were encouraged to develop some form of fuel-tax indexing to prevent the tax revenue base from eroding. Denham said a more likely strategy would be to revamp the taxation formula and base it on miles driven instead of a fuel tax with the proliferation of alternative-fuel vehicles and electric cars. The public has been skeptical of mileage-based taxation because the government often seeks too much information on vehicle use.
— The congressmen said Washington is keeping up with technological changes in the auto industry, including growth in autonomous cars. The issue is particularly important to Nevada, which wants to become a national leader in the testing and use of autonomous vehicles and aircraft.
— Hardy assured attendees that Arizona's congressional delegation continues to give strong support for the I-11 project. Denham said transportation matters often receive bipartisan support, but philosophical differences occur between regions because needs vary by location.
Prior to the meeting, Hardy and Denham toured Geo Tek, a materials testing laboratory and engineering firm in Las Vegas.
Contact reporter Richard N. Velotta at rvelotta@reviewjournal.com or 702-477-3893. Find @RickVelotta on Twitter.