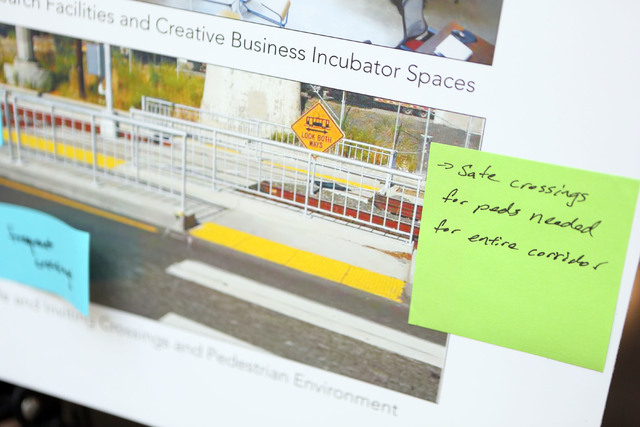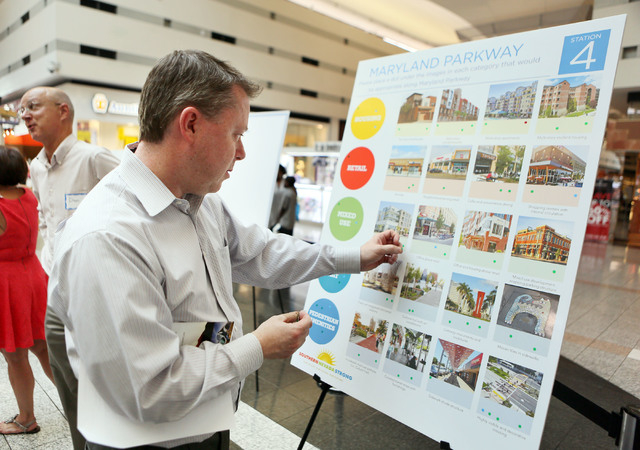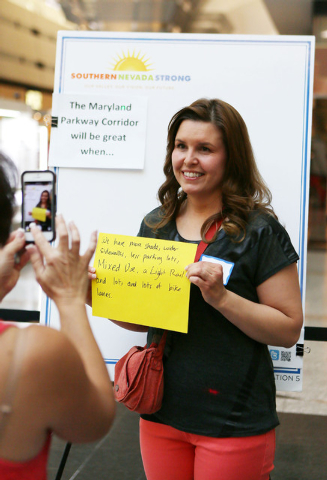 How's this for a vision of what the Maryland Parkway corridor could look like some day?
Trees and shade shelters along the length of the five-mile strip.
More public parking on the outskirts of the University of Nevada, Las Vegas campus.
Pedestrian overpasses to replace the crosswalks on Maryland near the campus.
Wider sidewalks, marked bike paths and public transit connectivity to McCarran International Airport and the Strip.
Those ideas were among the suggestions pitched by the public in an open-house meeting on the Maryland Parkway plan Thursday evening at the Boulevard Mall.
About 75 people asked questions, offered suggestions and gave opinions on some of the ideas already generated by Southern Nevada Strong, a planning coalition using the resources of 13 regional partners, including Clark County, the City of Las Vegas and the Regional Transportation Commission.
"We've gathered a lot of ideas so far, but the general theme is safety, safety, safety," said Lisa Corrado, project manager for Southern Nevada Strong, which is working simultaneously to renew four areas in the region, including the Maryland corridor.
Funded by a $3.5 million grant from the U.S. Department of Housing and Urban Development, the group also is working on three other "opportunity sites" for redevelopment, downtown North Las Vegas, the Las Vegas Medical District off Charleston Boulevard and a section of Boulder Highway near Broadbent Boulevard.
People attending the open house were encouraged to participate in "dot voting" on planning concepts with a scoreboard of colored sticker dots, green favoring a statement, yellow for a neutral position and red in opposition. As an example, participants were asked to weigh in on the statement, "Maryland Parkway would benefit from activities that improve its streets, including widening sidewalks, adding landscaping and shade and integrating public art and other amenities."
Based on comments gathered at the event, planners came away with these assessments, according to Corrado:
— Safety is a prime concern, for both pedestrians and against crime. Participants say the area is not "people-friendly" and that graffiti, trash and the presence of homeless people are intimidating and contribute to an unsafe environment.
— The university is a focal point and participants want it to rival campuses like Arizona State University in Tempe, which has pedestrian improvements like cobblestone streets, high-intensity development and abundant greenery despite its desert location.
— There is general excitement about improving the area. People value the corridor and want to see better connections between businesses and the institutions along it.
— People want light rail and want to see it connect to the airport. A stay-at-home mom discussed her inability to go back to work because her family had one car. The neighborhood supports light rail so that both parents in a family can work without owning two cars.
— Creating character for the area with trees and scenery, more shade, fewer parking lots and using recreation and amenities, public art, neighborhood gathering areas and landscape improvements to improve the corridor.
— There was support for a variety of housing options, like townhomes, condominiums, student housing and mixed-use buildings.
The public has until Thursday to submit comments on the plan online.
Contact reporter Richard N. Velotta at rvelotta@reviewjournal.com or 702-477-3893. Follow him on Twitter @RickVelotta.