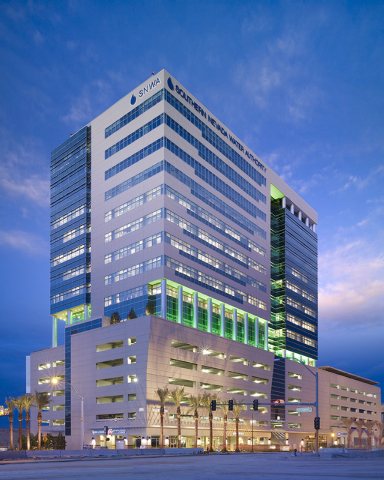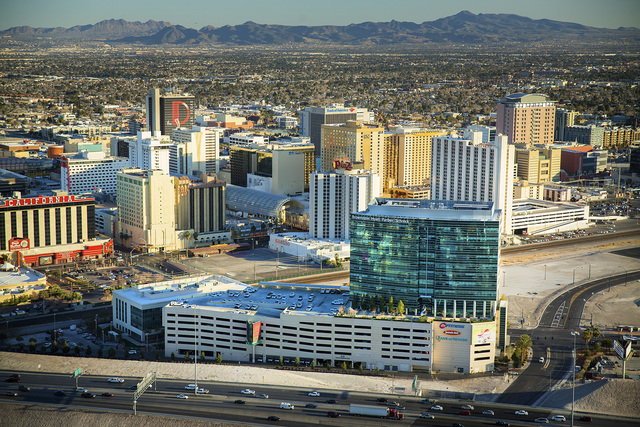 Molasky Corporate Center, the office tower that helped spark the revival of downtown Las Vegas, has been named one of the nation's top buildings.
The 17-story Molasky complex is a Pacific Southwest regional winner for best office building in this year's TOBY Awards, awarded annually by the Building Owners and Managers Association. The Outstanding Building of the Year, or TOBY, Awards are among the most coveted in commercial real estate, recognizing quality buildings and strong management. The building will now be entered in the international competition.
Buildings are judged on several diverse measures, including how well they are maintained, community involvement, commitment to the environment, tenant relations, staff competency and training, and emergency preparedness.
"Molasky Corporate Center is impressive" and "leaves no doubt to its quality," wrote the judges. "The staff is well-seasoned and experienced."
When it opened in 2007, the Molasky Corporate Center became the first new office tower constructed in downtown Las Vegas in almost 40 years. It anchors the northwest corner of downtown and led a wave of nearby construction, including The Smith Center, Discovery Children's Museum, and the Cleveland Clinic Lou Ruvo Center for Brain Health.
Management strives to make the Molasky Corporate Center a good neighbor in a great neighborhood. It offers a bike-share program so tenants can enjoy downtown, promotes other green initiatives, and regularly plays host to charitable events.
"The TOBY award is a great honor because it recognizes all of the effort and teamwork that make the Molasky Corporate Center special," said Anna Juarez, the building's general manager. "Our tenants, management, and staff pull together because we know a high-quality work environment promotes productivity and efficiency."
The TOBY judges also applauded the building's commitment to sustainability, writing, "Molasky Corporate Center has taken steps to be environmentally conscious."
The Molasky Corporate Center is the largest privately owned and operated LEED-Certified Gold Class–A office building in the Southwest. The Leadership in Energy and Environmental Design accreditation by the U.S. Green Building Council is among the most prestigious in commercial development.
The Molasky Corporate Center makes use of Southern Nevada's sunny climate to provide much interior lighting, its underfloor air distribution system saves energy and creates a healthier workplace, and it supports ongoing recycling initiatives.
"It is rewarding for our staff to come to work each day to a building that not only meets our organization's needs so well but is also representative of our commitment to sustainability and the environment." said John Entsminger, general manager of the Southern Nevada Water Authority, the Molasky Corporate Center's largest tenant.
The building is also home to top law firms, a banking center, a 24-hour gym, several retail tenants, and the Molasky Group of Cos., which built and owns the center.
Molasky Group Chairman Irwin Molasky has been developing in Las Vegas since the 1950s. The Molasky Corporate Center is the only building he put his name on.