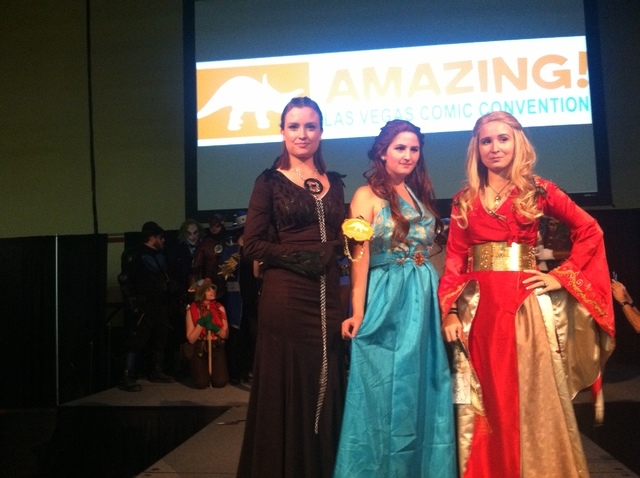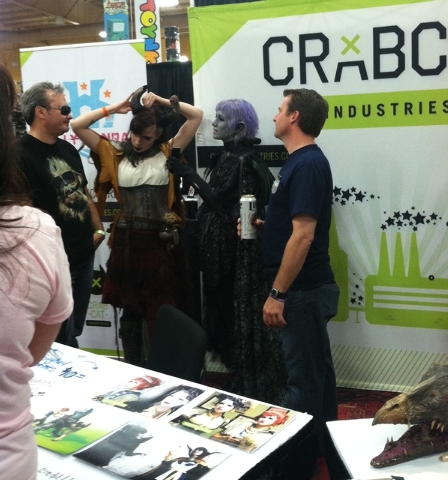 Welcome to the weird world of cosplay — a place where imagination takes flight and nothing is quite what it seems. And nowadays, weird means absolutely awesome.
"Cosplay," a term derived from costume and play, is a growing industry and fandom phenomenon in which individuals, cut, paste, sew and mold their dreams into reality. What originated as an ode to Japanese anime has developed into an artform all its own, and cosplayers from near and far gathered at the South Point's Amazing Las Vegas Comic Convention last month to debut and compete in their crafted creations.
Some came for the comic books and stayed for the characters, and with the growing popularity of the art, Vegas invited Holly Conrad and Jessica Merizan, members of SyFy celebrity, to host the costume contest. The pair are artists and designers in their own right and together make up the cosplay company Crabcat Industries.
"We're in Heroes of Cosplay, and we also have our YouTube show, "Try This At Home! with Crabcat" on the Nerdist channel," Jessica Merizan said to the eager audience.
Crowds at these conventions are a perfect mix of geek chic, including, but not limited to group cosplays like the Spawn girls and DC heroes, and solo characters like BBC's Sherlock and Mega Man.
"It sounds like Las Vegas is a welcoming city that wants an eclectic group of cosplayers," Merizan stated.
The hosts were dressed as icons from an age-old nerdom, themselves.
"I am a Tiefling, that's a demon, so don't mess with me. And she (Holly) is a Drow which is basically a dark elf, don't mess with her. It's from Dungeons and Dragons," Merizan said.
But beneath the tough exteriors of their alternate personas, the Crabcat(s) offered sage advise to the aspiring costumers.
"People are always asking us about getting started in cosplay, and I think because we do a lot of more complicated things, people assume that we're going to say 'Oh here's how you need to get your two-part epoxy resin.' For a first time cosplayer, there's definitely nothing wrong with going to Michaels, going to Home Depot," Merizan said. "We still do it, obvs. And when you want to get some crazy complicated fiber glass or silicone mold that you let drip all over your body, then do that. But you don't have to. Cosplay what you want."
"Sometimes you can buy some real cool stuff at Michaels. It's okay to buy stuff, guys. You just have to be honest. Own it," Conrad giggled. "As another tip too, if you're really into something — say, knitting — you can literally knit your whole costume."
"I saw a knight who made chainmail out of Beads Brights," Merizan exclaimed.
On their own ensembles, "Our costumes were a mix of found, and foraged, and made things," Merizan said. "One of our favorite ways to cosplay is just kind of foraging."
Throughout the competition, cosplayers dissected their outfits for a panel of judges, explaining how each element was created. Some spent months planning and constructing their respective costumes, while others threw together their characters with thrift store finds and hot glue, and enthusiasm was never in short supply.
"Be creative, do what you love."