December 9, 2013 - 10:40 am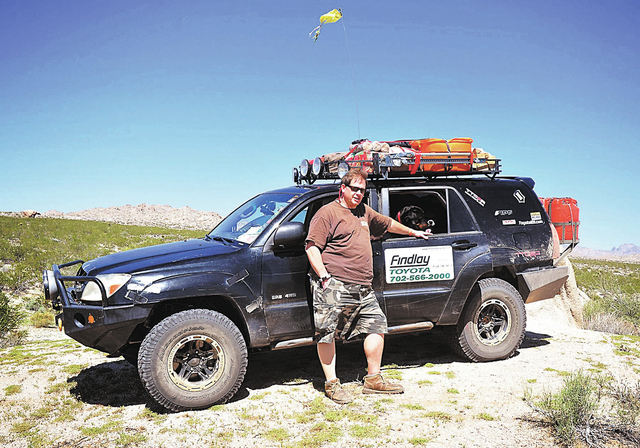 Findlay Toyota Internet sales agent Robert Anderson takes his 2003 Toyota 4Runner through some real challenges.
Anderson is one of the many fans of the outdoors. To facilitate his endeavors, he counts on his 4Runner. His vehicle, which had 11,000 miles on it when he purchased it from the dealership in 2004, has about 102,000 miles and it is running just fine, he said.
"My 4Runner has been through its share of abuse, that's for sure," said the 51-year-old, 30-year resident of Las Vegas who moved here from Anaheim, Calif. "I have taken this vehicle rock crawling, and … it's been on hundreds of trips on Mojave Road, which starts near Avi Casino near Laughlin before going more than 200 miles through the Mojave National Preserve and ending about 20 miles outside of Barstow."
Throw in other challenges such as Big Bear and Death Valley in California; Logandale Trail Systems east of Las Vegas; Burro Wash in the Lake Mead Recreation Area; Tierra Del Sol Desert Safari in Southern California six times; and other jaunts near Ridgecrest, Calif., not far from Edwards Air Force Base.
Anderson plans and leads two Mojave Road trips each year — one on Easter for the local Nevada Toyota Territory Off-Road Association and the other the third weekend of September for the Toyota 120 club. Each are three-day expeditions.
"I climbed a vertical waterfall in Jawbone near Ridgecrest a few years ago," Anderson said. "We did four back-to-back trips there years ago and saw some of the neatest mines anywhere.
"However, my favorite place is Mohave Road in Mojave National Preserve because of the history, the ecosystem where you're going from sea level to 7,000 feet elevation and you're seeing every kind of plant and wildlife that you can imagine, including … Joshua Tree Forest. You see deer, you see burros, big horns and cattle."
Through it all, the 4Runner has survived some of toughest country in the nation.
"When I went up the waterfall near Jawbone, there was no turning back," he said. "I would say it was a 50-degree climb and there was simply no quitting. From bottom to the top, it had to be a 30-foot climb
"We had 11 trucks and only two of us climbed it. The 4Runner was awesome."
He said he gets replacement parts for the 4Runner from Findlay Toyota.
"You can buy Toyota parts and you can buy after-market parts," said Anderson, who has been with the dealership for 12½ years "You can't beat the lift kits, winches, off-road tires and wheels. If it's available through Findlay Toyota, that's where I buy my parts. We are an off-road friendly store."
Anderson said Findlay Toyota technician Rich Mazurek provides all of the expertise for installation of the parts while service writer Chuck Griffin handles the work for Anderson's customers and off-road club members who have four-wheel-drive vehicles.
Findlay Toyota is at 7733 Eastgate Road in the Valley Automall. The dealership, headed by General Manager Rich Abajian, is part of Findlay Automotive Group that was founded more than 50 years ago by the late Pete Findlay, whose son, Cliff, now spearheads dealerships in Nevada, Arizona, Idaho and Utah.