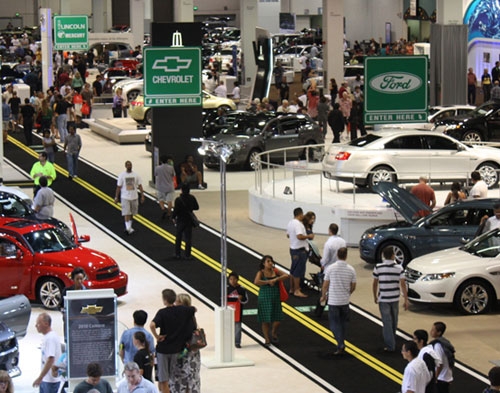 After too much Thanksgiving feast, football and out-of-town company, there are a couple of super heroes (look for that arachnid-costumed guy and the dude made of steel) who have a great plan: Check out hundreds of the 2011 vehicles at the Motor Trend International Auto Show taking place next weekend at the Las Vegas Convention Center.
The auto show will be open to the public Friday through Sunday, Nov. 26-28, from 9 a.m. to 7 p.m. Admission is $8 for adults, $5 for military, students, senior citizens (62 and older) and children ages 7-12. (By the way, "Kids Day" is Sunday when children, 12 and under, will be admitted free of charge when accompanied by a paying adult.) Friday and Saturday, children 6 and younger will be admitted free when accompanied by a paying adult.
E-tickets can be purchased in advance at www.AutoShowLV.com where customers can receive a $2 discount off the show's regular adult admission. In addition, free auto show tickets are available at participating UPS Stores, Sonic Drive-In and Subway stores while supplies last. Attendees will receive a free one-year subscription to Motor Trend magazine with each online ticket order or box office admission purchase. Simply complete the subscription card online or at the auto show. Parking, by the way, is free at the Las Vegas Convention Center for the auto show.
"The free tickets are good for all show days (Friday, Saturday and Sunday), and parking is free too, so attending costs nothing," said Lauren Holzman, Motor Trend Auto Shows' vice president of public relations. "Plus, our visitors get a free subscription to Motor Trend at no cost. The show is a great holiday weekend activity."
Designed as a tool where new-car customers can research and compare the latest vehicles, attendees will find everything from fuel-sipping hybrids and the hottest new crossovers, to interactive opportunities like "Ride & Drives," as well as appearances by Spider-Man and Iron Man.
Several all-new or redesigned 2011 model vehicles will be on display, including the Acura TSX Sport Wagon, Buick Regal, Chevy Cruze, Ford Explorer, Jeep Grand Cherokee, Mercedes-Benz E-Class Cabriolet, Subaru WRX, Toyota Sienna and Volvo S60. Many of these vehicles will be arriving in dealer showrooms in the coming weeks, making the auto show the ideal place to check them out in a no-pressure, nonselling setting.
Those looking for environmentally friendly cars and trucks, as well as savings at the fuel pump, will find the latest technology and trends in alternative fuel vehicles at the auto show, like the all-new Chevy Volt.
For up to the first 40 miles, the Volt drives gas and tailpipe-emissions free using electricity stored in its 16-kWh lithium-ion battery. When the Volt's battery runs low, a range-extending engine/generator operates to extend the driving range another 300 miles on a full tank of gas. Ford, Cadillac, GMC, Lincoln and Toyota will also showcase alternative fuel vehicles.
Several manufacturers will offer ride and drive opportunities where auto show attendees can get behind the wheel of models from Buick, Chevrolet, GMC, Toyta and Hyundai. These will originate from outside the auto show's main entrance.
Chevrolet Camaro fans won't want to miss the 2009 SEMA Show Camaro Dusk Concept and the Bumblebee Camaro. The Camaro Dusk Concept features a custom Berlin Blue paint job and ground effects package, along with 21-inch wheels and premium audio options. The Bumblebee Edition Camaro offers specialty badges and a paint job just like the one featured in the blockbuster movie series "Transformers."
In addition to the stars of the show — the vehicles, of course — stop by the Interactive Game Experience, where attendees can play the hottest new video games on one of 17 gaming systems including Microsoft Xbox 360, Sony PlayStation 3 and Nintendo Wii. On Saturday, the auto show will host a Mario Kart Wii Tournament with the first 32 entrants competing for a $150 GameStop gift card.
Don't miss the chance to win two Corvettes — a fully restored 1967 Corvette Stingray Convertible and a 2010 special edition Corvette ZR1 — by entering the free Corvette Dream Giveaway. After completing the registration card available at the auto show, attendees (18 and older) will be entered in the sweepstakes at no charge. Additional entries may be acquired for a donation of $3 each online at www.winthevettes.com. The Corvette Dream Giveaway benefits Kids Wish Network's Hero Program.
The Motor Trend International Auto Show — Las Vegas is presented by the Southern Nevada Franchised New Car and Truck Dealers Association and the Nevada Franchised Auto Dealers Association and produced by Motor Trend Auto Shows LLC, the nation's largest auto show producer and part of the Source Interlink Companies Inc. The show is sponsored by the Las Vegas Review-Journal and RJAutos.com.
Additional information, discount coupons and directions are available at www.AutoShowLV.com.