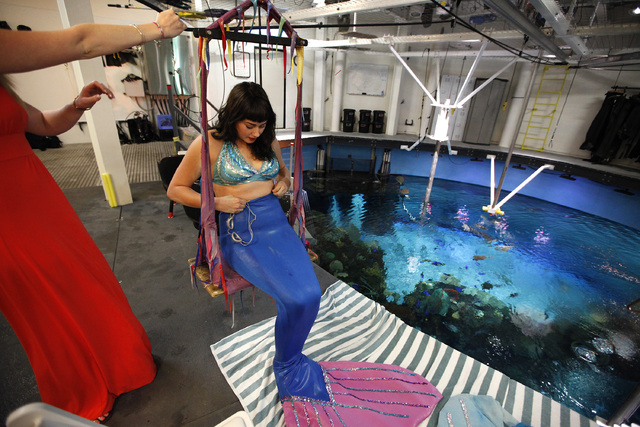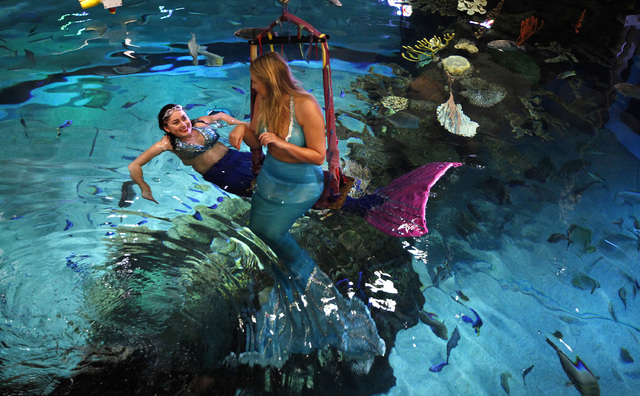 Many people joke after Logan Halverson discloses her profession.
"When people ask me what I do for a living, I tell them, 'I am a mermaid,' " said the 20-year-old, who performs inside The Aquarium at the Silverton. "How many people get to say that? Not a lot, that's for sure."
Each mermaid is hired through an audition process, and in order to perform inside an aquarium, each must be certified in scuba diving.
"It is such a unique job," said Kaitlyn Gilmore, a mermaid at the Silverton and a journalism student at the University of Nevada, Reno, who flies to Las Vegas twice a month to work at The Aquarium. "People don't usually realize you are telling the truth when you tell them where you work. At school, on the first day of class, we usually do introductions, and I get to tell the rest of my class that I am a mermaid. That is something very unique, and it feels really cool saying that."
From Thursday through Sunday every week, women dressed as mermaids swim inside a 117,000-gallon, 17-foot-deep fish tank, which houses a variety of fish that include stingrays and is maintained at 77 degrees Fahrenheit.
"That may sound warm, but when it comes to water temperature, it is very cold," Halverson said. "Plus, it is harder to maintain your body temperature in the water, so we have to move around a lot."
However, the water temperature is, if any, the only downside of working as a mermaid, she said.
"This is a really rewarding job because we get to play around with kids a lot," Halverson said. "They are amazing to interact with. Sometimes, you could be having a really bad day, but once you see the kids and start playing with them, your day just turns around. Their faces just light up just at the sight of you, so it's almost like your problems don't matter anymore."
Gilmore said she loves being a mermaid because she gets to work in a friendly environment and helps children have a good time.
"It is awesome when we find out through online media how much kids like us and that we have tons of fans," she said.
Fellow mermaid Cassandra Bergeron agreed.
"It is really great that kids get to come here and interact with us while also learning about fish and aquatic life," said the 26-year-old. "We mainly do this for the kids. That's what keeps us excited to come here and do what we do."
As most of the mermaids are trained synchronized swimmers, their work is also about their passion for performing in the water.
"I feel incredibly fortunate to be working here because we get to do something we love and have trained for most of our lives," Halverson said. "We are trained to perform in the water, and it is a very easygoing situation with the shows because nothing is ever really choreographed. We just go with the flow."
She added that having training in synchronized swimming is the perfect background as it allows her to be comfortable in the water, have good performance skills and have breathing control; mermaids hold their breath underwater for long periods of time and have compressed air to breathe when they need it.
The mermaids wear a weight belt from 5 to 10 pounds that helps them stay underwater. On top of their weight belts, they usually wear handmade tails and tops.
Once their shift starts in the afternoon, there usually is one mermaid in the tank at a time. Every 15 or 20 minutes, another mermaid gets in the tank to give the first one a break and a chance to shower in warm water. At any point a mermaid is inside the tank, she is watched by two safety divers, one inside the tank and another outside.
Bergeron works as a safety diver.
"As locals, it is really fortunate for us that we are in the middle of the desert and yet we still get to do a job that involves water," Bergeron said. "How amazing is that?"
Gilmore said she doesn't plan on switching her job anytime soon.
"I want to continue being a mermaid for as long as I can," she said.
Contact reporter Maria Agreda at magreda@reviewjournal.com or on Twitter at @mjfagre.