Boehner calls on Hillary Clinton to give up email server for review
March 17, 2015 - 10:44 am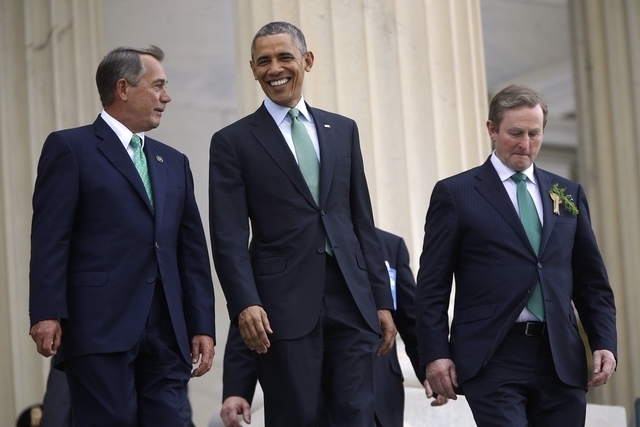 House Speaker John Boehner called on former Secretary of State Hillary Clinton to turn over her email server to a "neutral third party" for review.
"I think this is the fairest way to make sure we have all the documents that belong to the public, and ultimately, all the facts," Boehner said after meeting with House Republicans on Tuesday.
The Speaker's office has called on Clinton to provide her server to a third-party investigator, but Tuesday's remarks were the first public comments from Boehner since Clinton explained she kept personal emails on a separate server.
Boehner sidestepped a question on whether House committees would issue a subpoena for the email server, saying instead, "some neutral third party is going to have to make some decision about what documents are quote 'personal' and which ones are public record. And thus far she's been unwilling to do that."
The Speaker said he expected "rigorous oversight" from two House panels — the Select Committee on Benghazi, headed by South Carolina Republican Rep. Trey Gowdy, and the House Oversight Committee, chaired by Utah Republican Rep. Jason Chaffetz. He credited the select committee with exposing Clinton's use of personal email instead of a government email account when she served as secretary of state.
Gowdy already has issued a subpoena for emails related to the 2012 attacks in Benghazi, Libya, that killed the U.S. ambassador to Libya, Chris Stevens, and three other Americans. On Monday he agreed to an extension that Clinton requested to produce the documents by March 27.
The Speaker pushed back at Democrats' complaints that multiple congressional probes were "overkill" and Clinton was receiving extra scrutiny because she was likely to announce she was running for president in 2016.
"Nothing has changed," Boehner said, adding, "the Benghazi committee is focused on getting the facts about what happened with regard to Benghazi. Government Reform Committee is worked on the federal open records law, and they're continuing their work on that. There is nothing, no changes been made in terms of how we're approaching dealing with these documents."
Treasury Secretary Jack Lew, who testified before the House Financial Services Committee Tuesday, was grilled about Clinton's use of a personal email account during her tenure as secretary of state.
Lew, who was a senior official at the State Department under Clinton, said he "didn't pay a lot of attention to what email she was using" and that he has no recollection of discussing the issue of email usage with the former secretary of state.
Pressed by Republican Rep. Scott Garrett of New Jersey if he never noticed that Clinton was using personal email, Lew responded: "I'm telling you that at the time, I was mostly paying attention to the substance of what I was communicating."