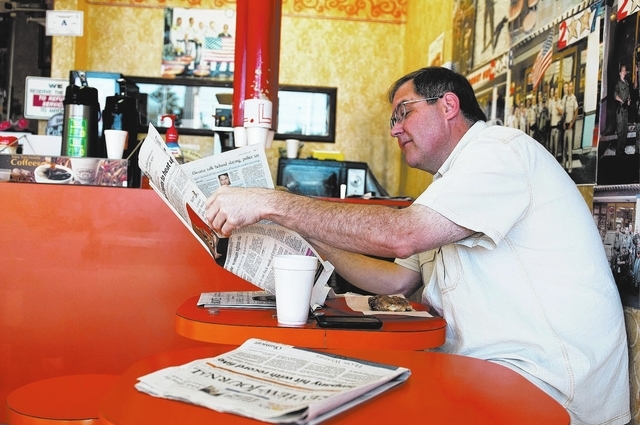 Displayed behind the glass counter are apple fritters, chocolate twists, glazed doughnut holes and a unique chocolate and cinnamon creation called the Tiger Tail, inspired by a nickname given to the shop owner, a former Cambodian soldier.
Sothy Seang, owner of Donut Hut, 3242 E. Desert Inn Road, has made a living making doughnuts for the last 22 years. He works the graveyard shift in a run-down part of town. Despite the dangers involved, little scares the war veteran who survived the Cambodian Civil War and the Cambodian Genocide.
"In 1997, three masked guys came to (rob my store). They wanted to kill me," Seang said. "But they weren't able to because I came from a real war. I shot a bullet at the wall and scared them off. Soon the police started paying attention to me. They said, 'You're the real Rambo.' "
In 1970, the Khmer Rouge went to civil war with the U.S.-backed Khmer Republic, under lieutenant-general Lon Nol. Lon Nol's government had assumed a pro-Western, anti-Communist stance and demanded the withdrawal of North Vietnamese and Viet Cong forces from Cambodia, according to World Without Genocide, a human rights organization at William Mitchell College of Law.
Seang's father joined the army in 1970, leaving his mother to raise three children alone. Two years later, despite his mother's wishes, 16-year-old Seang ran away from his home to join the army.
"When my father left my mom, she had to take care of three kids," Seang said. "We were poor, and I wasn't good at studying. I wanted to become a soldier because I thought soldiers dressed very handsome. I was a kid who liked to fight."
The soldiers were sent to the jungles of Cambodia to fight against Viet Cong forces.
Seang recalls stories of fighting in the jungle and surviving attacks by the Viet Cong during his night watch. He recalls being recognized for his valor after surviving an enemy ambush long enough to alert his resting squad.
"That night, my commander called me Tiger Kid," Seang said.
Years later, after surviving the Cambodian Genocide of 1975, Seang became a freedom fighter stationed near the Thailand border, with plans to liberate his country from the Vietnamese. There, he met his now-former wife, with whom he later had two sons.
The couple and their first son came to the United States as refugees after signing with U.S. officials assisting former Cambodian soldiers.
In 1985 in Long Beach, Calif., Seang learned how to bake doughnuts and speak English in exchange for free work. Four years later, Seang and his family moved to Las Vegas, where he first stumbled upon Donut Hut.
After working graveyard shifts at Caesars Palace, Seang began working part-time at the doughnut shop until he bought the business in 1991. He and his wife took turns operating the 24-hour shop until 2001, when he closed in the afternoons.
His long hours of work are what Seang believes led to the end of his marriage in 2011.
"If you work every day, you make money every day," Seang said. "I worked hard, and now I drive a new Mercedes, but I lost my family and I lost my wife. I worked too long."
Seang's shop has been attacked by robbers twice. He suffered a head wound and lost a finger as a soldier, yet despite facing such challenges, Seang continues living his version of the American Dream.
"He really feels that he owes his life to the U.S.," said Herb Thompson, a customer and longtime friend of Seang's. "He's a tough guy. I've never seen him in a bad mood."
Following a recent article highlighting Seang's past, new customers captivated by his story have started coming to the store to try his doughnuts and meet him.
Over his 20 years as a doughnut maker, Seang has developed a close relationship with not only his community but also with local police officers and veterans.
"I've known Sothy for 10 years, and he's always been a hard worker," said customer Frank Powers. "You can always find him baking in the back."
Poster-sized photos of Seang and police units decorate the interior of the shop. The signature blue, white and red hats are seen worn by Seang in most of his photos.
After his divorce, Seang put an ad in a Cambodian paper, through which he met his 35-year-old girlfriend Peou Sorn, who helps him run the shop.
Sorn was brought to the U.S. after marrying an older man. When her husband died, she was left alone without friends or relatives.
The couple have only each other to lean on for company and assistance at the shop. The two are happy, and Seang said that unless he wins the lottery, he plans to work at the shop until he dies.
"This is my heaven because my life in Cambodia was hell," Seang said. "I'm very proud of myself. I'm the real Rambo."
Donut Hut is open from 7 p.m. to 11:15 a.m. Tuesday through Sunday.
For more information, call 702-369-1711.
Contact Sunrise/Whitney View reporter Sandy Lopez at slopez@viewnews.com or 702-383-4686.