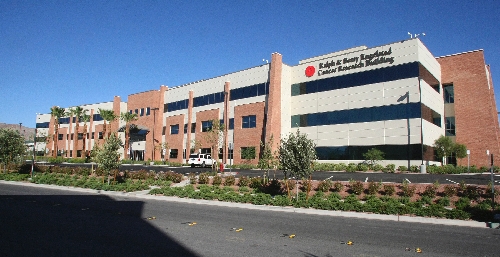 The Ralph and Betty Engelstad Cancer Research Building is one of the prominent buildings at the UC San Diego Nevada Cancer Institute, 1 Breakthrough Way. The 184,000-square-foot building opened in October 2009 and keeps the legacy of late casino owner and namesake Ralph Engelstad alive.
Engelstad supported the institute and other lung cancer research. He was born on Jan. 28, 1930, in Thief River Falls, Minn., to Christian and Madeline (Thill) Engelstad. He was one of five children.
While in high school, he worked a summer job in construction. In 1948, he enrolled at the University of North Dakota, where he played goalie on the hockey team. He was a good enough player to be offered a professional contract but turned it down. Instead, he started a construction business in Grand Forks, N.D.
In college, he wooed a girl named Betty away from his best friend and wed her in 1954, a marriage that saw 54 years of bliss and launched an inside family joke.
"My son says his grandpa saw an opportunity, and he never stopped recognizing opportunities," said Kris Engelstad McGarry, the couple's only child.
By 1959, Engelstad had made his first million and decided to move his company to Las Vegas for the growth potential. He began building housing developments and acquiring property.
After selling the land on which the North Las Vegas Airport sits to Howard Hughes' Summa Corp. for $2 million, Engelstad bought the Kona Kai, a small casino but with the status of being on the Strip, even though it was far south of the major resorts in those days, across from today's Mandalay Bay. He later sold that and bought the Flamingo Capri, "a seedy motel on the Strip across from Caesars Palace," according to Jeff Burbank's book, "License to Steal."
Engelstad tore down the motel and turned the property into the Imperial Palace (recently renamed The Quad), 3535 Las Vegas Blvd. South, which opened in 1979. According to the Las Vegas Convention Center and Visitors Authority, the city saw 11.6 million visitors that year, compared to 38.9 million in 2011.
"At that time, it was the center of the Strip," said Engelstad McGarry. "It was directly across from Caesars Palace. You couldn't get more prime real estate."
"When Ralph Engelstad tore down his motel and replaced it with the Imperial Palace, it was a risk, and it wasn't," said Michael Green, history professor at the College of Southern Nevada. "He did this in the late 1970s, when Las Vegas was not growing at the rate it is today. It meant a sizable investment. But he also was very smart. He was building a hotel-casino, but not overbuilding one, in the shadow of major resorts of the time —- the Flamingo, the original MGM Grand and Caesars Palace. He was betting and hoping, I would think, that he would draw some business from them and cater to people who wanted to stay at a nice hotel but might not feel they could afford one of the big hotels."
Engelstad later built an Imperial Palace hotel-casino in Biloxi, Miss., further cementing his income stream. It is now called the IP Biloxi and owned by Boyd Gaming Corp.
Despite a controversial hiccup when the FBI probed into Engelstad's fascination with Adolf Hitler, but no alliance to Nazism was ever confirmed, many agree his good name will live on through his philanthropic pursuits.
His alma mater, for example, benefited from a $100 million gift to complete its sports arena.
Opportunity Village's campus at 6050 S. Buffalo Drive is named for Ralph and Betty Engelstad for their generosity.
Linda Smith, associate executive director of Opportunity Village, recalled meeting Ralph Engelstad more than 30 years ago when she was a volunteer with a 5-year-old son who had Down syndrome.
The Toronto Maple Leafs hockey team was coming to town, and it wanted to do an event to benefit people with disabilities. She had learned that Engelstad was a big supporter of the disabled community. Smith went to meet him and took her son, Chris, with her. There in his office atop the Imperial Palace, she learned that he had hired a significant number of intellectually disabled people to work at the property.
"It was a time when (the mentally challenged) were considered unemployable and ineducable, so 'Put them in an institution' was the thinking of the day," she said, "and here you had a man who had pioneered this even before I met him."
She said Engelstad didn't have a family member with a disability; rather, it was just his down-to-earth personality that led him to extend a helping hand.
"I think he was a 'pull yourself up by the bootstraps' kind of guy who worked hard for everything that he had, and I think he admired people who had to overcome obstacles," Smith said.
Today, the Engelstad Family Foundation oversees about $600 million in assets, and it is estimated that about $100 million has been invested in Southern Nevada projects and pursuits, including the Ralph & Betty Engelstad School of Health Sciences at the College of Southern Nevada and the Ralph and Betty Engelstad Clubhouse of the Boys & Girls Clubs of Las Vegas, 3540 Cambridge St.
Ralph Engelstad died of lung cancer in November 2002. He is survived by his wife, daughter, son-in-law and two grandchildren. Three years after his death, the Imperial Palace was sold to Harrah's for $370 million.
(Former View staff writer Maggie Lillis contributed to this report).
Contact Summerlin/Summerlin South View reporter Jan Hogan at jhogan@viewnews.com or 702-387-2949.
Naming Las Vegas
The history behind the naming of various streets, parks, schools, public facilities and other landmarks in the Las Vegas Valley will continue to be explored in a series of feature stories appearing in View editions published on the first Tuesday of every month.
If you're curious about how or why something got its name, post a comment on our Facebook page, facebook.com/viewnewspapers, or email sblust@viewnews.com.
Thanks for reading View.