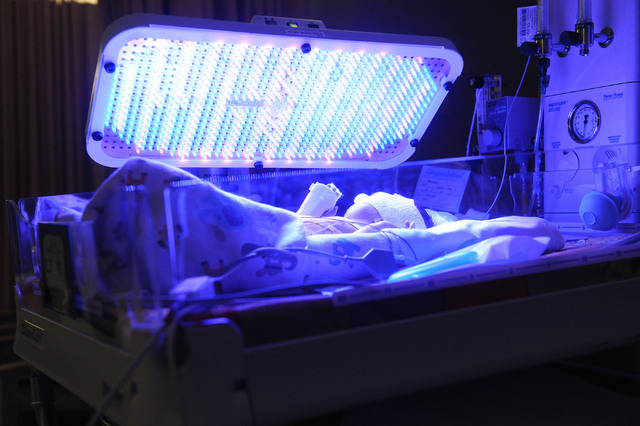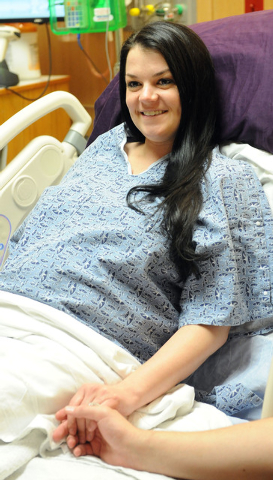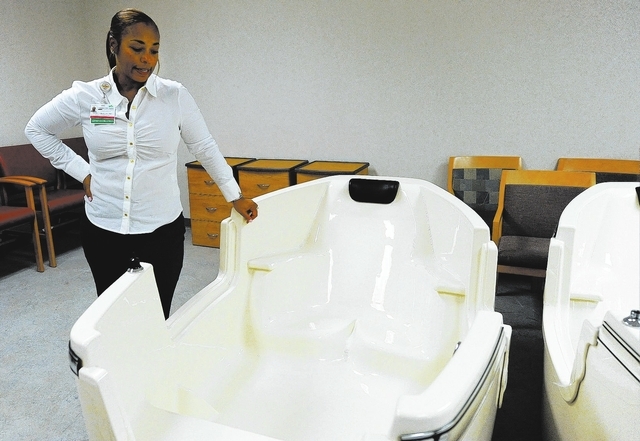 The Valley Health System is expanding maternity services at Centennial Hills Hospital with the addition of a level III neonatal intensive care unit and two mobile water birth units in an effort to better serve the natural birth community.
"Our goal is to provide more services for the natural community," said Windy Virgil, director of women's services at Centennial Hills Hospital. "We want women to feel like they have a place where they can go and give birth without too much intervention."
The hospital plans to provide two mobile water birth units that will be available between April and June.
"The water helps ease the pain of childbirth," Virgil said. "The moms in the natural community advocated for this service since it provides significant pain relief (without the use of epidurals)."
The mobile birth tubs provide sufficient room for a woman to give birth while a doctor sits across from her, Virgil said.
Centennial Hills is the only hospital in the valley that will have mobile tubs, according to Virgil.
She added that mobile tubs were purchased from Aqua-Eez Inc. because they can be moved easily from room to room. Currently, patients are allowed to rent mobile tubs through a vendor of their choice.
The hospital sees two to three women a year who begin labor in a mobile tub. Virgil said she expects that number to increase once the new tubs are introduced.
Later this summer, the hospital also plans to add nine level III-trained nurses for infants younger than 32 weeks. Level III nurses cater to infants who need the most high-tech and sophisticated care. The hospital currently only takes in babies as young as 32 weeks.
Two additional delivery rooms and an antepartum unit will also be added in the summer, according to Virgil.
Centennial Hills is the only hospital in the Valley Health System that has midwives on staff. Midwives provide care to women during pregnancy and delivery.
A midwife encourages women to actively participate in the birthing process and can provide educational and emotional support to both mothers and their families, according to the hospital's website.
The hospital also provides prenatal and postnatal education classes that include natural childbirth, childbirth preparation, breastfeeding, baby basics and sibling classes.
Blair Empey and Johnathan Leavitt said they enjoyed the services the hospital provided as Empey was getting ready to deliver their first son.
"The staff was very accommodating and answered every question that I had," Empey said. "I'm feeling terrified to give birth but really excited."
After giving birth, the hospital has a mommy concierge program, which treats mothers with an afternoon tea, massage by Centennial Hills Aveda Salon & Day Spa, a gourmet celebration meal and baby portraits by Bella Baby Photography.
A free mother-baby community support group open to the community is held between four to five days a month. The group provides a lactation consultant and discusses issues and problems that have occurred since giving birth.
Maternity tours are held at 3 p.m. every Sunday.
For more information, visit centennialhillshospital.com.
Contact North Las Vegas and Centennial View reporter Sandy Lopez at slopez@viewnews.com or 702-383-4686.