Chitwood rose from mechanic to racer to traveling stunt man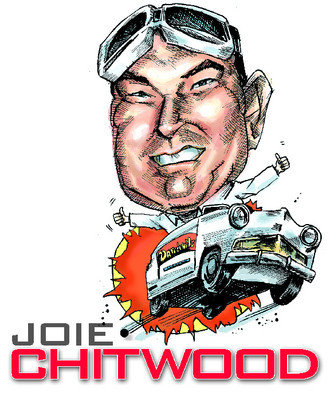 It's fitting, perhaps, that George Rice "Joie" Chitwood would be remembered as the first driver to have ever snapped a seat belt together during a trip around the famed Indianapolis 500 Speedway.
A seat belt and Joie Chitwood?
For anyone who knows about Chitwood — the wild adventures, the hurtling machinery and the thrill-show chills — it almost doesn't add up.
"But, if you knew my grandfather, you knew he was always ahead of his time," said Joie Chitwood III, his hands firmly on the wheel of a Chevrolet Corvette pace car as it speeds its way around the Indianapolis track during a media event. "Back then, they thought it was safer to get thrown from the car in an accident."
Chitwood, who is now president of the this very speedway, smiles a devilish smile as he takes another hard left and hammers the gas. The Corvette breathes deeply and lets out a wonderful growl.
Chitwood is really hauling.
But, then again, when hasn't a Chitwood been hard on the pedal?
As long as there has been racing, the Chitwoods, led by grandfather Joie, have always been in search of more speed and adventure. They haven't just been pushing the envelope; they've been sealing it.
"My grandfather taught us what racing was all about," Joie Chitwood III said. "Maybe it's in our blood."
A frustrated mechanic in the early 1930s, Chitwood quickly set the tone for an entire family of racers and daredevils.
Born in St. Joseph, Mo., in 1912, Chitwood wanted to race anything he could get his hands on and he passed that adventurous spirit down to his son and his son's son.
But he got his start behind the wheel only after sheer determination and a little luck.
Through his teenage years, Chitwood had been working as a mechanic in the Midwest on a race car owned by Shorty Meinholtz. He would get his chance at Winfield Speedway in Kansas on July 28, 1934, after Meinholtz's driver, Fred Zimer, came into the pits during a practice session complaining that the car was not handling well.
Meinholtz promptly replaced Zimer with Chitwood and thus began an illustrious driving career that would include numerous Sprint Car titles, a few trips to the Indy 500 and a dramatic career change.
By proving he could handle the wheel, Chitwood quickly became Meinholtz's main driver as well as the main driver of the O'Day Offy race car at Indianapolis.
By 1940, at just 28 years old, Chitwood was racing in the Indy 500. That first year he began from the 26th spot and finished 15th. Six more times in the next nine years he would find his way behind the wheel, starting from as high as ninth in 1950 and finishing fifth three different times (1946, 1949 and 1950).
His career was interrupted during World War II when, as Joie Chitwood III said, "racing was outlawed."
"They needed all the fuel and rubber for the war effort," he said. "So my grandfather's career took a big turn."
It was a fortuitous one at that.
Out of work, Chitwood happened to run into the widow of a man named O'Lucky Teeter, a stunt man in the Midwest. Teeter had died performing a stunt during his thrill show and his widow asked Chitwood if he would help her sell the show.
Chitwood agreed and never looked back.
By 1944, he bought the daredevil act and started the "Joie Chitwood Thrill Show," traveling the country in the late 1940s as a stunt man.
"The stunt show became so popular," Joie Chitwood III said, "he left racing."
In the 1950s, Chitwood had five units touring the United States at the same time. His troupe barnstormed their way into small towns, country fairs and race tracks.
Chitwood himself was a thrill.
He crashed cars, performed roll-over stunts and drove on two wheels.
One accident required 50 stitches to close a wound to his face.
Which was tougher on Chitwood, stunt driving or racing cars?
"Stunt driving — every time," he said during an interview in the early 1960s. "When you slide behind the wheel of a racing car, you plan to do everything possible to avoid a crash. But when you're stunting — jumping ramp to ramp, busting through blazing barricades, skidding on two wheels — you know for sure the crash is going to come sooner or later."
No one is quite sure why Chitwood did what he did for so long, subjecting himself to extreme conditions.
"But I know he loved it," his grandson said. "He just loved it."
It eventually had to end for Chitwood, but not for his family or his show.
Joie Chitwood died in January of 1988 at age 75, but through his sons and grandsons, his legacy lived on.
Chitwood's Thrill Show continued as one of America's oldest and most prestigious touring stunt shows. Founded more than 60 years ago, it continued on under the leadership of his two sons, Joie Jr. and Tim.
Every day, Joie Chitwood III can look out of his office and see where it all began, from the mechanics garage to the stunt driving to the grandson who can still hammer a pace car around a track at 150 miles per hour.
"The fact we're all still involved in the sport," Joie Chitwood III says, "I know he'd be proud."
Jason Stein is a feature writer with Wheelbase Communications. He can be reached on the Web at www.wheelbase.ws/mailbag.html. Wheelbase Communications supplies automotive news and features to newspapers across North America.