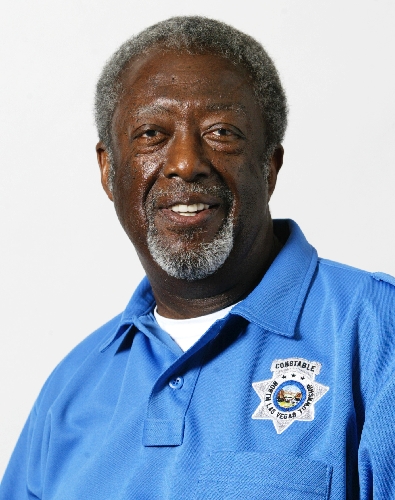 The race for North Las Vegas constable pits a three-term incumbent against a truck driver who last year lost his bid for a seat on the City Council.
Democrat Herb Brown was elected to the office in 1998.
He was a North Las Vegas police officer for 21 years, and he has been a U.S. marshal.
"I have gotten this office to a point of respect and integrity, and I would like to keep doing it for another four years," Brown said.
His challenger, Republican Jeffrey A. Eggeman admits Brown has more experience but hopes a national wave of "anti-incumbent" sentiment will help him win.
"I'm a very quick learner," he said. "I can learn the job. I'm good at most jobs."
Eggeman said that six years in the Army National Guard taught him the discipline he would need to be constable and that he has a bachelor's degree in business administration from UNLV.
Eggeman came in third in a 2009 race for City Council against incumbent Robert Eliason. The race was decided in the primary because Eliason received more than 50 percent of the vote.
Brown said that since he was first elected, he has brought the constable's office "into the 21st century." He started a program that provides pro bono constable services to needy senior citizens. And he recently started an educational program in which students ride along with constable office staffers.
Brown's challenger in 1998, Steve Bergstrom, filed a complaint with the state Ethics Commission that accused Brown of distributing misleading campaign material.
The commission found that Brown misled voters in the flier and in 1999 levied a fine of $10,000 against him. Brown challenged the decision, and commissioners vacated the fine and charged him a $500 administrative fee.
In 1997, Brown was investigated in connection with a District Court judge who was indicted on corruption-related charges. Brown, who was a U.S. marshal at the time, was found innocent but was asked to resign from his post.
Contact reporter Lynnette Curtis at lcurtis@reviewjournal.com or 702-383-0285.
2010 GENERAL ELECTION VOTER GUIDE
CONSTABLE DUTIES
Constables serve Justice Court orders, including arrest warrants, garnishments of wages and evictions. The Las Vegas Township constable is paid $103,456 per year while others get county benefits plus a small stipend. Almost all of their compensation comes from fees for each service. All are elected to four-year terms.