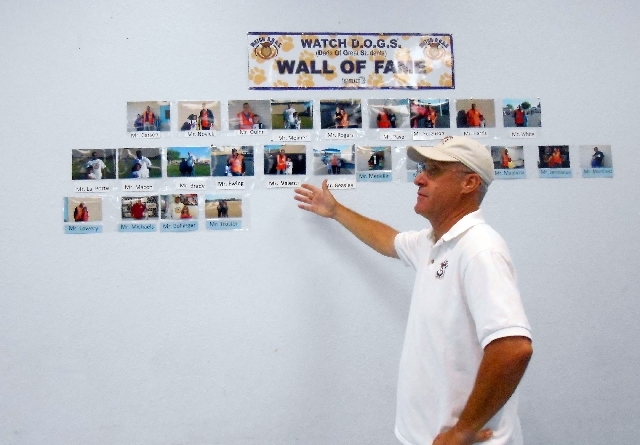 Larry Bollinger, better known to Gilbert Magnet Elementary School students as Mr. Larry, was a recently laid-off single father when his daughter Rochele enrolled at Gilbert four years ago.
Thousands of volunteer hours and countless thank-yous later, it feels like he's a father of 400.
"Being a single dad, it's a great way to spend time with my daughter," Bollinger said. "And it's fun. I enjoy coming here.
"When I was in school, my dad wasn't there a lot, so it feels like I'm building memories with my daughter, and I find it very rewarding."
Bollinger went from volunteering once a week in his daughter's classroom and joining the Parent Teachers Association to eventually founding the school's chapter of Watch D.O.G.S. (Dads of Great Students) — a male mentoring group based in Arkansas.
In three years since, he's worked lunch duty, kept an eye on the playground, helped with student newscasts and enlisted a supporting cast of dozens to do the same.
A former manager at Food4Less, Bollinger is used to organizing a team and keeping groups on task.
He never expected that would mean heading an ever-growing force of more than 50 unpaid fathers happy to pull out auditorium risers and help carry musical instruments to and from school assemblies.
And he's always surprised at the variety of dads willing to volunteer.
"We've got one dad in here who's in a motorcycle club," Bollinger, 46, said. "Bald, he's got a beard down to here, tattoos all over. But the kids love him, love to play with his beard. They just think he's great.
"As long as they follow the rules, we'll take as many (volunteers) as we can get. We've got three grandfathers — a magician, the kids love it when he comes — the principal's husband. They all get excited to come out and do it."
Elementary school clerk Nancy Bernier sees those efforts as nothing less than a godsend.
Bernier likes to call Bollinger a "rescuer" — a much-needed office linchpin for a school staff stretched thin by Clark County School District budget cuts.
"What he created here is huge," Bernier said of Bollinger's Watch D.O.G.S. group. "Anytime something happens, it seems like he's here to pick up the pieces. If a kid is hurt on the blacktop or if a bus is running late and there's no one out there to keep an eye on the kids, he's there.
"He's the extra eyes that we need, and we're very, very grateful to have him."
By next Father's Day, Bollinger's daughter will be in sixth grade, when he hopes to rebuild a similar Watch D.O.G.S. presence in the hallways of Knudson Middle School.
Until then, Bollinger's weekday begins as the rest of Gilbert's parents drop their kids off at school, usually around 8 a.m. He dons a reflective vest over a Watch D.O.G.S. logo T-shirt and keeps an eye over the busy drop-off points in front of the school's main office.
Bollinger heads back home only after Gilbert's buses are emptied and the drop-off areas cleared — sometimes around
9:30 a.m., sometimes later if he's needed at lunch — only to return for the student pickup shift at 2:45 p.m.
The routine has become so ingrained, it's hard for Bollinger, and the staff, to imagine what the school day would look like without him.
The buses will still run on time, but Mr. Larry will be missed.
"He's irreplaceable," Bernier said. "My daughter won't listen to me, but she listens to him because with kids, anyone they talk to besides their stupid parents gets that respect.
"They need a male influence, some of these kids. Some of them don't have dads, so we need fatherly figures in this school."
Contact Centennial and North Las Vegas View reporter James DeHaven at jdehaven@viewnews.com or 702-477-3839.