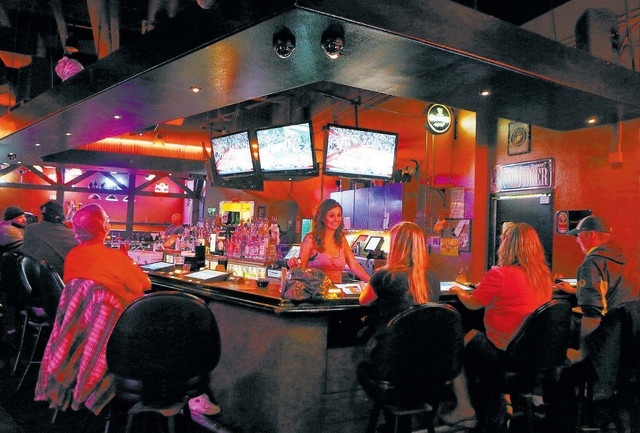 Editor's Note — This is the fifth installment in a Sunrise/Whitney View series exploring area dive bars. To suggest a bar, email reporter Sandy Lopez at slopez@viewnews.com or call 702-383-4686. The next installment is scheduled to run Feb. 25.
Slow-paced customers trickle into the bar to find their regular seats as 9-to-5 workers end their shifts on a Tuesday. Only a few empty seats remain around the bar as costumers chat in small groups during happy hour.
Blind Tiger, 6295 S. Pecos Road, attracts an assorted group of locals.
"The atmosphere is very diverse," said co-owner ReNae Lamb. "Everyone can find something to do here."
A unique aspect of the bar that may go unnoticed are the thong panties and bras hanging from the chandeliers. Lamb said the panties are given out by the boxing arcade game to people who receive a high score.
"People just started throwing the thongs panties up there," Lamb said. "I can't speak to the bras, though. Somehow they just end up there late at night."
Lamb also keeps a pet scorpion in her office that she will bring out for groups of people who want to try a "scorpion shot."
The scorpion is put inside a glass jar with a shot next to it. After signing a waiver and paying $10 to $15, people have the opportunity to reach in, grab the shot without getting stung and drink it to win a free T-shirt.
"We just try to keep it fun and interesting," Lamb said. "That's what keeps people coming back."
Missy Parsons started working at the bar three months ago.
"I felt like it was my family since day one," Parsons said. "Everyone gets along with each other, and everyone is really friendly. Everything just flows."
The quick-changing atmosphere keeps things interesting for the bartenders.
"The atmosphere can turn from being mellow to party-your-brains-out," Parsons said. "Most of the bartenders like to hang out, even after our shift is over."
During the day, Lamb said the bar is typically quiet, but at night, it comes to life with a variety of events that include karaoke, live music and comedy acts.
Cortney Bright started coming to the bar two years ago when her boyfriend and brother-in-law began working in the kitchen and her sister became a nightly disc jockey.
"The best part about the bar is its positive energy and friendly environment," Bright said. "It's not a PT's, but it's not an ultra lounge, either. It's its own little entity."
Country, classic rock or modern bands are typically booked from 8 to 9 p.m. every Saturday. After the bands are finished, the bar has a DJ until 2 a.m.
The bar hosts karaoke nights from 10 p.m. to 2 a.m. every Monday, Tuesday, Thursday and Friday and a comedy competition from 9 to 10 p.m. every Wednesday.
The bar, which Lamb said also sponsors softball leagues, features a pool table, gaming machines and basketball, golf and boxing arcade games.
The bar has happy hour from 3 to 7 p.m., which includes two-for-one well drinks and domestic beer.
At night, the bar sells beer for $2, and for those looking for a chance to score free drinks, the bar holds a Hold it until it Hurts event at 11:59 p.m. every Friday.
"We give away free domestic drafts until someone either leaves the bar or goes to the bathroom," Lamb said.
She added that the event typically lasts 10 to 15 minutes, but the longest the event has lasted was 40 minutes.
Lamb and co-owner Scott Collins picked the location of the bar because they noticed the heavy traffic flow on Pecos Road.
Tom Miller has been coming to the bar since it opened. He used to come to the location when it was Runway 25.
"There's good-looking bartenders here with great personalities," Miller said. "Not only do the bartenders make you feel welcome, but the locals are friendly, too."
The bar employs eight bartenders and two cooks.
The kitchen serves sandwiches, salads, tacos, wraps, wings and nachos.
The music reflects the bar's diverse customers and can range from classic rock to country and hip-hop.
"Sometimes you want earplugs," Lamb said, laughing.
When the bar opened in July 2011, Lamb said she was looking for a unique name for the business. The name Blind Tiger caught her attention.
"It was the name given to a dive bar during the Prohibition era," Lamb said.
In order to celebrate the bar's anniversary, the owners cover the venue's floor with sand and throw a beach party with Reggae music every June or July.
"It's a lot of work owning a bar, but it's also a lot of fun," Lamb said. "I've met a ton of great people here."
Eldridge "LJay" Southall has been coming to the bar for six months. He keeps coming back because he enjoys the different personalities that work behind the bar.
"The bartenders really make everyone feel welcome," Southall said. "Plus, I'm a friendly person. I can talk to anybody. There's a lot of people that come in and out of the bar all of the time."
Contact Sunrise/Whitney View reporter Sandy Lopez at slopez@viewnews.com or 702-383-4686.