Don Laughlin feels right at home
December 14, 2013 - 3:17 pm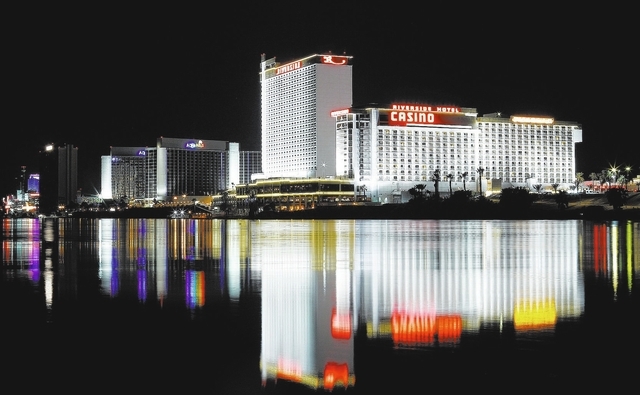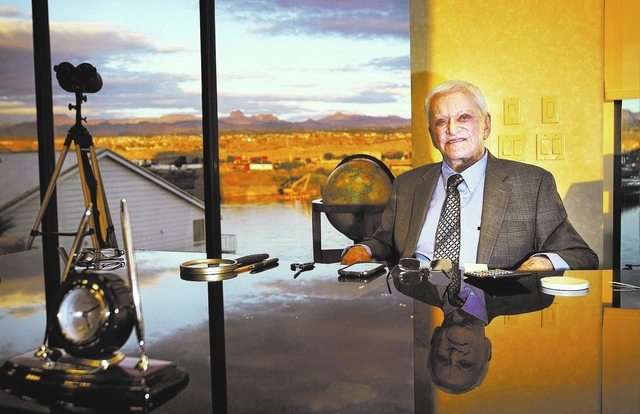 Editor's Note: Nevada 150 is a yearlong series highlighting the people, places and things that make up the history of the state.
LAUGHLIN
Don Laughlin's willingness to venture outside Las Vegas to open up a casino paid off in more than profits.
The 82-year-old resort owner's place in Nevada history is already firmly etched, with a Clark County town that bears his last name.
The town of Laughlin owes its start to the pluckiness of its namesake, who was here, of course, before Laughlin was a widely known small resort community along the banks of the Colorado River.
Don Laughlin opened up the eight-room Riverside Resort in 1966, nearly 100 miles south of Las Vegas along the Arizona border. No one else was there then.
Now, Laughlin gets about 2 million visitors annually with nine hotel-casinos and one motel with a total of 10,333 rooms.
The town saw 167,416 visitors in October, up 1.9 percent from that month in 2012, according to the Las Vegas Convention and Visitors Authority. In October, gross gaming revenues were $41.2 million.
But Laughlin's journey isn't a story about an international gaming corporation run by well-heeled, college-educated executives.
Instead, it represents a different era for Nevada and the United States, when times were simpler and boys became men sooner in life.
If Don Laughlin had followed the advice of a high school principal in Owatonna, Minn., when he was a ninth-grader, the resort town of Laughlin might never have happened.
The teenage Laughlin had a fledgling slot machine business in his Minnesota hometown, a time when gambling laws were only loosely enforced.
His devoutly religious school principal gave him a choice: Get rid of his machines or leave the school. Laughlin, who was making $500 a week, chose the latter.
"I said, 'I'm making three times what you are, so I'm out the door,' " Laughlin recalled in a recent interview.
A lifetime later, there are no regrets about that decision. At the age of 21, Laughlin moved to Las Vegas, where he worked as a waiter by day and went to dealer school at night.
After 10 years of running a club in North Las Vegas, Laughlin sold it and started looking for a place along the state border to set up a casino.
An empty motel held the promise, though its past was troubled. The man who ran it disappeared one night with the bankroll, and the building sat empty until Laughlin bought it before opening in 1966.
In the early days, he built an air strip, hauling groceries and liquor from Las Vegas by plane to keep his resort stocked.
"I was a little apprehensive about leaving Vegas, because everything's available there that you need for supplies to operate a casino," Laughlin said. "Out here, we had to haul everything in the first five years."
Starting out, he only visualized maybe three to five casinos at Laughlin. The Riverside now has 1,400-plus hotel rooms, about 750 spots for recreational vehicles and seven restaurants.
Unlike corporations eyeballing constant expansion and new properties, Don Laughlin has his hands full. He has had opportunities to buy other casinos, but turned them down; and he is not interested in expanding his company elsewhere.
Jackie Brady, town manager of Laughlin, said the resort owner's longevity in the area sets him apart.
"I think it's a level of commitment that's really noticeable. He lives here. He owns property and his business is here, so he has a real stake in how well this town prospers. He's not just part of a corporation where he may leave in three years or four years. … One thing about Don Laughlin is you know he is going to stay here."
Laughlin also has had to contend with good-natured jokes that he named the town after himself. In fact, he says, he has taken a lot of heat from people who assume he named the town after himself.
It didn't happen that way. Laughlin needed an address and location name to give the post office, as there was no mail delivery when he started.
Laughlin, in talking with a postal official, suggested names like Casino or Bullhead City, like the Arizona community across the river.
The postal official — who, like Laughlin, had an Irish last name — named it Laughlin.
When Laughlin asked about his decision, the answer pointed to a preference for his Irish heritage.
"He kind of smiled and winked at me and said, 'Why not? Laughlin's a good Irish name,' " Laughlin said. "His name was O'Neil, so maybe he had a motive."
Laughlin's journey wasn't without challenges and tight times. At times, particularly in the 1970s, finances were tight because of debt.
One year, he didn't have money to buy restaurant equipment. So for several months, he sold sandwiches instead.
That was a success, too, in its own way. An IRS auditor questioned an expense of about $40,000 spent on paper plates for the sandwiches, Laughlin said.
The lesson: Stay out of debt for success in business. And that's equally important today.
"I was always buried in debt and worried about making payments," Laughlin said. "We eliminated that problem 12, 13 years ago. We paid off everything."
Those simple times have changed some. Gaming regulations now prevent Laughlin from working on his slot machines, as he did in his younger days.
That's fine by Laughlin, who says he wouldn't have the time to do that anymore anyway.
"In fact, on the new machines, I would have no idea how to work on them because I'm not allowed to have the key for them," he said.
Even so, Laughlin still works at the Riverside Resort, chatting with guests and working night shifts. At 82, he is planning to stay on the job as long as possible.
"I'm very happy when I'm working. I wouldn't do well in a rocking chair."
Contact reporter Ben Botkin at bbotkin@reviewjournal.com or 702-405-9781. Follow him on Twitter @BenBotkin1.

Celebrating the Silver State