Downtown's big projects are on the move
September 26, 2013 - 9:53 am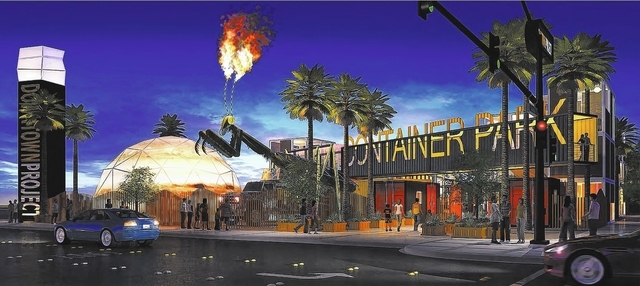 Perhaps the most anticipated event downtown this fall is Zappos.com's move into its new corporate headquarters. The company's move, involving the relocation of more than 1,400 employees, began in early September. The complete relocation is expected to take approximately 40 days.
More than $40 million in renovations have been made to the 40-year-old downtown building at 400 Stewart Ave., which formerly housed the Las Vegas City Hall. City employees moved to a new downtown location in February 2012.
Zappos' new landlord, the Resort Gaming Group — owned in part by founder and CEO Andrew Donner — made an unsolicited offer in 2010 to the city of Las Vegas to buy the site and about seven surrounding acres with the intent of developing it as a corporate campus for Zappos.com. RGG's 15-year lease with Zappos was coordinated with parent company, Amazon.com, which acquired Zappos in 2009.
The completely renovated building is expected to receive Leadership in Energy and Environment Design Gold certification for its extensive sustainable design and construction initiatives.
The old offices and formerly closed work spaces in the building have been remodeled to embrace the company's no-door policy and create open spaces and conference rooms. The enthusiasm for Zappos' arrival downtown reaches beyond the general public, as many employees have been gearing up for the move by not only hanging out downtown more often, but also moving downtown to be closer to their new place of work.
"We have been talking about the move and preparing for it for two years. We are so excited that the wait is almost over and we will finally be in our new building," said Jamie Naughton, Zappos speaker of the house. "The best part of the change is knowing that the new building and the surrounding area are going to be great for our growth and development of our company's future."
Zappos hopes the public areas of the campus will be well used not only by its employees but residents of downtown as well. For Zappos, the choice to move into the old City Hall provides the company with room to grow and positions it within the center of a very engaging urban environment downtown.
"We believe creativity is not only created by the environment in which you work, but the people you come in contact with and the experiences you have daily," Naughton said. "The area surrounding the old City Hall also made it ideal. With so much happening in the area, we really felt the move would give our employees the ability to live, work and play within the same area."
Zappos' effect on downtown Las Vegas doesn't end with the relocation of the company's headquarters. Zappos' CEO, Tony Hsieh, is infusing $350 million of his personal wealth into the revitalization of the urban area through an effort called the Downtown Project. This includes investing in real estate, small-business startups and education, as well as the recruitment of new high-tech ventures.
One well-known effort the Downtown Project is involved in is the up-and-coming Downtown Container Park. Scheduled to open this fall at Fremont and Seventh streets, the 20,000-square-foot Downtown Container Park is a place designed for people of all ages to hang out. It includes a special play area and child-friendly "tree house" constructed from repurposed shipping containers, as well as an outdoor green space with a stage for musical and community theater performances.
"Our goals are to help revitalize downtown Las Vegas, to help it become once again the heart of our city," said Kim Schaefer of Downtown Project.
Although lots of urban revitalization efforts start with remodeling buildings, downtown projects such as Container Park that begin with an empty lot are rare. Similar projects in other cities created from repurposed shipping containers include Proxy in San Francisco and Boxpark in London, each making use of space in an innovative way. Las Vegas' Downtown Container Park construction will consist of both repurposed shipping containers and Xtreme Cubes, which are manufactured locally by Xtreme Manufacturing.
"It's our hope that by creating a place that will draw people to downtown who might not otherwise visit, we can help to grow interest in the neighborhood," Schaefer said.