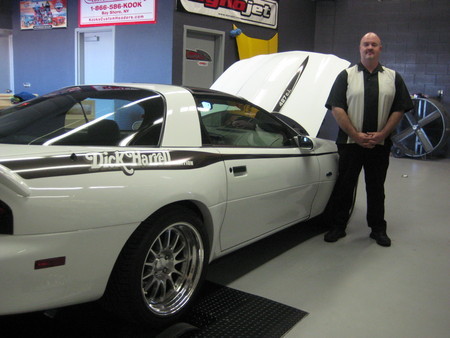 The Speed Shop at Fairway Chevrolet now boasts a chassis dynamometer, which measures vehicle performance.
A dynamometer, commonly called a "dyno," is an in-ground diagnostic machine that measures a vehicle's performance as well as safety.
To be tested, a vehicle is strapped to the dyno and an oxygen sensor is placed in its exhaust. When power is applied to the wheels, the dyno measures the vehicle's air/fuel ratio to make sure the vehicle is safe, and reveals driving issues by allowing technicians to see how vehicles behave while they are in motion.
Perhaps a dyno's most sought-after trait, however, is its ability to measure performance numbers, such as horsepower to the ground and torque.
"By (testing cars on the dyno), you can see what performance gains you've made with the parts you've added to your vehicle or what you've lost by adding something," said Sam Smith, performance specialist at Fairway Chevrolet, located at 3100 E. Sahara Ave.
"For example, if you take a bone-stock Chevrolet truck, and put a big lift on it, like 35-inch tires, it's going to consume a lot more horsepower because you're turning a lot more mass, which will make the vehicle's performance drop."
Research and development is one of the main perks of having the dyno at the dealership, said Smith, who has more than 13 years of experience working for Fairway. By having the machine on site, technicians can easily test different parts on different models of Chevys. Knowledge of the results allows techs to help consumers make more informed decisions about the parts they are buying. For example, having tested the parts themselves, techs can recommend parts to customers based on what looks best, which is easiest to install and how each addition will affect performance.
"It's good for us because it helps us educate our sales staff, and it also helps us to educate our consumers," Smith said. "You need to know what you're buying."
At the time of this writing, Fairway dealer principal Greg Heinrich's 2002 special-edition Camaro, was being tested. The customized car, made by Berger Chevrolet of Michigan and GMGG Inc. of Georgia, was one of few modified to include a 427-cubic-inch motor, custom headers, exhaust, suspension, wheels, tires, a handling package and a wide-body kit.
Makers of the car claim that the car has 630 horsepower and 600 pounds-feet of torque. Manufacturer's horsepower readings are taken at the flywheel, or what the engine produces at the back of the motor. Dynos measure the horsepower and torque that the vehicle actually puts to the ground, or what it actually moves, taking into account the weight of the vehicle.
"This car probably makes 540 at the wheels," Smith said. "If it doesn't make 540, we know it's either more drivetrain loss, or it's just not what it says it is.
"It's fun to be able to go through and check things and see if they're really as good as they say they are."
The dyno also allows techs to ensure a modified vehicle can handle its engine.
A level five package on a Corvette Z06 includes several modifications and gives the car a boost of about 120 horsepower, for an overall horsepower rating of more than 600.
"With that power, we're giving you the ability for the car to handle," Smith said. "So if you take it through a road course the car will handle and perform to the needs of the motor.
"We build it as a car. We don't think of it as 'I'm just going to give someone the most power I can give them,'" Smith said. "We want to give them a car — the whole car. We don't want to give you an 800-horsepower motor and a clutch that's not going to hold it because you're going to come back, and come back on a bad note."
And repeat business is what Fairway's performance shop is all about. Currently the dealership is building a viewing area where customers can safely watch their cars being tested and see results on a 52-inch flat-screen TV. Smith said he is also planning a dyno day that will be open to all enthusiasts.
"It's a lot of fun (to use the dyno) and it's an excellent way for us to have another way to interact with our consumers," Smith said. "Helping people reach their performance goals is a lot of fun. It's great to finish a car for a customer and have him take it for that first ride and call you up and say, 'Holy cow!'"
For more information about the Speed Shop, call Fairway Chevrolet's service department at 877-495-1054. The sales department can be reached at 877-427-1194.