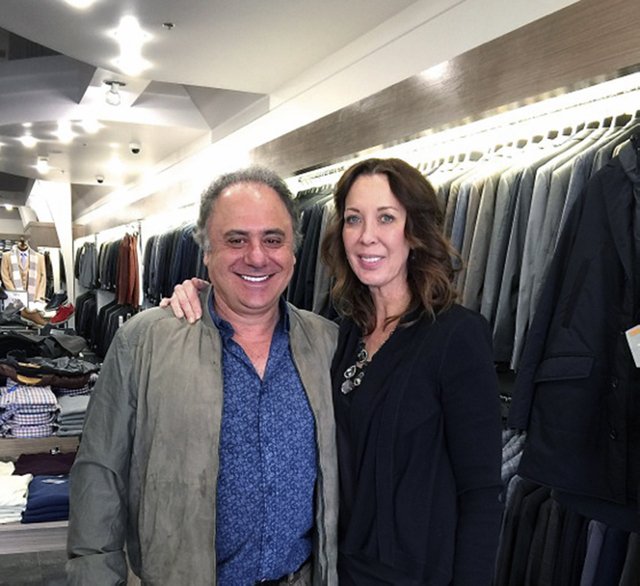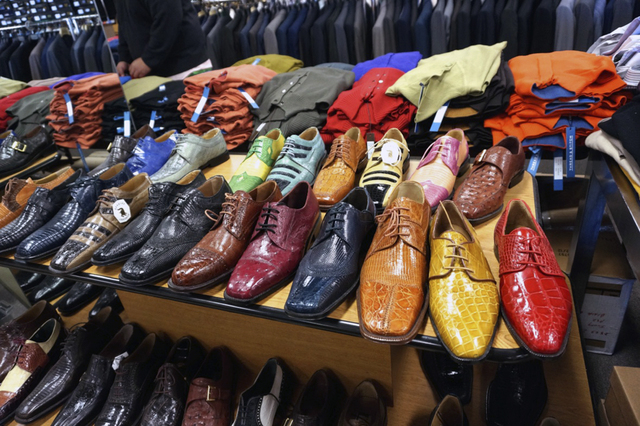 Walk into one of the three Mastroianni Fashions stores in Las Vegas and signs of discounts are everywhere. Walk in while the stores' owner, Vasili Lazarou, is working the floor, and you'll get a Greek-accented lecture on how he strives to secure those discounts.
Lazarou selects the fabrics and designs for 90 percent of the stores' merchandise. He said he looks for high-quality fabrics that are overruns and purchases them at a steep discount. He then tells his factories in Italy and China that his merchandise can be manufactured at their least busy times, securing yet another discount. He then passes on those discounts to customers.
The prices at Mastroianni Fashions, Lazarou says, are "the best in the valley for high-quality merchandise."
The business will mark its 30th anniversary this year. Lazarou said that staying in the men's fashion business is a constant struggle, but with two sons in college and two more not far from college age, so far, so good.
The original Mastroianni store was owned by Lazarou and his uncle, Sam Mastroianni. Lazarou had come to America from Methana, Greece, a year earlier, but he and his uncle had always wanted to have a business.
Their first store was on Paradise Road. They counted among their customers locals, tourists and even a guy named Liberace.
In 1994, Lazarou bought his uncle's share of the business and began expanding to other locations. In 2000, as competition in the men's fashion business got tougher, Lazarou decided to become his own manufacturer. Today, he makes three to four trips a year to Italy and China.
He designs the clothing and chooses the colors. His purchases arrive by container shipped to a warehouse at 3055 W. Tompkins Ave. near the Strip. The warehouse also includes a new retail store, opened after the Henderson location lost its lease and closed last year. The Tompkins Avenue warehouse and store are under the management of Lazarou's brother, Tasos.
The warehouse receives orders from the other two locations at 750 S. Rampart Blvd. in Boca Park and 1701 S. Decatur Blvd., which includes a Big & Tall component. Once a week, Tasos Lazarou delivers warehouse merchandise to the stores.
Family is important to Vasili Lazarou and to his story. Lazarou's wife, Carrie, recently joined the business at its new Boca Park store.
"This is a family business," said Vasili Lazarou, "and that means we can care about our customers."
His wife added that she recently went into a large department store and could hardly get anyone to look at her, much less wait on her.
"I've been a stay-at-home mom and only joined the business in July, but I can tell you that compared to other retail stores, we really do take care of our customers," she said.
Customer Comano Patterson of Las Vegas agrees.
"I come here (to Mastroianni Fashions on Decatur) all the time. They have nice people, good prices and good products," Patterson said.
The family business also includes a number of longtime employees. Samson Fikre-Selassie has been manager of the busy Decatur Boulevard store for 18 years. As for Fahim Jada and Frank Marcopoulos, they are retirees, but not really. Both continue to work part-time when needed.
Jada's wife, Connie, is a longtime Mastroianni employee, and at the Decatur store recently, she and Estella Juarez were at work tailoring pants and jackets. Connie said she started at the store as a cashier, but because she had previously done tailoring work, she soon found a niche in the back room.
"Nobody has a perfect body," she said, "but we want all the garments to fit. Also, suit pants have unfinished hems, so we shorten them to customer specifications. Yes, that costs extra, but remember, we're talking about suits and pants that are already much less expensive than what you get at other stores."
Fikre-Selassie added, "We make a difference; we cater to everybody's needs."
Who buys suits at Mastroianni? Men of all sizes, said Tasos Lazarou.
"We have suits in sizes from 32-short to 72 extra-extra long and prices from $100 to several thousand dollars," he said.
He also will bend the rules a bit when necessary. For instance, a customer from England recently purchased a suit from him during the busy holiday season and was leaving town in two days. Tasos promised to have the tailoring finished overnight so he could pick up the suit the next day.
In talking about customers who appreciate good service, Connie Jada mentioned boxer Earnie Shavers, who makes numerous personal appearances and recently bought 20 Mastroianni suits.
In addition to a 30th anniversary celebration slated in September, Vasili Lazarou said the company plans "soon" to open a new store in the Henderson area. He wants to "cover the entire area" with Mastroianni stores.
For more information about the business, visit mastroiannifashions.com.