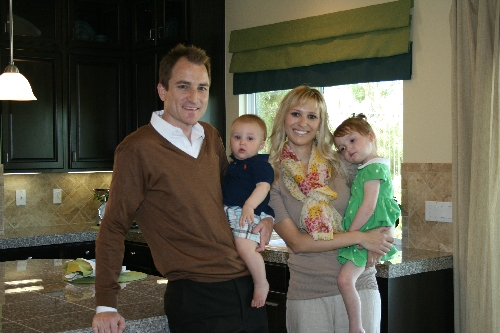 When Danny Welsh and wife, Tricia, were ready to upgrade to a larger new home, it made perfect sense that they would purchase from American West. After all, American West built Danny Welsh's first two homes and he is the company's sales manager.
"We had briefly considered looking at resale homes after hearing stories about incredible deals, but we quickly realized the best deal for a quality built home, our dream home, was right under our nose. American West offers the highest quality product, a builder warranty and incredible customer service that you absolutely will not find in a resale home," Welsh said.
The Welshs chose the 3,019-square-foot Shea floor plan in Kensington Estates, which is priced at $298,500.
"It was a goal of mine to live in Kensington Estates located in Highlands Ranch. This is an amazing community in an amazing location and it was the right time to get to this point," Welsh said. "American West builds semicustom new homes. I got to pick everything I wanted from the home site to the exterior to how the home sits on the home site. This is the kitchen we want, the floor plan we want, the bedrooms we need. It just clicked."
The two-story Shea floor plan features four bedrooms and a game room upstairs, a perfect fit for the Welshs and their 2-year-old daughter, Brooklyn, and 6-month-old son, Brixton.
"Both kids get their own room and can use the game room for a play area," Danny Welsh said. "Plus, we have a guest room for visiting family."
As the youngest of eight kids, Welshneeded a floor plan that could hold a crowd.
"The home has a giant gourmet kitchen with a huge island. It blends into the spacious family room. It can accommodate a lot of people. We have Sunday dinners and huge Christmases. A simple Sunday dinner easily turns into 45 people," Welsh said. "The living room and formal dining room also helps to accommodate our family members."
It was Welsh's family, his brother and father, who encouraged him to purchase his first home from American West before he worked for the company.
"My brother and father believed in doing business locally. American West is a locally owned family business. The owner lives in Las Vegas, his family lives in Las Vegas, all the employees live in Las Vegas. As a company, they support the community and spend their money in Las Vegas," Welsh said.
He said his first purchase an easy decision.
"I walked into my first American West community, saw the house I wanted to buy and left. I never looked at another community, another house, never looked at anything else," Welsh said. "They also made the whole buying experience so easy."
Eventually, Welsh applied for a job with the company.
"I applied three times before I was hired. I didn't know exactly what I wanted to do. I just knew I wanted to work for American West."
He has been with American West for eight years.
"Unlike public builders, if the Las Vegas market isn't working, American West isn't going to pull out and focus on another city in another state. American West makes Las Vegas work because it is their home," Welsh said. "We're local people. We have numerous employees who have been with the company for more than 20 years. We have father-and-son teams selling homes. Every employee is dedicated to making the dream of a new home come true for the families of Las Vegas. "
According to Welsh, it's American West's quality, trustworthy reputation that keeps the company strong.
"We see a lot of repeat and referral business. We have people who are on their third home and they are buying from the same sales person. Their experience with American West has been so positive, when they're ready for an upgrade they simply come back to us to see what's new," Welsh said.
American West is selling homes in eight communities in the Las Vegas Valley.
The single-story, two-story and split-level homes range from 1,216 to 4,770 square feet and feature as many as six bedrooms, formal living and dining rooms, game rooms, optional studies, optional second master bedrooms and even elevators, depending on the floor plan. Homes start at $178,500.
American West has been building homes in Southern Nevada for more than 25 years. All American West homes include a 10-year Structural Assurance Plan and are built to NV Energy Plus standards. Certified Energy Plus new homes are built to exceed the energy efficiency of a standard home by 30 percent, double Energy Star standards, according to company officials.
Visit americanwesthomes.com or call 702-308-1111. Sales offices are open daily 10 a.m.-6 p.m.