Findlay earns Chevrolet Dealer of the Year award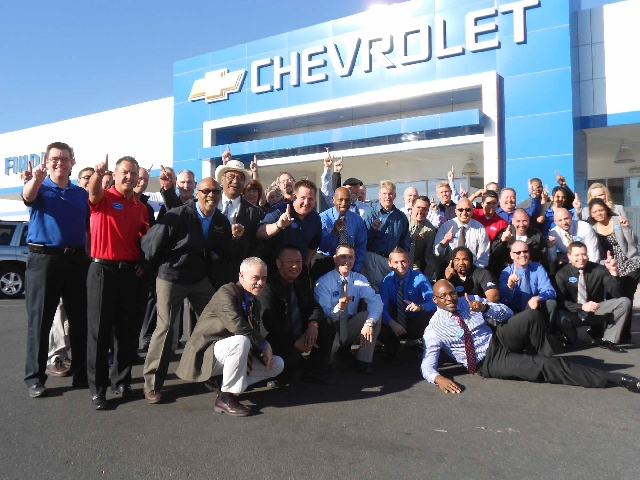 Findlay Chevrolet General Manager Jamaal McCoy has had a good year.
Among his high points: His management skills were highlighted by Automotive News, a video and print source that is followed closely by automobile executives across the country; Findlay Chevrolet was the No. 1 volume Chevrolet store in Nevada in 2012; and Findlay Chevrolet was named Chevrolet Dealer of the Year by General Motors in Detroit for the second consecutive year.
To receive a Dealer of the Year recognition, given only to 2 percent of Chevrolet, Buick, GMC and Cadillac division dealers by region, a dealership must be a top performer in sales and service lane purchases of GM and AC Delco parts.
"For sure, it's been a great start to the year," said McCoy .
McCoy, who is in his 11th year with Findlay Automotive Group, praised the entire store for the honor.
"Just like athletics, the car business requires a high level of teamwork in order to be successful," said McCoy, who has been the dealership's general manager for two years. "We have become a great team. Proof of that is the letters that we receive from our customers along with the high Customer Service Index ratings."
McCoy said dealerships can live or die through the Customer Service Index.
"The core value is all based on customer satisfaction and delivering an experience that is second to none," he explained.
McCoy also stressed that while the dealership has done well, there is always room for improvement.
"We must constantly be on our toes and be prepared to improve all of the time," he said.
Reminders of Findlay Chevrolet's customer service record fill its Wall of Fame, which displays countless letters of appreciation from customers along with letters of thanks from groups it supports.
For more information, call 702-982-4000 or visit www.findlaychevy.com.