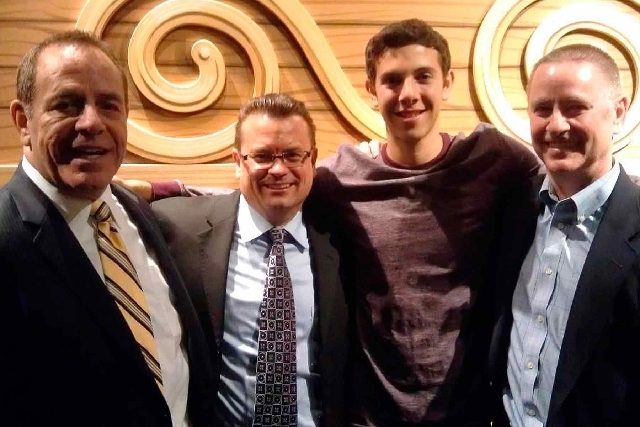 Cardiac arrest or strokes can strike people of all ages and all walks of life.
Adam Afromsky can attest to that.
Last year, the then-14-year-old athlete suffered a sudden cardiac arrest while playing soccer. Now, he serves as a living testament that everyone needs to be concerned about the possibility.
The 2013 Las Vegas Heart and Stroke Walk, for which Findlay Automotive Group is the presenting sponsor, is scheduled Nov. 2 in downtown Las Vegas. It will benefit the American Heart Association and Adam will be there leading the cause.
"It was the worst day of my life when my son collapsed, but the best day of my life when he was resuscitated," said Adam's mother, Melanie Afromsky. "He went down on the field and he wasn't moving. He was lying on the ground motionless and there happened to be an off-duty (emergency room) doctor who heard me screaming. They began performing CPR and 911 was called. They immediately shocked my son's heart with a defibrillator.
"He was then taken to the hospital where he was kept for a week at Sunrise Children's (pediatric) intensive care unit, where he had an internal defibrillator implanted in his chest."
Melanie Afromsky added there had been no warnings of any kind.
"There was no family history and no history of chest pain and shortness of breath," she said. "We were all totally shocked."
Immediately after the incident, Adam was transported to Summerlin Hospital before he was transferred to Sunrise Hospital's pediatric intensive care unit. His cardiologist, Dr. Vincent Thomas of Children's Heart Center, was there and served as Adam's electrophysiologist.
"My son has recovered remarkably and he's doing fabulous and he has now returned to his life as a normal teenage boy," Melanie Afromsky said. "He is even back playing soccer again."
Melanie Afromsky added that she has joined with a couple of fellow soccer moms to form a foundation, "Adam's Heart," named after her son.
"We decided that there needed to be portable defibrillators at all youth sporting venues in Nevada," she said. "They can go to our website at www.adamsheart.org or they can email us at adamsheartlv@gmail.com."
Findlay Automotive Group Chief Financial Officer Tyler Corder is serving as chairman of the Heart Walk's Executive Challenge. Findlay dealerships also support the cause.
A June 3 kickoff for the Heart Walk at the Discovery Museum drew a crowd of business leaders. The annual gathering helps educate the public and raise money for the American Heart Association.
Also entrenched in Heart Association's Heart Walk event is Jerry McKenna, senior vice president/marketing manager for CBS Radio in Las Vegas. He's in his fourth year as Heart Walk chairman.
"This runs in my family," McKenna said. "My dad died of a heart attack and my grandfather died of a stroke. This is a great cause that affects so many people and I'm proud to be a part of it."
Chad Layne of Layne Insurance Services has been involved with the American Heart Association for several years.
"It's such a great organization since it raises awareness for heart disease and stroke," Layne said. "My father has had multiple strokes so it has obviously affected me personally. Also, being heavily involved in the medical industry, I've seen heart disease affect numerous clients, family and friends."
Findlay Automotive Group, one of Nevada's largest independently owned businesses, has participated in American Heart Association programs for several years. Several of Findlay's Southern Nevada new-automobile dealerships participate throughout the year in fundraisers and outreach programs. All money raised supports research grants and educational outreach.
According to the heart association, about 2,200 Americans die of cardiovascular diseases daily, or one person every 30 seconds.
Last year's event raised more than $265,000. Corder said the goal this year has been set for $350,000.
Findlay Automotive Group was founded in 1961 by the late Pete Findlay whose son, Cliff Findlay, now directs automobile dealerships in Idaho, Utah, Nevada and Arizona. For more information, visit www.findlayauto.com.
Visit www.heart.org for further information on the American Heart Association.