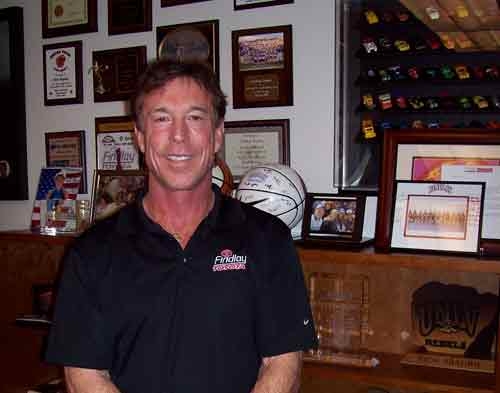 Simply being asked and then recently appointed to the Governor's Workforce Investment Board was a big deal to Findlay Toyota General Manager Rich Abajian.
"I've been in Nevada since 1977 and I owe everything I have to this state," said Abajian, a native of Walla Walla, Wash., who earned six athletic letters in baseball, wrestling and football while in high school there. Upon graduation, he attended Walla Walla Community College on a football scholarship and then enrolled at the University of Nevada, Reno, becoming a two-year starter for the Wolf Pack.
But, don't hold that against him. In 1977, Abajian became a graduate assistant at University of Nevada, Las Vegas, a position he held for two years. He went on to become a highly effective recruiter and defensive back coach for the Rebels, where he studied under legendary coach Tony Knapp from 1978-'81.
Abajian admitted he was both honored and humbled about serving on the board, which is an important component of the state's workforce development apparatus. Tasked with helping Nevadans obtain the skills they need for a new economy, the 30-member board consists of businesspeople who have made significant contributions to the growth of the state's economy.
Despite his modesty, Abajian fits this bill perfectly.
"At first I'm thinking they lowered their standards," Abajian said, joking about being named to the board. "But, then I know what we do here at Findlay Toyota is help people all day. It's the same whether you're coaching a sporting team or a business team. It's about providing a quality experience and service to people and that's the philosophy I'm taking to this board."
The board's first of four yearly meetings is next month. "I'll know more about our directives then, but my main focus will be to offer suggestions on improving Nevada's economy by suggesting policies to the governor that encourage people to move here and grow their families," Abajian said. "We have to give people more reasons to live here and start businesses."
Fresh from coaching, Abajian started his automotive career at Findlay Oldsmobile in 1983. He later launched two record-selling Saturn dealerships and, in addition to his position at Findlay Toyota, also serves as chief operating officer of the Findlay Automotive Group.
His contributions to the state include the 1997 creation of the Southern Nevada Sports Hall of Fame, as well as Findlay's support of countless Southern Nevada charities, community events and sporting teams.
"I honestly feel it's my duty to do what I can to help smooth out this economy and get back to when we were growing and successful," said Abajian, who also serves on the After School All-Stars board, which directs programs that keep children safe after school and support the tools kids need to succeed in school and life.
Abajian will, no doubt, bring the values and beliefs garnered from his success in coaching and business to the Governor's Workforce Investment Board, where his hands-on approach to life will be a valuable asset.
For more information about the Governor's Workforce Investment Board, visit http://detr.state.nv.us/worforce_investment_pages/gov_wib.htm.