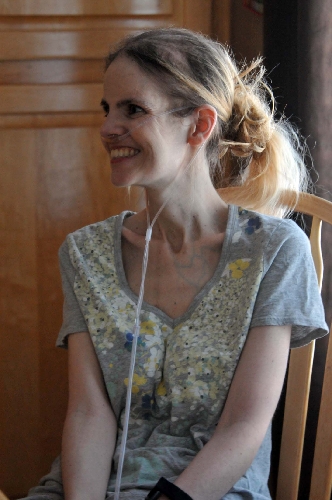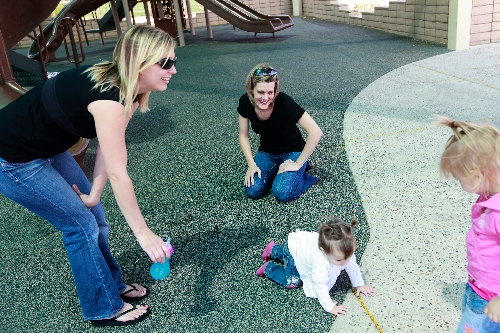 View explored the different aspects of Mother's Day, from a mother making sure her daughter will be taken care of after she is gone, to the outstanding abilities of caretakers across the southwest part of town.
GETTING TO SAY GOODBYE
Stacy Marino is preparing for her final Mother's Day. She is 34 and dying.
Marino lives with her mother and stepfather in a home near Southern Highlands, along with her 11-year-old daughter, Shea. She is under hospice care, resigned to live out her last days in as little pain as possible. The cancer that plagued her is gone, but the damage has been done.
Her thinning, blonde hair is pulled back in a ponytail. Her gray V-neck T-shirt exposes her bony frame and the skin stretched around it. Her legs are as thin as most forearms. She weighs 80 pounds.
"She's 34 inside a 90-year-old's body," her mother, Judy Wangler, said. Marino agrees with the assessment.
The mother-daughter duo talk with candor about Marino's impending death.
"She was supposed to die for years," Wangler said. "I don't know if I'm in denial, but if I am, I've been in denial for 11 years. We've been through the grieving process really slow."
Marino's social worker, Leslie Frederick of Solari Hospice care, 5550 S. Jones Blvd., said she could have less than a month left.
And Marino is comfortable with her path. Her funeral was planned nine years ago. She said she is glad she got the cancer in her family if it had to be someone. Marino's brother – who they are quick to point out is often mistaken for Brad Pitt – lives nearby in Southern Highlands.
Marino grew up in Las Vegas, was a pretty high school cheerleader and became a hairstylist in her early 20s. In 2001, at 23 years old, she had her daughter.
Eight weeks later, Marino was diagnosed with non-Hodgkin's lymphoma.
With the consent of Shea's father, Wangler adopted Shea.
"I wanted to make sure (Shea) would be taken care of in case I died," Marino said. "My mother is the best. I always said, 'When I grow up, I want to be just like her.' I still say that. She can do everything. I couldn't pick a better person to raise my daughter."
The cancer spread to nearly every organ in Marino's body, including her brain. Marino underwent chemotherapy, radiation and stem cell treatments in 2002.
The intense treatment worked – the cancer is gone – but it came at a cost. Marino probably lived longer than she would have without treatment, but her organs are irreparably damaged. Radiation treatments to her brain have greatly affected her memory. She has blood clots throughout her body, has experienced past heart and lung failures and a weak immune system.
Oxygen tubes feed into Marino's nostrils at all times, linked to a tank about 60 feet away in her room. She is increasingly weak and less active around the house, she said. Most of her time is spent lying or sitting, watching TV.
Mother's Day this year will be the same as in years past, they expect. That is, it will be nothing new.
"Every year we think it's the last one," Wangler said. "We've gone through this so gradually that, in a way, we count ourselves lucky. So many people just get snuffed out so quickly, and they never get to say goodbye."
"I think I'm totally prepared for it because we live with it daily. I don't know when the actuality of it happens what I'll be like. I'm sure I'll miss her terribly."
Wangler tears up as she begins thinking about it.
"Don't make me cry," she said.
They also think that Shea will be fine because she, too, is used to it. Shea has never known her mother not to be sick.
Marino has taken steps to ensure that she can be a mother long after she is gone.
Marino began keeping a journal, written for Shea, when she was pregnant. She has written letters and saved books for her to read at different points in her life. She has also written cards to cover every holiday and special occasion up to her daughter's 21st birthday.
Outstanding caretakers
Learning to be a mother is a shared experience for women in the MOMS Club of Southern Highlands. They raise kids together, meeting weekly to socialize and allow their little ones to play.
Some of these women have new attitudes toward a holiday that used to seem so simple.
Julie Bugh has a 2-year-old boy and twin girls due in October. She has fond memories of growing up in Texas, being raised by her mother, who also was a teacher at her high school.
"She was my best teacher," Bugh said. "I was the first person in National Honor Society to nominate their own parent for teacher of the year."
Bugh said Mother's Day at her house usually included making breakfast for Mom, going to church and making her a gift. She said she has a newfound respect for the holiday since becoming a mom herself.
"Now that I know what goes into the job of being a mom, you really learn the value of what it means to celebrate your own mom," Bugh said. "It's important because your parents work really hard to raise you. They do this every minute of every day of the year. Mother's Day is really a chance to recognize them."
Jennifer Weidert, another member of the MOMS Club of Southern Highlands, also had a tradition of making breakfast for Mom. She, too, has found a greater appreciation for her mother.
"After having my own kid and seeing how much work it is, I have a sense of greater importance to show appreciation," Weidert said.
Weidert said it is an important holiday, but it can never be enough to repay what moms do.
"One day of pomp and circumstance isn't enough to make anyone, including moms, feel special or appreciated," she said. "Moms should be appreciated in little things in different ways on an ordinary basis."
Member Stefanie Jacobs has two kids and said her husband usually takes them shopping for supplies to make a homemade art project. She, like most moms, enjoys the handmade gifts. Last year she got a piece of pottery with her kids' handprints painted on them.
"It's nice to get something that's personal," she said. "Their little hands get big so fast."
Jacobs recalled some of her own gifts for her mother – including mud pies. It seemed appropriate at the time, she said.
The MOMS Club of Southern Highlands is scheduled to host an open house from 10 a.m. to noon May 15 at Somerset Hills Park, 10717 Valencia Hills St. There will be food, games for kids and an opportunity for interested moms to meet the group.
The Southern Highlands chapter, which was founded in 2004, serves neighborhoods west of Interstate 15, east of Rainbow Boulevard and south of Tropicana Avenue.
For more information, visit momsclubofsh.com.
Contact View education reporter Jeff Mosier at jmosier@viewnews.com or 224-5524.