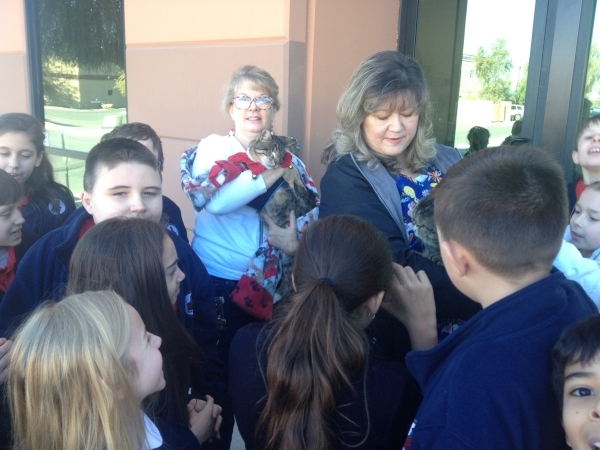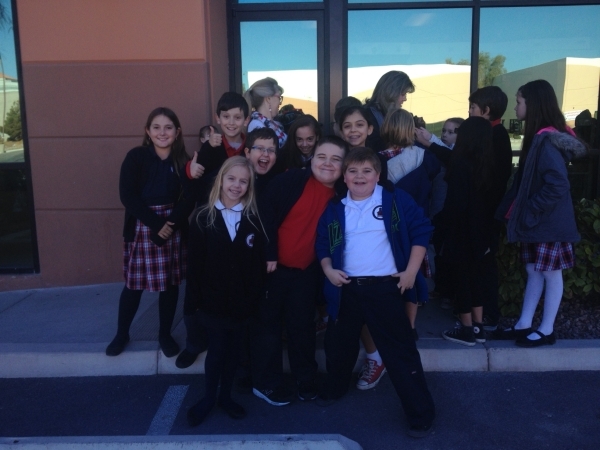 The holiday season came and went in a blink, but students at a northwest-area school made sure it left a lasting impression for a few four-legged friends.
On Dec. 18, students and faculty members at Founders Academy of Las Vegas, 4025 N. Rancho Drive, presented various checks between $75 and $216 to animal organizations based in the northwest area with the exception of Furgotten Friends Dog Rescue, based out of Pahrump.
"People often forget to give to animals," said Christine Schirg, a fourth-grade teacher at the academy and coordinator of the fundraiser. "So many volunteers pour their everything into helping animals and are never given the credit they deserve. Through this fundraiser, I want to give back to these people. I want to show that I appreciate them and what they do."
Schirg coordinated the schoolwide fundraiser, which raised more than $1,500 for eight animal rescue organizations and taught students a life lesson during the holidays.
"We pride ourselves on following the eight pillars of character and practicing a proper code of ethics," Schirg said. "We feel that by encouraging the students to consider others' needs, especially during the holiday season, it will reinforce ways to become good citizens."
"Our school's goal is to cultivate wisdom and virtue," added principal Timm Petersen. "We want our students to be good citizens and participate in community service. This fundraiser has already somewhat become a tradition. It's only its second year, and everyone looks forward to it."
Schirg's fourth-grade class was in charge of the Poppy Foundation, a nonprofit that offers frail felines a place to live out their days at Bonanza Cat Hospital, 6620 Sky Pointe Drive.
Tommy Cat Santoro, a boarder with the Foundation, visited the children. The eyeless feline was taken from a hoarder situation. By the time he arrived at the Foundation, his eye infection was so bad, he had to have both eyes taken out, said his owner Christy Santoro, a board member at the Foundation.
"It feels really good to donate because animals need help, and they are like people — they're a part of the family," said Schirg's daughter, Lydia, 9.
"I put all of my allowance for them," said Jaxon Perkins, 9. "It feels good to help them."
Students didn't just donate their allowance and chore money to the organization; they were also encouraged to volunteer and continue to do community service.
"A lot of the cats from the Poppy Foundation have infections, and they could die," said Austin Kovene, 9. "Doing this fundraiser makes me feel nice, and I feel grateful. I want to volunteer with them."
In total, Schirg's students raised more than their targeted goal of $100 and presented the Foundation with a check for $216.60.
For the educational aspect of the fundraiser, Schirg assigned her students a project involving the website to answer questions about the organization.
"This way, they are seeing what the organization needs and what they do to help animals in need," Schirg said.
Parents have also gotten involved. Schirg used social media to encourage parents to donate and used the school's Facebook page to post totals of class efforts.
She said one parent drove to the Foundation, donated items off of its wish list and volunteered for an hour.
Students also spent the month collecting wet and dry food and litter for the organizations.
"These kids have a wonderful heart," said Rae Erickson, founder of "Those Left Behind" Foundation. "This partnership encourages kids to be more involved in the community and to help those that are less fortunate."
After meeting with some of the cats from the Poppy Foundation, students were left empathizing with the harsh realities that surround abandoned pets. They said they wanted to be the animals' parents, and they needed to be a voice for them.
"A lot of animals are left on the street, and it's so cold outside," added Slade McLaughlin, 10. "They could get sick and die. We need to help them."
Christy Stevens, founder and president of the Hearts Alive Village Las Vegas, said she was very thankful for the students' efforts.
"What these students are doing is amazing," Stevens said. "Funds are always needed, and the great part about partnering with the school is that students are exposed to the realities that homeless pets face. I'm so grateful for what these kids have done."
This isn't the first time Schirg has hosted a fundraiser at her school. Last year, her class raised more than $300 for Lots of Love for Animals out of Arizona, Las Vegas Valley Humane Society and the Poppy Foundation. In 2012, she raised $377.75 with a class from another school.
Her volunteering efforts started roughly six years ago when she started volunteering at PetSmart, cleaning cat cages with her two children. When the Society came in, she became the lead volunteer and trained people on how to clean the cages per the PetSmart manual and how to handle the cats in the shelter. She also wrote a cleaning and socializing manual for the Society.
"So many people see stray dogs and cats and want something done about it but aren't willing to put in the time or effort to do it," Schirg said. "I am one of those people who are willing to put in the time and effort, and I want to honor those who do."
She continues to foster cats with the Society and enjoys taking her children to the Poppy Foundation, where they sit and pet the cats.
While Schirg admits that not all of the teachers were as enthusiastic about the fundraiser as she was, she plans to bring it back next December.
"I know how much heart these volunteers put into rescuing and aiding animals," Schirg said. "Animals always give unconditional love. They don't care what color you are, what gender you are, if you have a medical condition, and they love you no matter what partner you decide to have. They are always there to love you."
— To reach North View reporter Sandy Lopez, email slopez@viewnews.com or call 702-383-4686. Find her on Twitter: @JournalismSandy.