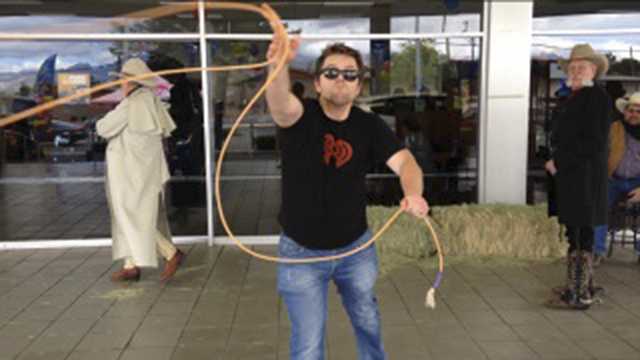 Friendly Ford recently held a celebration marking the upcoming Las Vegas Elks 2014 Helldorado Days and the closing days of the dealership's 44th anniversary celebration.
Many families enjoyed a barbecue meal, petting zoo, roping demonstrations and the chance to meet Miss Helldorado 2013 Christian Auer and the Helldorado Rangers. Friendly Ford sales agent Sergio Ferro demonstrated his roping skills.
"Friendly Ford has been here for 44 years, and Helldorado Days is celebrating (its) 80th anniversary this year," said Jason Davis, Friendly Ford general manager. "We look forward to Helldorado Days every year, and we really enjoy being a part of this cherished community tradition."
The Las Vegas Elks 2014 Helldorado Days takes place May 14-18 in a new location next to the Smith Center. It is an official event in the Nevada Sesquicentennial Celebration.
Friendly Ford is at 660 N. Decatur Blvd., north of U.S. Highway 95.
The dealership has served Las Vegas for 44 years and is a One Ford Elite winner and a 15-time Presidents Award Winner, Ford's highest honor for customer satisfaction and excellence.
For more information, call 702-870-7221 or visit www.friendlyfordlv.com.