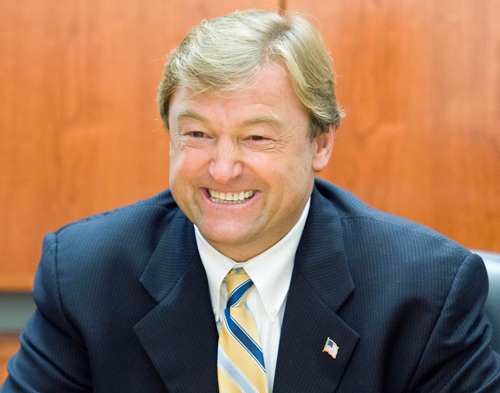 Nevada Sen. Dean Heller will challenge President Barack Obama's economic policies when he delivers the Republican national address on Saturday morning.
"Given Senator Heller's focus on job creation, Republican leadership asked him to address the nation on the economy," Stewart Bybee, a spokesman for the Nevada Republican, said today.
The address also gives the junior senator a rare opportunity to reach a national audience on a central issue of the 2012 Senate race between him and Democratic Rep. Shelley Berkley. Heller was appointed by Nevada Gov. Brian Sandoval to fill the Senate seat vacated by former Sen. John Ensign. He took office in May.
With more than 169,000 people out of work in July, Nevada continues to lead the nation in joblessness. The state's unemployment rate was 12.9 percent in July, according to figures released last week.
Heller issued a statement after the unemployment figures were announced blaming the Obama administration for "pushing policies that stifle job growth." And he called on Congress to "stop the flow of oppressive regulations" that have impeded job creation.
Republicans have ratcheted up their partisan attack on federal regulations. House Speaker John Boehner today sent a letter to Obama highlighting the potential cost of some 219 planned new regulations with estimated costs in excess of $100 million each.
"I was startled to learn that the EPA estimates that at least one of its proposed rules will cost our economy as much as $90 billion per year," Boehner said.
This is the second time that Heller has delivered the national weekly address for the GOP. He gave the address in May 2008 as a member of the House of Representatives.
Heller recorded this week's address in Las Vegas. It will be available on television, radio and online on Saturday after President Barack Obama's weekly address is aired.