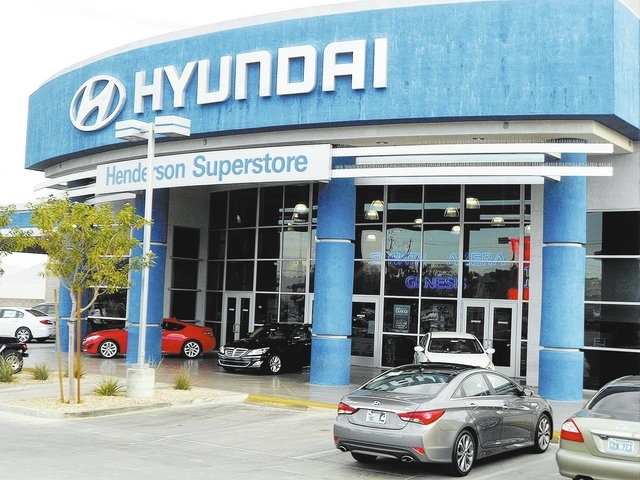 Henderson Hyundai at 460 N. Boulder Highway launched a vehicle exchange program.
Through the program, which started in November, an estimated 35,000 Hyundai owners have begun receiving updates on service, product information, free professional vehicle appraisals, free safety inspections and vehicle upgrade opportunities. This new program will be offered throughout 2014.
"This is an excellent new program that previous Hyundai owners can take advantage of," said John Tutino, who has worked at the dealership for three years.
"Our target market now has the opportunity to upgrade into a new Hyundai through the program while also lowering the cost of ownership through better gas mileage, lower maintenance, brand new warranties, to name a few of the benefits.
"From our standpoint, we love having preowned Hyundais that were serviced by Hyundai technicians," Tutino said. "Not everyone wants a new vehicle; and a preowned Hyundai that was bought and serviced at a Hyundai dealership creates the ideal purchasing opportunity for many customers that want a quality vehicle that fits their budget."
Tutino said all of the dealership's preowned vehicles are verified by Carfax and 90 percent of them are one owner, no-accident vehicles that were bought from Henderson Hyundai and serviced at the same dealership.
Each new Hyundai sold at the dealership comes with a 10-year, 100,000-mile power train warranty; along with a five-year, 60,000-mile bumper-to-bumper warranty.
Henderson Hyundai provides lifetime free oil changes and car washes. Borrow a pickup truck for any reason through the Borrow Buck's Truck program and Big Buck Rewards allows customers to save as much as 50 percent off purchases at more than 300,000 retailers nationwide.
For more information, call 702-565-1500, or visit www.hendersonhyundai.com. The dealership is at 460 N. Boulder Highway.