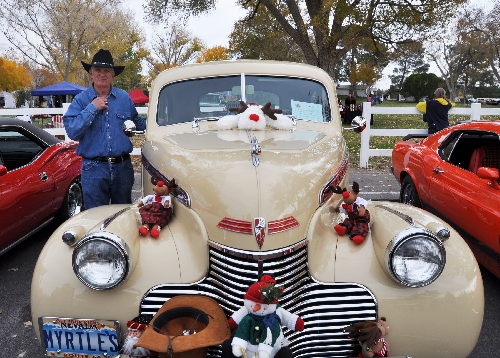 With piles of yellow and orange leaves sitting on the ground at Floyd Lamb Park at Tule Springs on Dec. 1, it was clear that fall arrived and Christmas was just around the corner. For those who were unsure, the visit from Santa Claus, holiday choirs and hot chocolate at the Cowboy Christmas and Classic Car Show kicked off the holiday season.
Las Vegas City Councilman Steve Ross from Ward 6 held his sixth annual holiday event that included historic ranch tours, a farmers market, face painting, holiday vendors, hay rides, a petting zoo and photos with Santa.
"This is a great opportunity to get families out here to start the holiday season off right," Ross said. "It doesn't matter what your denomination is . It's not about that."
The event had 70 more vendors this year than 2011, and Ross said it grows every year.
Ross uses the cowboy theme because he said it fits with how his ward's residents celebrate the holidays.
"It's a testament to the rural nature of Ward 6," he said, wearing jeans, a denim button-down shirt and a cowboy hat.
When he brought his grandmother to see the park at the end of November, she told him that she had never been to Floyd Lamb Park at Tule Springs, 9200 Tule Springs Road, and had no idea that something so rural was within the city limits. Ross said exposing more people to the park is one of the reasons he hosts the event there each year.
He said he chose Floyd Lamb Park at Tule Springs "just to highlight the park and get more families out here to enjoy the beauty. It's a jewel in the desert that I want more people to know about."
He wanted to make sure it was a family event . He brought his wife and 11 grandchildren with him .
Choirs from Centennial, Shadow Ridge, Arbor View, Saville, Scherkenbach, Escobedo, Lied and Cadwallader schools performed for a crowd of family and friends.
Shelly Shelton brought her 10-year-old daughter and two grandchildren . She said their favorite activities were decorating ornaments, face painting, the bounce house and horse riding. She said this was the first time her daughter was brave enough to ride a horse after trying a few years ago.
She heard about the event through a home school message board and said she will bring the kids again next year and encourage other families to start of the holiday season this way.
Sasha Sellers, 15, volunteered at the ornament decorations table, helping children add gold glitter to blue ornaments for her DECA marketing club at Arbor View High School. She said she volunteered for this event because "I wanted to help the children, and I love the holiday."
At the heart of the event was a classic car show. Jack Wells, who lives around the corner from the park, displayed his 1940 Chevy for the third year in a row. But Wells' vehicle was unique to those at many car shows. Wells' grandfather purchased the car in August 1940 in Los Angeles, and Wells has the paperwork to prove it. Part of his display included the original invoice for the $996.80 that his grandfather paid for in cash and the original California Department of Motor Vehicles paperwork.
He also has two gas rationing coupons from World War II with warnings not to drive more than 35 mph or risk a fine of $10,000 or 10 years in jail. Wells said the car is happiest when it is driven at less than 55 mph, anyway.
"It's got a lot of emotion behind it when you see the pictures of who bought the car," Wells said.
The Chevy has 40,000 miles and the original engine. Wells restored it in 2002 and often takes it to the casual car show from 7 to 10 a.m. every Sunday across from Santa Fe Station, 4949 N. Rancho Drive.
He said the car will always be part of his family.
"When I got the car, it was over 60 years old," Wells said. "It's just something everybody understands – we've got to keep it in the family, never to be sold."
Other cars on show included a 1932 Ford Roadster and a 1969 Chevy Camaro.
Ross is looking ahead to next year and said he is searching for a horseback riding concession vendor. Anyone interested can contact Michelle Thackston at 702-229-6154 or mthackston@lasvegas
nevada.gov.
Contact Centennial and North Las Vegas View reporter Laura Phelps at lphelps@viewnews.com or 702-477-3839.