House votes to reauthorize Export-Import Bank
October 27, 2015 - 3:54 pm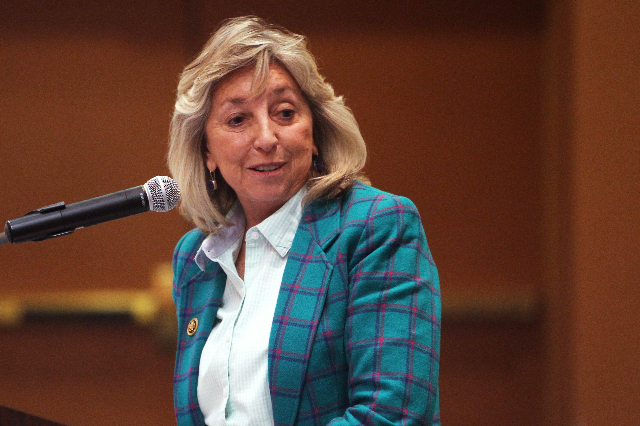 WASHINGTON — The House voted Tuesday to revive the Export-Import Bank, whose charter expired in July, by approving a bill that reached the floor through a rarely-used petition process by rank-and-file members.
The bill passed, 313 to 118, with all but one Democrat in favor. Republicans were split — which had caused GOP leaders to deny floor action until a petition drive forced their hand.
The bank, which provides subsidies and loan guarantees to foreign buyers of United States goods, has been vilified by the conservative Tea Party wing of the Republican Party as "corporate cronyism" saying its benefits go mostly to corporate giants such as Boeing, Caterpillar and General Electric.
Reps. Mark Amodei, R-Nev., and Dina Titus, D-Nev., had supported the petition — and the bill. They said the bank has helped Nevada businesses as they seek to compete in the global economy.
"We don't have Boeing or Caterpillar but we have manufacturers and suppliers that do benefit. And, it also helps agriculture businesses," said Amodei, who noted that Peri & Sons Farms in Yerington and Terra Exports in Henderson have relied on the bank.
Rep. Cresent Hardy, R-Nev., voted in favor of the bill while Rep. Joe Heck, R-Nev., opposed it.
Heck said the bill did not include needed reforms to how the Export-Import Bank operates. In particular, he said, the bill lacked a provision to ensure that the bank is the "bank of last resort" and not competing against private banks that can offer similar loan guarantees.
The Export-Import Bank offers loans and guarantees to foreign purchasers of U.S. manufactured goods who meet strict lending qualifications when private-sector lenders cannot provide financing.
More than 60 countries have similar export-credit agencies that promote exports of nationally made goods.
The "discharge petition" process that forced the vote was last used to approve campaign finance reforms in 2002.
Contact Peter Urban at purban@reviewjournal.com or at 202-783-1760. Find him on Twitter: @PUrbanDC