Hyundai salesman, wife purchase Genesis
November 16, 2012 - 2:15 am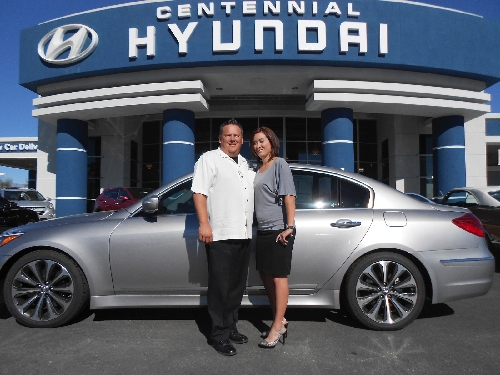 When Rick and Jackie Davis decided it was time to buy a new car, they didn't have to look too far. As a sales consultant at Planet Hyundai Centennial, Rick Davis had an easy time searching for the right vehicle. That search was made even easier when Jackie Davis fell in love with the 2012 Genesis R-Spec.
"For the money, the Genesis is the nicest car on the market," said Rick Davis, who has been in the car business for the past 17 years. "The car has 429 horsepower and it has every imaginable option that a person could want. It has navigation, heated and cooled seats, and it rides as smooth as other cars priced (at) twice as much.
"We shopped luxury cars all over the Las Vegas Valley. The list included the CLS Mercedes Benz, the BMW M-5, the Audi A-7, the Porsche Panamera and the Cadillac CTS-V.
"Every one of those cars is priced at $70,000 and above. The Genesis R-Spec is priced at $48,000 - and that simply tells the rest of the story," he said.
Jackie Davis also praised the vehicle, which she drives to and from work at Chase Bank.
"I love the fact that the car has so much power, but still drives like a luxury vehicle. We have been to California twice and each time the Genesis drove like a dream," she said. "What I especially liked was the adaptive cruise control, which keeps the correct distance from the vehicle in front of you without having to adjust it. This one adjusts automatically."
Rick Davis said he has sold about 20 2012 Genesis models.
"The buyers of the Genesis are customers that are professionals in their chosen careers. They are doctors, lawyers and the owners of small businesses. It seems that once someone drives one of these cars, they naturally want one, especially when they discover the cost."
Each new Hyundai comes with a 10-year, 100,000-mile engine warranty, along with a five-year, 60,000-mile bumper-to-bumper warranty.
"The Roadside Assistance coverage is a phone call away when you need help. If something were to happen, it's a phone call and it's handled," he said. "There is nothing that Hyundai hasn't covered. We are very happy and very comfortable with our purchase."
The dealership, at 6200 Centennial Center Blvd., sits on five acres and has a 39,000-square-foot building.
Also included among the company's Southern Nevada automobile dealerships are Planet Hyundai Sahara at 7150 W. Sahara Ave. and Planet Hyundai Used Car Super Store at 7100 W. Sahara Ave.
For more information on Planet Hyundai, visit www.planetlv.com or call 483-2200 (Centennial) or 938-1400 (Sahara).