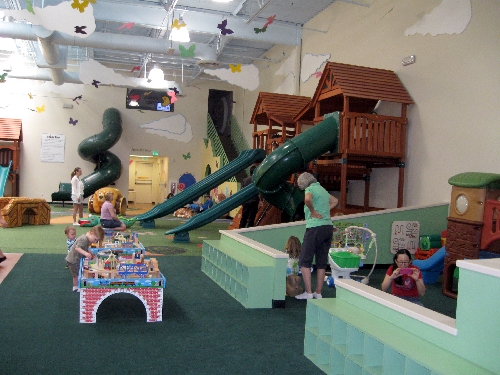 If youthful energy were a power source, Child's Play would redefine self-sustainability.
The family activity center recently opened its second location at 7060 N. Durango Drive, Suite 130, in Centennial Hills.
The membership-based center, which also hosts parties and classes, caters to families looking for entertainment away from desert temperatures. Jeremy and Vanessa Childs, with their appropriate last name and years in accounting and marketing experience, answered the call.
"These are facilities designed for kids with parents in mind," Jeremy Childs said. "It's a nice time to bring their kids in."
The couple are parents of two, and as a stay-at-home mother, Vanessa Childs struggled to find outlets to entertain her children. Her criteria included clean, safe and fun, Jeremy Childs said.
"We were always looking for a place like that in Southern Nevada, so we built it," he said.
The southwest residents opened the first Child's Play at 7260 S. Cimarron Road, Suite 100, in 2009.
One could call their model an "electric playground." The centers are open 9:30 a.m. to 6 p.m. weekdays for open play for children 10 months to 10 years old. Members have free reign of the centers during the time.
The Centennial Hills location upped the ante a bit.
The roughly 6,000-square-foot facility has a backyard play site, four slides, foam play structures, toddler-appropriate zones, a basketball court and computer stations equipped with Xbox 360 and Nintendo Wii consoles.
There are cafe-style tables and couches for parents to lounge on and socialize. Staffers are present to maintain operations and sanitize equipment often but it is not a day-care facility.
"We really emphasize that it's clean and safe and fun," Childs said. "It gives you the ability to come and go as you please on your schedule."
There is a $25 enrollment fee, and monthly costs are $25 a child and $14 per each additional child. Membership is for both Child's Play facilities.
The center hosts classes in dance, tumbling and arts and birthday parties. Parties are hosted privately on weekends.
The classes are open to nonmembers.
Childs said many Centennial Hills-based families traveled 30-plus minutes to use the southwest center.
"We got a lot of requests for Child's Play on this side of town," he said.
The new Durango Drive location opened Aug. 5. Jeff Zinn, a parent who used to make the crosstown trek, welcomed the new center.
He and 3-year-old son William visit Child's Play about three days a week. They were among the first members of the southwest location.
"It's a good fit for our family, especially in the summer when it gets too hot to be outside," he said. "We tried day cares, but you had to be in and out at certain times."
Zinn has met other parents who care for their children during the day, and William has formed friendships, too. Zinn said the price and convenience are a good fit for them.
"There is nothing that compares to it," he said.
For more information, call 834-5500 or visit childsplaylv.com.
Contact Centennial and Paradise/Downtown View reporter Maggie Lillis at mlillis@viewnews.com or 477-3839.