Kaine goes after Trump in Las Vegas, stresses importance of unions
August 22, 2016 - 4:59 pm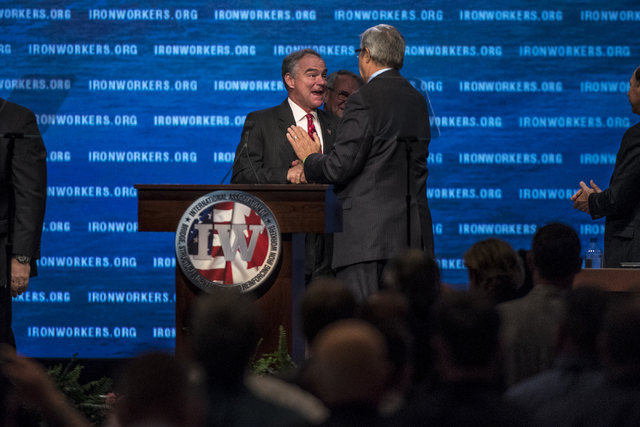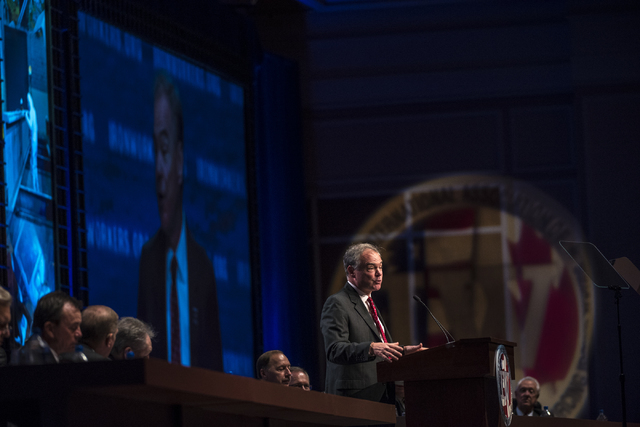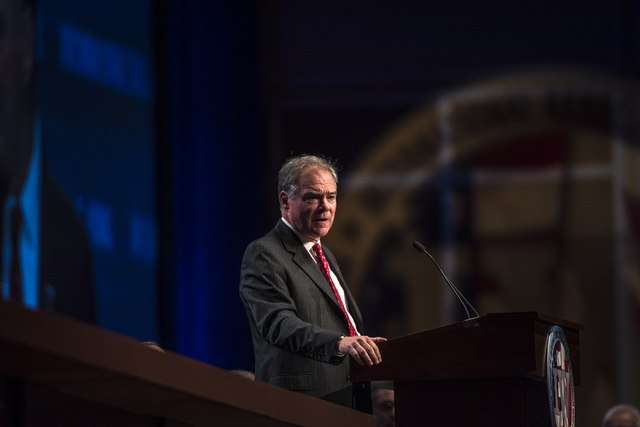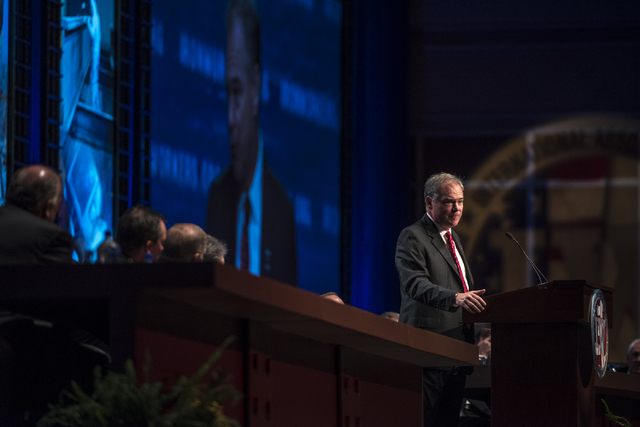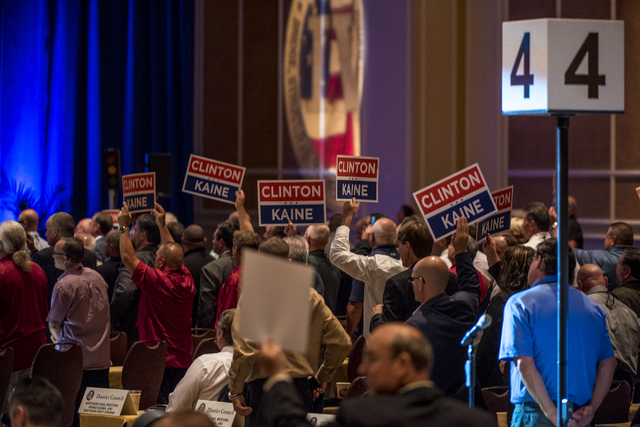 Democratic vice presidential nominee Tim Kaine slammed Donald Trump as a candidate who doesn't understand the connection between labor unions and growing the middle class.
Kaine's comments about the Republican presidential nominee and billionaire businessman came at the Iron Workers' 43rd international convention in Las Vegas on Monday.
"Donald Trump doesn't get it," Kaine said at The Mirage. "Labor unions helped build the great American middle class."
It was Kaine's first trip to Nevada as Hillary Clinton's running mate, though he campaigned on her behalf in Southern Nevada in February before the state's Democratic caucus.
Kaine said their plan entails rebuilding American infrastructure, boosting job growth and providing tax credits for programs that provide technical training to employees, including ironworkers.
Kaine, a U.S. senator representing Virginia, has deep union roots. He worked at his father's ironworking shop in Kansas City, Missouri. Workers there were union members and Kaine's father was on the national pension board.
He also talked of his father's small business near the stockyards of Kansas City, which had five employees in a tight year and 12 in a good year.
Kaine drew warm support from the union, which endorsed Clinton in November 2015, injecting labor support into her campaign as she was in the midst of a primary battle for the Democratic nomination.
The audience gave a hearty round of applause when Kaine pointed out his father in the audience, 81-year-old Albert Kaine Jr.
"I cannot imagine having a better father, a better teacher or a better example of how you should work," the son said, praising his father's teamwork with his employees. His father smiled and waved from his seat.
About 1,400 people attended the labor event, including 800 union delegates and 600 guests.
NOTE:The speech starts at 1:10.
KAINE: DON'T BE TRICKED
Kaine knocked Trump for not releasing his federal tax returns, a tradition for presidential and vice presidential candidates that goes back decades. He noted that even President Richard Nixon released his tax returns.
"If you are running for president or vice president, the American public deserves to know what your financial situation is," Kaine said.
Trump's campaign has said he's not releasing the returns due to an IRS audit, though critics have pointed out there's nothing legally preventing Trump from releasing them if he wishes.
Noting that Trump has bragged about paying as little taxes as possible, Kaine said paying taxes is a responsibility.
"It's a patriotic duty," he said. "We are citizens of an extraordinary nation. That's the deal."
He added: "We cannot afford to be tricked by Trump."
The union, officially called the International Association of Bridge, Structural, Ornamental and Reinforcing Iron Workers, AFL-CIO, represents 130,000 ironworkers in the United States and Canada.
KAINE RALLIES PLUMBERS
Kaine continued his verbal barrage on Trump later Monday while speaking at the Local 525 Plumbers and Pipefitters training center.
Telling the more intimate crowd of about 300 that his son is an active-duty Marine, Kaine criticized Trump for his comments in July attacking the parents of a Muslim Army captain.
"A guy who wants to be commander in chief is going to make fun of a Virginia family, of a Gold-star family who lost a child?" Kaine asked rhetorically.
Kaine told the local union members that he and Clinton will need their help to push the Democratic ticket to victory in the state.
The Associated Press recently rated Nevada as one of six toss-up states.
"We've got a lot of states, and Nevada is one, where the polls are close," Kaine said.
Kaine said he thinks voters are becoming less responsive to television ads, and that it's becoming "background noise" to many. So he called on the union members to spread the campaign's message in a more personal manner.
"The one thing they haven't tuned out is the value of a word from a friend," Kaine said. "This person-to-person stuff is what it's gonna take to elect Hillary Clinton."
Kaine took no questions from the audience at either event.
Prior to Kaine's first speech, Trump's campaign issued a statement.
"Hillary Clinton and Tim Kaine are running for a third (President Barack) Obama term that will guarantee continued stagnant wages, higher taxes and unnecessary regulation," said Charles Munoz, Nevada state director of Trump's campaign. "By contrast, Nevadans recognize that a Trump-(Mike) Pence administration will create jobs, lower taxes on the middle class, and repeal and replace the disastrous Obamacare that holds our economy back."
Contact Ben Botkin at bbotkin@reviewjournal.com or 702-387-2904. Find @BenBotkin1 on Twitter. Contact Colton Lochhead at clochhead@reviewjournal.com or 702-383-4638. Find @ColtonLochhead on Twitter.
RELATED
Hillary Clinton, Tim Kaine debut as Democratic ticket in Florida
Kaine pick could swing Nevada nonpartisans to Democratic ticket, expert says