Las Vegas artist leaves security work for full-time art career
October 2, 2015 - 6:00 am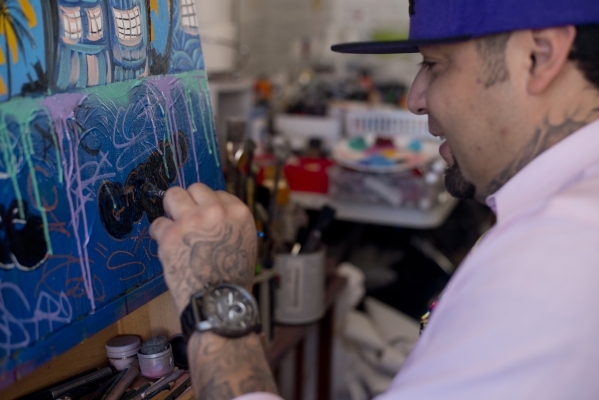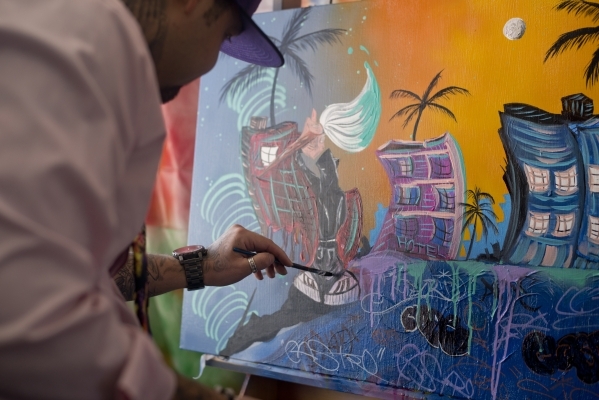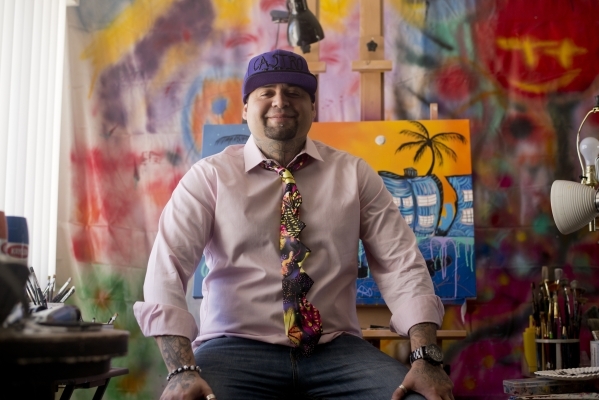 When Pete Castro was young, he stayed home from school a lot due to asthma. Where most kids would use the time to watch cartoons, he turned to PBS.
"I was, like, 5, and I was watching Bob Ross," said the Desert Shores resident. "I'd love to see his episodes. … I would watch him for hours, and I'd try to imitate him. I had no idea what kind of oils he used or paint brushes, so I kind of imitated him with my paper and my crayons."
Ross was known for painting on camera, describing how to achieve specific looks by using his paint brush to attain certain techniques.
Fast-forward about 30 years, and Castro is part of an exhibition at Agora Gallery in New York City's Chelsea art gallery district, scheduled for Oct. 9-29 and featuring a variety of artists. Castro will have four paintings on display and plans to travel to New York City for the Oct. 15 reception.
He's also booked for two art shows in Miami next year, including one for Art Basel 2016.
It's been a long road for Castro, who never studied art formally. But, along with PBS, his family provided early instruction. His grandfather, Alfred Maysonet, enjoyed illustrating as a hobby and taught Castro's older brother, Samuel, how to draw. Samuel, 11 years older, took Pete under his wing to show him the things their grandfather had passed down. They would illustrate superheroes and then cut them out so that Pete could play with them.
"He called it 'paper toys,' " Castro said. "So, he was my influence as an artist."
Castro continued to create art in his spare time, mostly illustrations. In 2007, he began painting with oils, which became his passion.
He's been married for 12 years to his wife, Kathie, and called her his best supporter. At first, he only showed her his art.
"She's been a big part of my art (progression). She's my biggest critic. She'll be honest with me," he said.
In 2013, he put some of his work up on social media.
"I thought, 'Let me put it out there and see what people think.' I was a little insecure at first; it wasn't like I was formally trained," he said. "So, I was, like, 'Let's see what happens,' and the response was amazing. People were asking how much they cost and where was my gallery. I was just doing it at home and posting it, and I'd get price requests. It felt amazing. I was working security at a nightclub, and I was, like, 'Maybe this is my path in life.' So I decided right there and then to pursue it."
Castro created self-made art exhibitions through networking and negotiating with local business owners. He opened a shop in the Fantastic Indoor Swapmeet, 1717 S. Decatur Blvd., and sold his paintings there for a time. He also was a vendor at a local farmers market. His work got into exhibitions, and he sold more paintings.
Carolyn Solomon carried his work at her venue, Artcetera, 720 Festival Plaza Drive, in Downtown Summerlin.
"I opened a pop-up gallery with two other partners in Downtown Summerlin last October," she said. "We were supposed to be there about 10 weeks, and we wound up there about 10 months. … Although we were approached by a lot of (artists), I thought he was very sincere about his art, very determined to have an art career. I really liked his work. I thought it had a real 'truth' to it."
Castro also gave back to the community, participating in charity events in Las Vegas where he created art. One piece was a painting on a guitar for a Goodie Two Shoes Foundation silent auction.
He did not know how to categorize his style, but an art teacher who saw his works labeled them expressionist with fantasy and abstract elements.
"He said it evokes emotion, and that made me feel amazing, just the fact that it can make people connect to it (the art) emotionally is like a phenomenal feeling for me as an artist," he said.
Castro said he plans to paint as his life's career. The highlight for him would be to see it in museums and to own his own Las Vegas art gallery.
To see more of his work, visit castro-art-94l0.squarespace.com.
— To reach Summerlin Area View reporter Jan Hogan, email jhogan@viewnews.com or call 702-387-2949.