Las Vegas' Sawyer Middle School theater students to perform New York-based play "War at Home"
August 18, 2016 - 5:05 am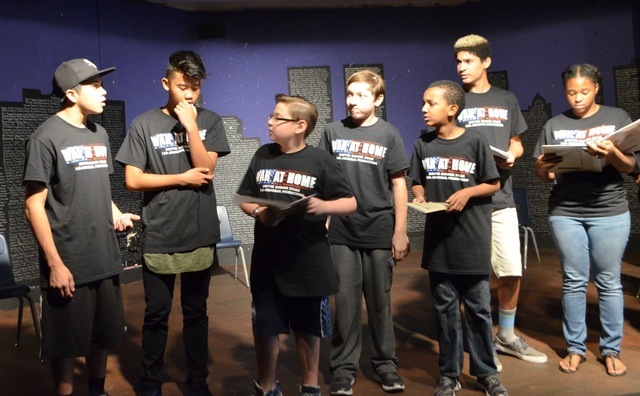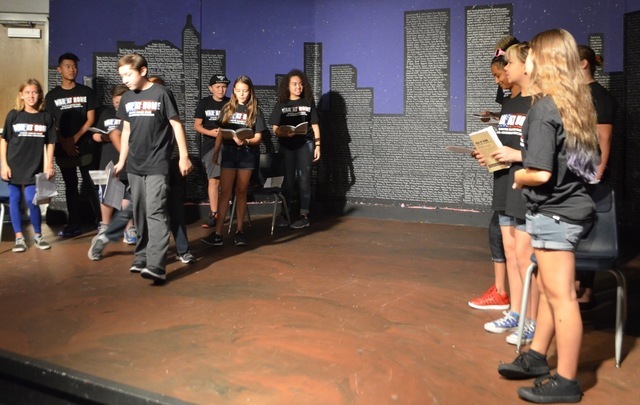 While many of their peers play, a group of students at Grant Sawyer Middle School is taking this summer seriously and putting on a play in the Sawyer Summer Stage program.
The program, made possible by a $38,500 Gift of Imagination grant from The Rogers Foundation, has kept kids at school four summer mornings a week working on improvisation, production and performance skills.
The program is set to culminate in performances of Nicole Quinn and Nina Shengold's 9/11 memorial play, "War at Home." The play was compiled from journal entries written by New York State high school students 100 miles north of Ground Zero in the weeks following the terror attacks.
In addition to the New York reactions, several Sawyer students will present short excerpts from their own essays expressing their feelings about the way Sept. 11 has changed the world.
Sawyer drama instructor Amy Roberge said while this is the first year the summer program has been offered, it isn't the first time the school has put on "War at Home."
Ten years ago, on the fifth anniversary of the terrorist attacks, the production was a big hit at Sawyer. Roberge's father produced the show in a school theater program in Hudson Falls, N.Y., then too.
The set from the production was simple. It featured a painted silhouette of the New York skyline embellished with handscribed names honoring those who died in the attacks.
"The last time I did this show, everybody involved had to write like at least 10 names," Roberge said.
Traditionally, the back wall of the theater would be repainted for each show. When the final curtain fell on "War at Home," Roberge said she and her students looked at the wall and came to the same conclusion.
"You can't paint over that," Roberge said. "So, now when we do our scenery, we do it with paper or material that goes over that. And when we're done with the show, we take it down. So, that's always the mural that's up there. It's just one of those things we could never paint over."
This year's cast gets a chance to contribute to a new mobile set that will enable the school's production to hit the road with performances in the theater at the Clark County Library. A former student, who is now at Las Vegas Academy, built the set, and this year's cast will paint it and write the names of those who died again.
Sawyer students said the play has helped them relate to 9/11 in a deeper way. Even the oldest youths born in the years after the attacks have no memory of what the world was like before.
Roberge explained that while the tragedy seems like it was just yesterday, it's history for her students, history that is too easily lumped in with events such as Pearl Harbor, the Kennedy Assassination and World War II.
Outside their lifetime or not, her students expressed the impacts the attack has had on their lives.
"My dad actually went into the Army because of 9/11," Sawyer student Wyatt Wehner said. "He made it through. A bunch of his friends died, though."
Wyatt said working on the play has helped him understand the events that convinced his father to join.
Sawyer student Azarreya Jones said 9/11 led to prejudice, fear and profiling based on race.
"It just makes you look at people differently," she said. "It makes it hard for us."
Sawyer student James Yap said the show is important because it should help remind people how tragedy united the country.
"Today, at this current time, we have a lot of wacked-up stuff going on," he said, "and this play will remind people of that certain community and bond and to just focus on the bigger stuff instead of all the smaller stuff."
Though the show is serious, Sawyer students said they've had fun in the summer program.
In addition to instruction from their teacher, they've had snacks provided by Three Square food bank and visits from guests such as performance poet Sean Critchfield, improv professional Lisa Davis and radio host Carla Rae.
"The massive network of Sawyer drama alumni have given their time, as well, to help the program to succeed," Roberge said.
As far as Sawyer students are concerned, even if no one comes to the shows, the program has succeeded.
Dodge Dalke remembers running into Roberge's office at least once a day to ask, "Is there going to be a summer program? Is there going to be a summer program?"
He knew she had applied for the grant and was among the actors most excited to see it come through.
Dodge said if it wasn't for the program, he would have spent the summer in bed playing video games.
The program provided students who typically are tied up with other activities a chance to dive into theater, too. Donovan Coleman is heavily involved in orchestra but took a chance on theater through after-school programs and the summer program.
"I'm a naturally shy person. I don't like talking to people," he said. "But this has got me out of my shell."
When the school year ended, Donovan said it was tempting to say goodbye to "all the drama" of middle school.
"But then I found out about summer school and thought, 'drama, why not,' " he said. "It's been really fun. I've met new people, great people. And if there is ever another summer program like this, I would love to be in it."
Roberge is hoping funding will be available to repeat the program next summer.
She already has commitments from graduating Sawyer students who vow to come back and help in future programs, students such as Alexia Wooten.
"Drama really made an impact on me," Alexia said. "I was just a little sixth grader. I didn't know what I wanted to do. But now I'm going to high school, and I really want to be an actress. I want to be a performing arts student … I know that whatever I do in the future will remind me of this place. Because this is where I found out what I wanted to be."
The first performance of "War at Home" is scheduled for 4 p.m. Aug. 18 at Grant Sawyer Middle School, 5450 Redwood St. A dinner show is set for 4:30 p.m. Aug. 19 at the school. The play is also set to be performed at 6 p.m. Aug. 25 and 26 at the Clark County Library, 1401 E. Flamingo Road. Admission is free, but donations for Paws and Stripes, an organization that provides service dogs to veterans with post-traumatic stress disorder, will be accepted. For information about school performances, call the school at 702-799-5980. For more on the library performances, visit lvccld.org.
Contact View contributing reporter Ginger Meurer at gmeurer@viewnews.com. Find her on Twitter: @gingermmm.