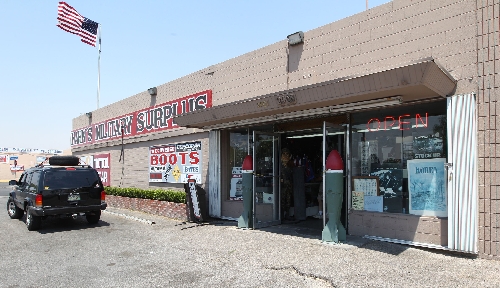 There was a time when Larry Hahn knew camouflage in the day and tuxedos at night.
In the early 1970s, the now-73-year-old Centennial Hills resident and founder of Hahn's Military Surplus, 2908 E. Lake Mead Blvd., would run his namesake store until 5:30 p.m., shower in the back and slip into a tuxedo to be a maitre d' on the Strip.
Before his days selling boots, knives and survival gear and moonlighting at gourmet eateries, the restaurant business was Hahn's bread and butter. And before that, Las Vegas was just supposed to be a whistle stop for his Nebraskan family.
"I got the measles and had to stay for a couple weeks," he said. "So my mom opened her own restaurant."
Hilda Hahn was a wicked cook of home-style fare, Hahn said, and a single mother of three at the time. She opened the Jet Cafe, also known as Hilda's Restaurant, just down the road from her son's current business.
Hahn helped with the family business and moved to waiting tables and assisting high-end clientele at the Dunes, Sands and Golden Nugget properties. He clocked in as a maitre d' for 15 years and got to know regular businessmen.
He became acquainted a seller with the Surplus Dealers of America who visited biannually and encouraged Hahn to open an outlet store.
"Twice a year I'd talk to (him), and twice a year I'd forget about it," he said.
Finally he gave it a try, and Hahn reserved 1,000 square feet of his mother's restaurant for military and tactical wares in 1973.
"I sold $30 on my first day," he said. "I sold a German helmet to a Jewish judge. I figured if I could sell a German helmet to a Jewish judge, I could sell anything."
Hahn then transitioned from one family-owned-and-operated business to another.
"It's amazing how things work out," he said.
He began selling military, security, mining and camping goods exclusively in the 1980s. As irony goes, Hahn was rejected from the Navy Reserve as a young man, he said.
He married and had five children during the time. The family has swelled to include 13 grandchildren and two great-grandchildren today.
On a recent Tuesday, Hahn and his family member employees assisted customers and joked with regulars. Daughter and soon-to-be store owner Leslie Hahn said she often gets reminded, "It's not Macy's" when she tidies up.
"It's a man boutique," she said.
"This is the temple," said a nearby customer.
Mitchell Weinstein, a former dealer for a security company, commuted for six years from Pahrump to Hahn's Military Surplus to tap into Hahn's expertise and business manner.
Weinstein said he feels comfortable consulting with Hahn and returning purchases when they aren't right. Hahn takes it upon himself to return or replace items.
"You're not going to get that most places," Weinstein said. "Usually companies put it on the customer to take care of that. Every time I've come in here or sent someone here, we've all left here with a smile on our face."
Hahn manages the store, his wife Christina serves as bookkeeper, and Leslie and some grandchildren man the register and field inquires.
Hahn said world news events often lead to large spikes in business. The terrorist attacks of Sept. 11, 2001, various natural disasters and speculated events, such as the end of the Mayan calendar, lead to sellouts of hazmat suits, survival gear and gas masks, he said.
Security companies from big corporations told Hahn they were purchasing emergency equipment solely to get executives safely to helicopters and away from danger in an emergency, he said.
Fear leads to large profit margins, he said.
"We were doing $10,000 to $20,000 in sales a day," he said.
Hahn's Military Surplus supplies civilians, military and other government agencies, private sector companies, cities and more.
Customers often have interesting stories to share at the register. Hahn and his wife know many of their regulars as personal friends, too, they said.
"That's why it's an interesting business," Christina said.
When the store opened its flagship, 10,000-square-foot location, it had no competition, she said. For a time, five or six Army surplus stores competed, and now, there are about two, Hahn said.
The store has an online storeroom, as well.
Aside from having secured a name and legacy in the community, Hahn doesn't plan to sit out his golden years, he said.
Leslie Hahn, who has transitioned from part-time to full-time work in the store for 20 years, is to assume ownership for the retirement her parents joke of.
"I'm 73; my wife is 72; what's another 10 years here?" Larry asked.
For more information, call 649-6819 or visit hahnssurplus.com.
Contact Centennial and North Las Vegas View reporter Maggie Lillis at mlillis@viewnews.com or 477-3839.