Modernizing masterpieces: Sunrise resident works to preserve classic books for e-readers
September 14, 2013 - 10:26 am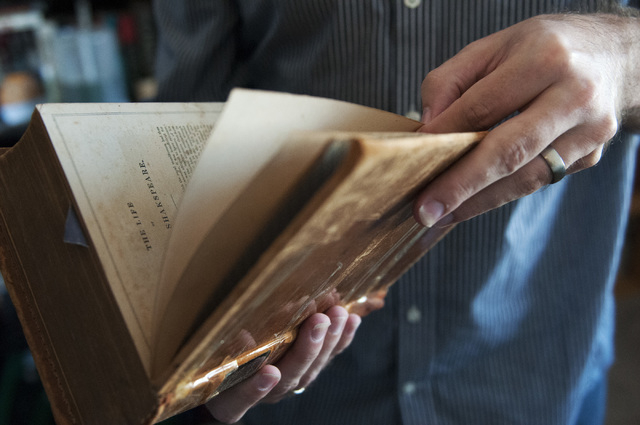 Osie Turner admires his collection of books, which include rare and limited prints from the 1800s and early 1900s. The Sunrise resident said the problem with owning timeworn books is they are so delicate, he cannot read them for fear of ruining their exterior. He calls it a catch-22.
That problem resulted in the creation of The Forlorn Press, a project that revives rare and classic books into e-books. According to Turner, his goal is to introduce the modern reader to old and forgotten books.
"Being an avid reader and literature lover, I thought it'd be a great idea to start republishing the best of these old books in the hopes of inspiring a new generation of writers, artists and even movie makers," Turner said.
The idea sparked after Turner had a conversation with a friend from England who commented that the books he reads are so rare that not even British readers have heard of them.
Turner then decided that he could compile anthologies of his favorite stories and advertise them on his blog, The Forlorn Path, dedicated to macabre films, literature, alchemy, photography and other eccentric themes.
His first anthology focused on the life of horror and mystery fiction author Clarence Aaron Robbins, known professionally as Tod Robbins. Robbins became most known for his short story "Spurs," which later became the basis for the 1932 movie "Freaks." According to Turner, he has written the most complete biography and bibliography of the author.
"I figured his biography would be a really easy thing to do if I Google searched it, but it turned out that there was almost no information on him," Turner said. "I tracked down as many newspaper articles as I could from the time he was alive though a library system. It took me three months of research to compile everything."
Since the birth of The Forlorn Press in January, Turner has assembled five anthologies of late Victorian- and Edwardian-era novels and short stories. His compilations include themes of horror, vampires, banned books and sea life.
His latest collection is "The Devil in Manuscript and Other Tales of Forbidden Books." According to Turner, many of these short stories served as the inspiration for H.P. Lovecraft's famed "Necronomicon."
"My preferred method is to have one or two more well-known stories in order to gain notice and show up in searches, and then the rest of them are more obscure," Turner said. "This way the reader may find a new author forgotten by history and hopefully pursue more of their work."
In addition to his compilations of short stories, Turner adds appendices in all of his anthologies and additional details of the stories' publication histories, original author's biographies and any other interesting facts that he uncovers during research.
He also includes original illustrations from first editions or inserts his own photography of nature or abandoned buildings to enhance the e-book.
"I was against e-books at first when the whole thing started, but then my sister gave me a Kindle for Christmas in 2010, and I started using it," Turner said. "I realized that I could find e-texts of books that have been out of print for 50 to 60 years, which couldn't be easily tracked."
His e-books are available for Kindle and Nook and can be purchased through Amazon or Barnes & Noble. Each e-book contains between eight to 20 stories and range in price from $1 to $3.
Turner said that although sales are most popular in the U.S., he has also had international sales in the U.K., Germany and Spain.
"I'm a fan of the short story over the novel," Turner said. "It's a challenge to write a story because authors don't have endless space. With a short story, if you make a mistake, readers are more critical of it."
His wife, Danielle, has supported him from the very start.
"I think it's really cool that he's riving old stories and novels for people to access easily," Danielle said. "From what I've heard, the feedback has been really positive."
Turner, 31, recently returned to the College of Southern Nevada as a full-time student to finish his degree in history. Despite his unfinished degree, he has had plenty of experience with writing. He was a staff writer for Occult Magazine and has also written an e-book, "The Wellington Manuscript," a fictional manifesto of a professor dealing with his own insanity in New Orleans.
Turner's next project will focus on feminist sci-fi from the late 19th century and early 20th century. He plans to release the collection within the next few months.
"I want to continue to honor authors who are now forgotten and preserve their memory," Turner said. "This is very much a labor of love."
Contact Sunrise/Whitney View reporter Sandy Lopez at slopez@viewnews.com or 702-383-4686.