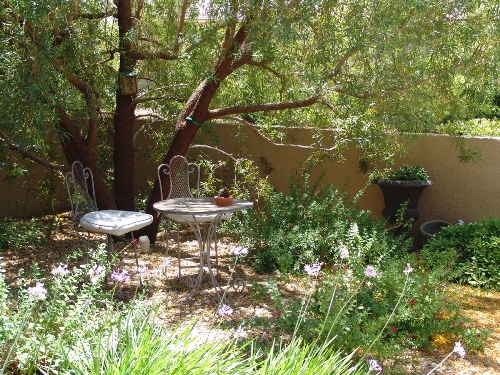 Town advisory meeting planned
The Spring Valley Town Advisory Board is scheduled to meet from 6:30 to 7:30 p.m. July 12.
The meeting will be at Desert Breeze Community Center, 8275 Spring Mountain Road. For an agenda, visit clarkcountynv.gov.
Gymnastics summer camps available
Flip For Me Gymnastics, 5905 W. Wigwam Ave., has scheduled recreational gymnastic camps from 9 a.m. to 1 p.m. Monday through Friday to provide children with a safe and fun environment to experience gymnastics, tumbling, athletic games, arts and crafts, open gym time and more. To reserve a spot for your child, call 202-0020.
Get ideal hair and benefit charity
Style DQ, 5540 S. Fort Apache Road, Suite 120, began a hair fundraiser June 10 for the Shade Tree shelter, 1 W. Owens Ave. The salon plans to raise $100,000 through $10 haircuts of any style. It is open from 11 a.m. to 7 p.m. Monday through Friday. For more information, call 566-4247.
Show your love for pets with a 'like'
For every person who "likes" the Facebook page of the Silverton, 3333 Blue Diamond Road, during July, the casino will donate $1 to the Nevada Society for the Prevention of Cruelty to Animals. The campaign, aimed at helping pets in need, started in June and hopes to raise $5,000.
Foreclosed Upon Pets seeks
foster homes for animals
Foreclosed Upon Pets Inc. is in urgent need of foster families to house animals until forever homes are found. The all-volunteer group takes in pets left behind in the rocky home mortgage situation. It is running at capacity and can accept no more animals without more foster parents.
For more information, call 272-0010 or visit forecloseduponpets.org.
SPRING VALLEY PHOTOGRAPHER SCHEDULED TO HOST FLORIDA GALLERY SHOW
Spring Valley resident Lamar Marchese's work, "PRIDE (and prejudice)," a photo essay, is featured in a monthlong run at the Studio 620 gallery in St. Petersburg, Fla., through July 16.
"PRIDE (and prejudice)" documents the 2009 and 2010 Gay Pride Parades in St. Petersburg, one of the largest such events in the Southeast with more than 80,000 attendees.
It focuses primarily on parade participants and spectators and secondly on a minority of protestors.
Nominations being taken
for Caregiver of the Year
Homewatch CareGivers, a provider of full-service home care, will be accepting nominations for its National Family Caregiver of the Year award through July 29.
Semifinalists will win a yearlong scholarship to Homewatch CareGivers University, where they can take various courses on gaining an educational foundation, skill set and confidence to continue improving their caregiving. The semifinalists also will be given eight hours of respite care. One winner will be awarded the $10,000 grand prize and the title of National Family Caregiver of the Year. For more information on the program, visit homewatchcaregivers.com.
SIGN-UPS FOR CHURCH SUMMER CAMP OPEN
Camp Hope, a two-week summer day camp, is scheduled from Aug. 1-12. Good Samaritan Lutheran Church, 8425 W. Windmill Lane, is hosting the camp for children who will be in kindergarten through fourth grade in the upcoming school year. Camp Hope will run from 9 a.m. to 3 p.m., with before and after care available. To register, call 873-3589 or visit gslclasvegas.org.
Enter to win an iPad 2
through winder farms
For every product purchased at Winder Farms, a home delivery grocery service at 6420 Cameron St., Suite 203, customers will be entered to win an iPad 2. The giveaway lasts through Aug. 31.
Winder Farms specializes in delivering farm-fresh products, such as milk in glass bottles or half-gallon jugs, various dairy products, organic fruits and vegetables and natural meats.
To sign up to be a Winder Farms customer, visit winderfarms.com.
Nv Energy launches checkme plus
air conditionING program
Is your air conditioner ready to handle the heat in Southern Nevada? NV Energy has launched the CheckMe Plus Air Conditioning Program, offering customer rebates to tune up or replace air conditioners that are not operating efficiently. To save energy and money, check out the CheckMe Plus A/C Program at nvenergy.com/ac or call
855-625-6404.
Design a logo for Nevada Arts Academy
The Nevada Arts Academy is seeking a logo design to represent the academy on print materials (fliers, letterheads, business cards, etc.) and on the academy's website. The designer of the winning entry will receive a $500 prize. For complete contest rules, visit musicartslv.com or call 248-1288.
Summer camp to help children
deal with loss
Camp Mariposa, the Nathan Adelson Hospice-hosted bereavement camp for children, is taking registration for the 2011 camp session scheduled for July 15-17 at Torino Ranch.
Now in its 21st year, the overnight camp is designed to facilitate the natural grieving process and provide opportunities for bereavement exploration, balanced with arts and crafts, sports, music, storytelling and other recreational activities.
Camp Mariposa is open to children ages 7 to 12.
The camp is funded by Nathan Adelson Hospice, with no cost to families of accepted campers.
To request an application or volunteer for the camp, call 796-3167 or visit the Center for Compassionate Care, 4131 Swenson St.
For more information, go to nah.org.
Registration open for september's youth flag football
Registration is open for the NFL Youth Flag Football leagues.
Beginning in September, games will be played on Saturdays at All-American Park, 1551 S. Buffalo Drive.
Children ages 6 six to 14 are eligible to play.
The $65 fee includes a team jersey.
Call the Mirabelli Community Center, 6200 Hargrove Ave., at 229-6359 for more information.
Crohn's & Colitis Foundation to host 51s night
The Crohn's & Colitis Foundation of America plans to host Night at the 51s at 7 p.m. Friday.
Tickets are $10 with a portion benefiting CCFA and its mission to find a cure for the 1.4 million Americans suffering from digestive diseases. Tickets must be reserved in advance through CCFA. The first 500 will get a free Las Vegas 51s baseball cap and entry into the 51s Beach Towel Night.
For more information, visit cctakesteps.org/lasvegas or contact Briana Mackey at 885-8650 or bmackey@ccfa.org. All tickets must be reserved in advance and will be available for pick up at the CCFA "will call" table on game night.
Camping near Red Rock Canyon
closed for summer
The campground at Red Rock Canyon National Conservation Area is closed until Sept. 1 due to summer's low usage.
It is approximately two miles east of the Red Rock Canyon Visitor Center on state Route 159 (West Charleston Boulevard) and is the only developed campground within the conservation area.
Visitors are encouraged to take advantage of other camping opportunities in the area, including backcountry camping at Red Rock Canyon with permit, 515-5050; Valley of Fire State Park, 397-2088; Lake Mead National Recreation Area, 293-8990 or 293-8906; Death Valley National Park, 760-786-3200; Mojave National Preserve, 760-252-6100; USDA Forest Service Humboldt Toiyabe National Forest, 515-5400; Spencer W. Kimball Scout Reservation, 968-8138; and Potosi Pines Camp, 875-1980.
Camping is allowed on Bureau of Land Management land outside of the Las Vegas Valley for up to two weeks without charge.
For more information, go to blm.gov.
Day camps available at YMCA
The YMCA of Southern Nevada offers wallet-friendly solutions for families looking for child care and ways to stay active this summer. The YMCA is taking day camp registrations and selling Sizzlin' Summer passes, which provide four months of unlimited access to its locations: the Bill & Lillie Heinrich YMCA, 4141 Meadows Lane; Durango Hills Community Center YMCA, 3521 N. Durango Drive; Centennial Hills Community Center YMCA, 6601 N. Buffalo Drive; and the YMCA's newest location, the SkyView YMCA in North Las Vegas, 3050 E. Centennial Parkway.
YMCA day camp is for kids 5 to 15 and runs from 9 a.m. to 4 p.m. Monday through Friday, June 13 through Aug. 26. Free care for campers is available from 7 to 9 a.m. and 4 to 6 p.m. and is provided for working parents. Weekly camp prices range from about $100 to $200, and a daily drop-in rate of $45 is available. No one is turned away because of an inability to pay. Financial assistance is available.
The Sizzlin' Summer Pass provides unlimited access to the YMCA's water parks, swimming pools, wellness centers and classes. Prices are $109 (individual) and $209 (family). For a list of amenities by location, go to lasvegasymca.org.