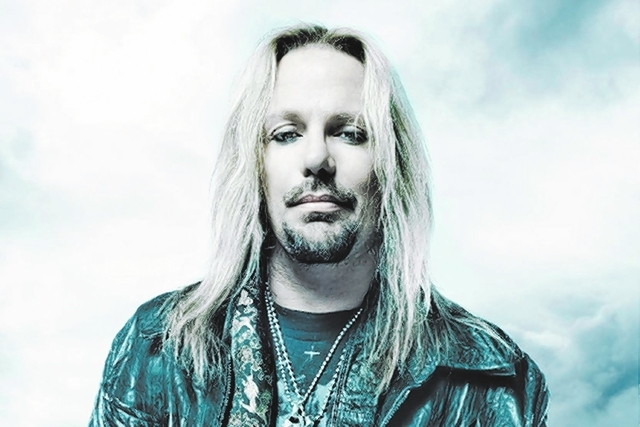 Motley Crue frontman Vince Neil has been telling friends he's heading for Donald Trump's boardroom as a member of "Celebrity Apprentice."
The controversy-courting rocker would follow in the footsteps of Rio headliner Penn Jillette, who finished second on the NBC reality show in May.
Country star Trace Adkins won the $250,000 first prize, which went to his favorite charity. Jillette won $50,000, raising his total donations to Opportunity Village to more than $700,0000.
Also rumored to be in the running for a spot on the cast: former Miss New York/Miss USA 1995 Shanna Moakler, current state director of the Miss Nevada USA pageant.
Neil's latest flareup came two weeks ago at a Hard Rock Hotel poolside party showcasing the sushi of chef Nobu Matsuhisa and his top chefs.
Neil was heard having words with a woman who had approached his cabana and began discussing his role on "Celebrity Apprentice."
An agitated Neil was heard making the claim that he has raised more money than any celebrity in Las Vegas. He has lived here since the mid-1990s.
Neil's cabana guests included celebrity reporter Robin Leach, who apparently decided to sit on the "exclusive."
PHILLY FANATICS
Sports broadcaster Molly Sullivan got an early introduction to Philadelphia's sports passion while covering the 76ers as a sideline reporter.
During a Sixers-Boston Celtics game, Sullivan referred to Celtics coach Glenn Rivers by his nickname, "Doc."
That went over like limburger on a Philly cheese steak.
"Our producer was in my ear telling me there's only one 'Doc' in Philadelphia," said Sullivan, a 1998 Green Valley Ranch graduate who moved from Las Vegas to Philadelphia two years ago.
That, of course, would be Sixers' NBA Hall of Famer Julius "Dr. J" Erving.
"The tweets to me from Sixers fans certainly confirmed it," Sullivan said in an email. The former University of North Carolina swimming star added, "I'm coachable."
KXNT HIRES ROSELLI
Former KLAS-TV, Channel 8 morning anchor Dayna Roselli has been promoted to full-time co-host on the KXNT Morning News team.
She has been working on a part-time basis since August. She will continue to team up with Joe Gillespie and Nathan Tannenbaum on the 6-9 a.m. newscast.
"Dayna is a special talent who is extremely well connected in the community," said Andrew Paul, program director at KXNT-FM, 100.5. "Her fans love her, evidenced by her 15,000-plus Twitter followers."
THE SCENE AND HEARD
Tory Cooper, the event planner who handled the multimillion-dollar wedding at Bellagio on Saturday, said the groom, Houston businessman Pankaj Malani, wanted to clarify that the weeklong celebration did not cost the $8 million to $9 million figure Cooper had provided to the Review-Journal. Also, the nine-tier cake was created by Bellagio pastry chefs Jeanette Droegmoeller and Deborah Mason, under the supervision of executive pastry chef Sylvain Bortolini. Cooper had credited Jean-Philippe Maury.
SIGHTINGS
Caesars Palace headliner Shania Twain, at Tom Williams Elementary School in North Las Vegas on Monday to announce that her Shania Kids Can foundation will fund a campus clubhouse at the school.
THE PUNCH LINE
"Sylvester Stallone and his buddy Arnold Schwarzenegger have teamed up, and they've got a blockbuster action movie opening this weekend. They're a little older now than they used to be, but go see the movie. It's called "Escape From Assisted Living." — David Letterman
Norm Clarke's column appears Sunday, Wednesday and Friday. He can be reached at 702-383-0244 or email him at norm@reviewjournal.com. Find more online at www.normclarke.com. Follow Norm on Twitter @Norm_Clarke. "Norm Clarke's Vegas," airs Thursdays on the "Morning Blend" on KTNV-TV, Channel 13.