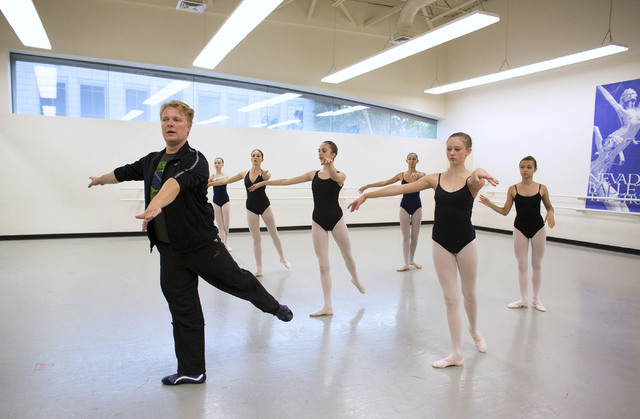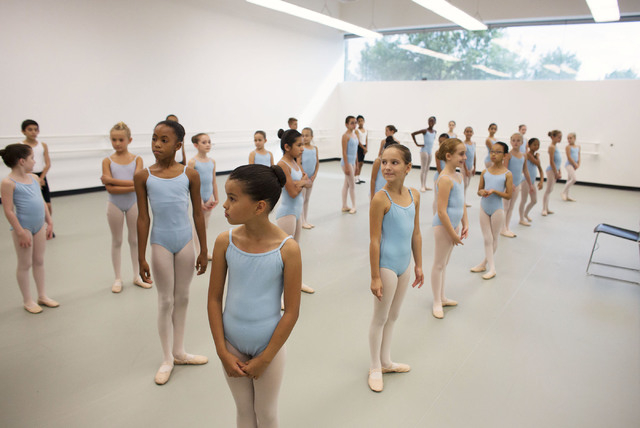 The Academy of the Nevada Ballet Theatre recently welcomed its new directors, a married couple who will share duties.
Monique Meunier is a former New York City Ballet principal dancer and American Ballet Theatre soloist. Her husband, Nilas Martins, is also a former New York City Ballet principal dancer.
"Monique and Nilas are internationally acclaimed artists and teachers who have excelled at the highest levels of our profession," said Beth Barbre, executive director and CEO of Nevada Ballet Theatre, 1651 Inner Circle Drive. "They have the vision and skills to build our academy into one of the nation's leading ballet schools."
Over the course of their careers, Meunier and Martins have trained with some of the world's most celebrated teachers and choreographers and performed lead roles in countless ballets. They have worked with a number of companies and taught at universities, schools and festivals throughout the world. In addition to their experience as repetiteurs for The George Balanchine Trust, their knowledge comprises all facets of the ballet industry, from teaching to staging and re-staging works to choreographing, coaching and mentoring professionals and students.
"We used to work with Beth," Martins said of Barbre. "When she contacted us about this, we thought it would be really interesting. We could actually make a difference, bring what we have and see what we can do with the academy. It's kind of a challenge, I think. And we were at a place in our careers where we were ready for something like that, ready for a move."
Martins used to have a company and Meunier helped him with that. The experience showed them how well they worked in tandem. They also collaborated on choreographing productions. They said their teaching styles complement each other's.
"We do have different backgrounds … he's from Denmark, I'm from Los Angeles, but I'm trained Russian," Meunier said. "And then we met at the Ballanchine thing, so in terms of work, because we get along so well, it's very easy to find (common ground). We don't even really need to talk about what we need to do. He does this, and I'll just do that and … it happens really naturally."
They flew to Las Vegas to get married about two years ago and recently welcomed a daughter who soon will be learning to walk. The couple drove from New York with two cats and their daughter, taking about a week. After settling in, they were eager to get to work.
"There is not really a right or wrong way to be an academy director," Martins said. "You have to find what is your forte and then have a strong team behind you. There are a lot of people in place here who are really good at what they do. What is important for Monique and I is to not step in their way."
Meunier said she likes to focus on pointe training, a passion of hers. She said artistically, she'd "really like to see the levels pushed up. There are certain things that are lacking. We have the teaching staff, it's just that, like the pointe, there needs to be (dedicated) pointe classes."
She lifted a paper on which last year's schedule was outlined.
"For next year, there will be more of a consistent pointe class for certain levels, and nobody's going to be pushed too fast because pointe is a dangerous thing," Meunier said. "Some people might be in a beginner's pointe and another might be in an advanced, and even if they're supposed to be in the same level in dance, once you get en pointe, it's a completely different thing. You have to do it right. In order to have a full experience for a child as a dancer, that's the only way. Or else they're going to be hurting, they're not going to like it, and they're going to quit. The healthiest way is the best way."
Meunier said the more the students get to do technically, the more fun ballet will be for them. By improving their level, she said, they would be "increasing the joy."
There are 400 students. Meunier said it was a medium-sized academy if one just looked at that number. But the students are as young as 18 months and go up to adult. The majority are children in grade school. The amount of students ages 12-18 would qualify the academy as a small school.
Martins said he'd like to acquire more students in that higher age group.
Talking about dreams of what could be, Martins said he'd like to eventually see a dorm on campus for students from out of town on a yearlong scholarship or guest teachers. It would allow for a summer-intensive format where students are brought in to work with a certain teacher.
"It's a dream right now, but it's good always to think ahead," Meunier said. "That's one way to make it better here, to tap into, it's a small community, and things are very spread out … there are only so many kids (in the Las Vegas pool). So, in order to raise everything, we need to expand, and the only way to expand is to have somewhere for them to stay."
Martins said, "One of the things we want to bring to the academy is to introduce the kids to some choreographies that will be challenging for them, but at the same time, very rewarding. That could happen in the spring show or a studio choreographic project, but something we really would like is to introduce them to not just choreographers but also some teachers, guest teachers. It would open their horizon a little bit. I'd like to explore the possibilities of that."
Nevada Ballet Theatre has other news. The studios that suffered water damage earlier this year have been renovated.
"You can see where we only had to remediate a portion of this studio, so you can see where this floor has been down for 15 years, and then we have the brand new floor back there," said Katie Hughes, production and facilities coordinator.
The work included new drywall and paint and attaching mirrors. One studio required minimal work. The renovations began in early July and were finished just in time for classes to begin Aug. 26. The cost of the interior work totaled roughly $161,000.
"It was a little scary to see the number that it cost to get all this fixed," Hughes said. "Especially since when we originally had the problem, we didn't think it was going to be that big. It (became) a gigantic project."
Nevada Ballet Theatre said it was lucky to have great supporters who provided funding for the project. The capital campaign is continuing through the season so the ballet company can pay for the exterior renovations, which will be extensive. The theater is expecting that work to cost approximately $300,000. A timeline of eight to 12 weeks has been suggested, as it requires multiple inspections.
"We're still in the planning process," Hughes said. "Everyone is still submitting bids."
The exterior work is being delayed while a six-week drainage study is being done before corrective action can begin. While the study is being done, a new drainage ditch carries away any rainfall.
As for the vandalized statutes in the front entry of the theater's headquarters, all remaining traces of them have been removed and taken for salvage. The week after Labor Day saw the area where they were anchored covered over with concrete. The main monument, which was not damaged, remains as the lone sentinel at the entry.
For more information, visit nevadaballet.org.
Contact Summerlin/Summerlin South View reporter Jan Hogan at jhogan@viewnews.com or 702-387-2949.