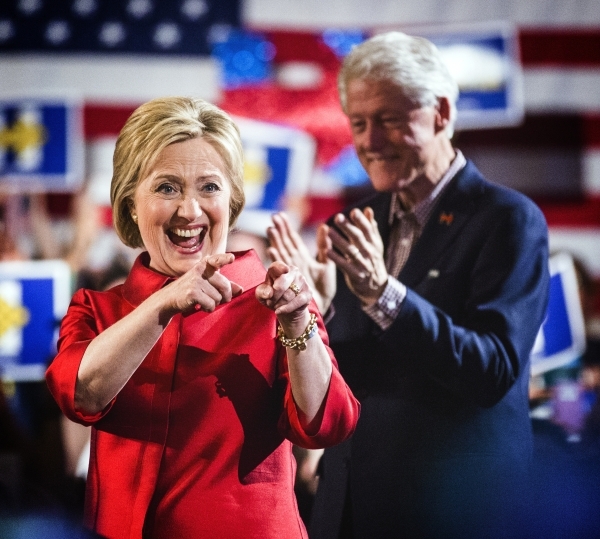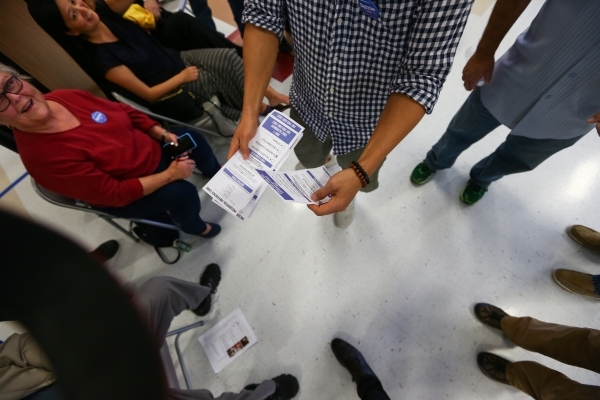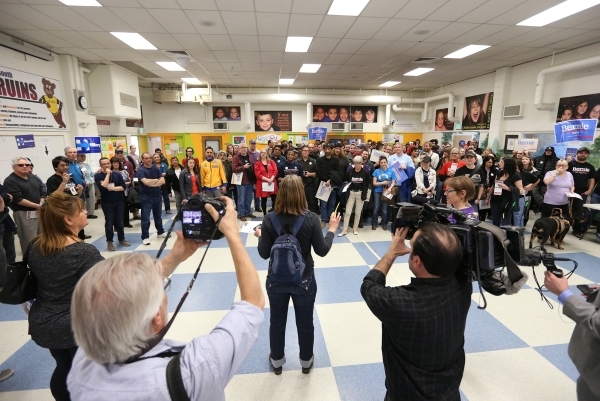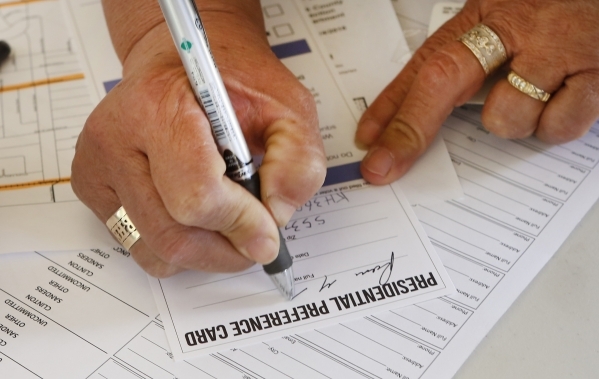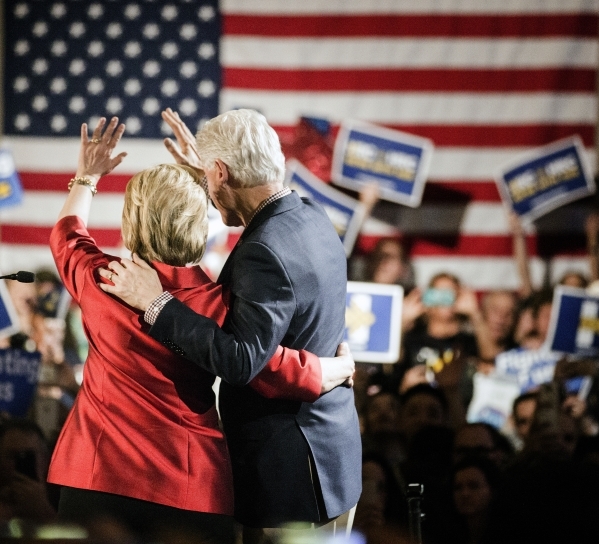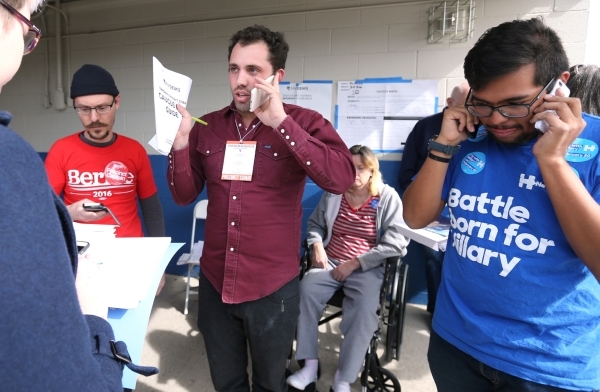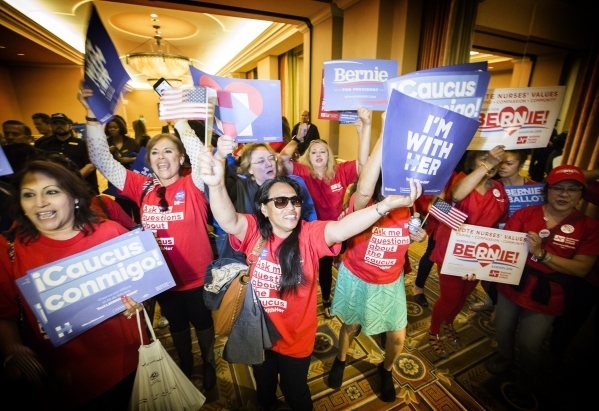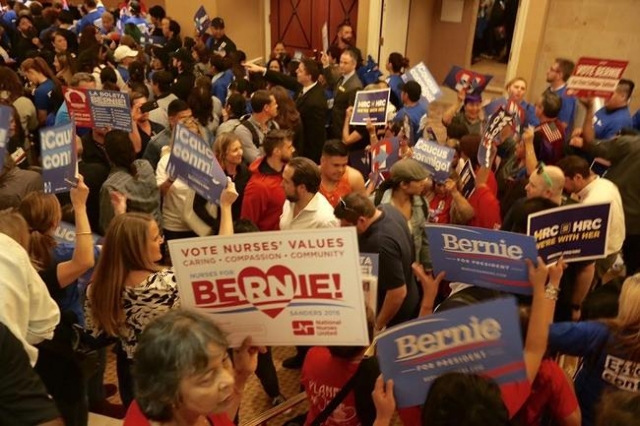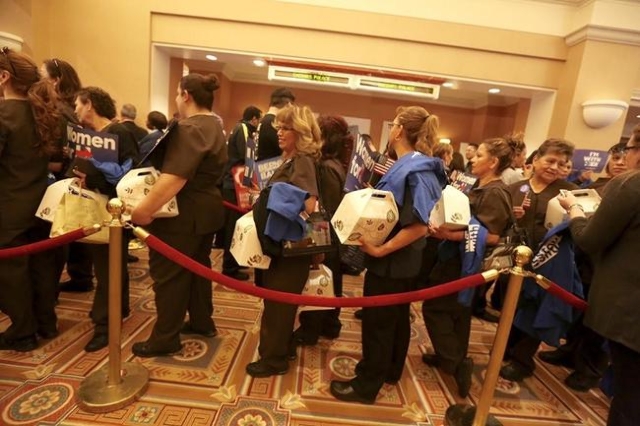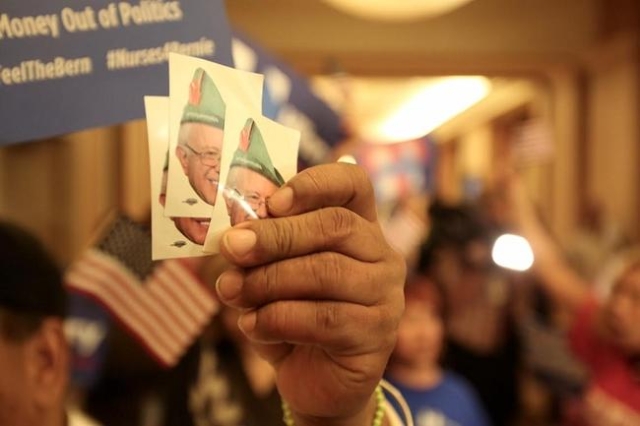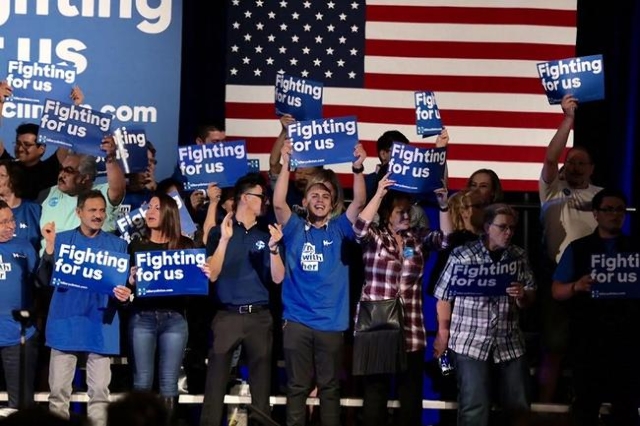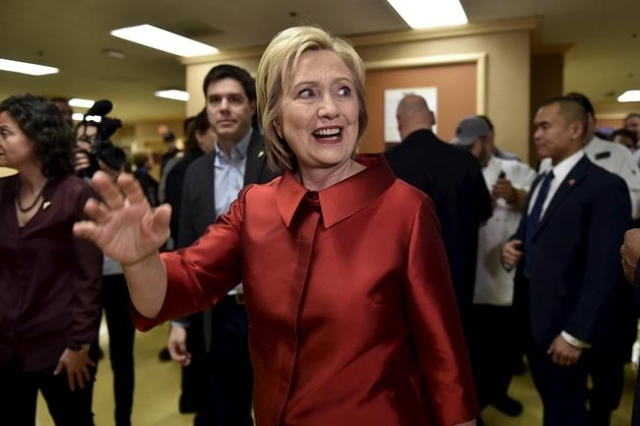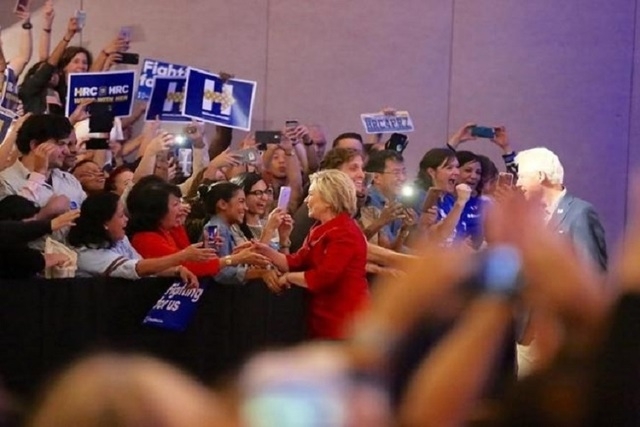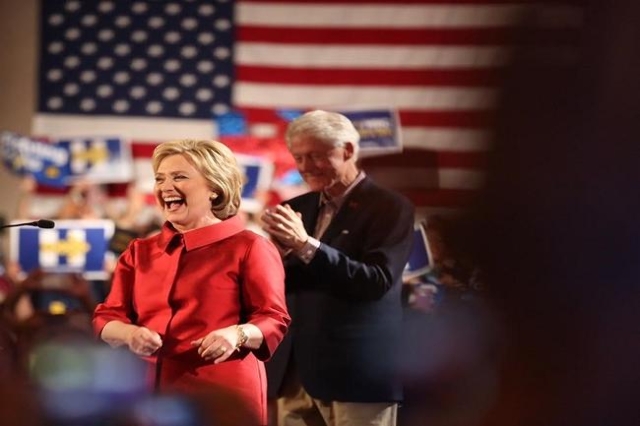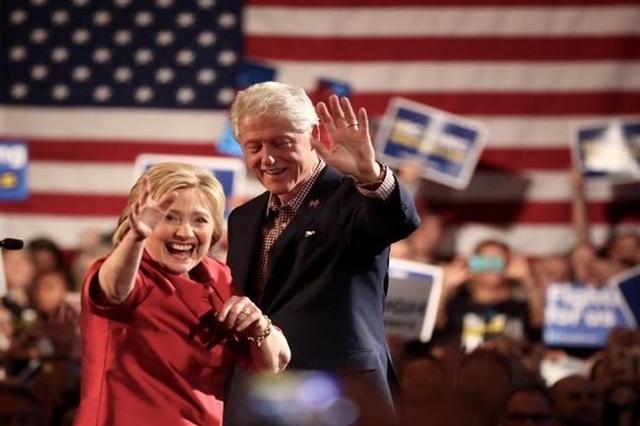 Nevada gave Hillary Clinton the lift she needed to surge ahead in the Democratic presidential race Saturday.
"Some may have doubted us but we never doubted each other," Clinton told supporters gathered at Caesars Palace on the day she won the state's caucus by about 6 percentage points.
Earlier she reached out to her supporters in a Tweet: "To everyone who turned out in every corner of Nevada with determination and heart: This is your win. Thank you. -H"
Clinton easily beat Bernie Sanders 53 percent to 47 percent statewide, with 92 percent of precincts reporting. Her much-needed win in the third early voting state for Democrats came after she only narrowly won the Iowa caucus and lost the New Hampshire primary to Sanders.
Sanders, a senator from Vermont, conceded the Nevada race, congratulated Clinton and pledged to stay the course in seeking his party's presidential nomination.
"I am very proud of the campaign we ran," Sanders said in a statement. "Five weeks ago we were 25 points behind and we ended up in a very close election. And we probably will leave Nevada with a solid share of the delegates.
"I am also proud of the fact that we have brought many working people and young people into the political process and believe that we have the wind at our back as we head toward Super Tuesday. I want to thank the people of Nevada for their support that they have given us and the boost that their support will give us as we go forward," Sanders added.
Results varied throughout state
Precinct-by-precinct results reported by the Nevada Democratic Party showed Clinton doing well across the Las Vegas Valley, while Sanders saw the best results in Northern Nevada and rural areas.
Clinton won Las Vegas Valley, including one city by 21 percentage points.
North Las Vegas favored Clinton by 21 points and Henderson favored her by 11 points, with 95 percent of the precincts reporting. She was leading in Las Vegas which includes unincorporated Clark County, by 6.5 points.
Turnout was heavy at the party's caucuses in Southern Nevada. A party official said turnout statewide is expected to be about 80,000 — heavy, but not a record. In 2008, about 117,000 Democrats caucused in Nevada in a historic battle between Clinton and Barack Obama.
Party officials seemed unprepared for the large turnout. Registration lines were long and slow-moving. Some sites ran out of voter registration forms; others made do by having English-speakers fill out Spanish-language paperwork. At North Las Vegas's Cheyenne High School some would-be voters simply left rather than deal with chaos that kept many waiting in the sun well after the caucuses were to start. Many of the sessions started late, some by as much as an hour.
Saturday's caucus is the first step for Nevada to send delegates to the Democratic National Convention. Precincts throughout Nevada awarded 12,000 delegates to the two candidates. The delegates go to county party conventions in April, where county delegates are picked for the party's state convention in May. Winners there go on to the Democratic National Convention in Philadelphia in July.
Nevada will send 43 delegates to Philadelphia. Of those, 23 delegates who worked their way up from the caucuses; 13 pledged and unpledged party leaders and elected officials; and seven at-large delegates.
Clinton strong on Strip
From rural Nevada to the heart of the Strip, people stood in line to caucus. Strip workers had six at-large precinct sites that gave them an opportunity to caucus while on break during their shifts.
At Caesars, support for Clinton was strong, almost twice what Sanders received at that location.
At the Henderson Pavilion, Sanders had a watch party with supporters.
Las Vegan Gale Cerel, 62, said her precinct site was "crazy, insane" with the scramble for check-ins. Her precinct split delegates 6-6.
Regardless of the Nevada outcome, she said she felt good about Sanders' chances going forward.
"Bernie speaks the words I've wanted to hear my entire life," Cerel said. "He's all about taking care of people's basic needs. If we do that, think of how we can innovate."
The caucus was seen as a test of durability for Clinton, a former secretary of state, U.S. senator from New York and wife of former President Bill Clinton, and Sanders, an independent senator who caucuses with Democratic senators.
The Clinton campaign established a presence in Nevada in early 2015, months before Sanders began making inroads in the state.
Nevada is a different kind of state with a much more diverse group of voters than Iowa and New Hampshire.
Both sides reached out to Latino voters in Nevada. Nearly 28 percent of the state is Hispanic, according to 2014 census figures.
Reuters cited entrance polls showing Sanders lost among black voters, by 22 percent to 76 percent, while winning among Hispanics, 53 percent to 45 percent.
In New Hampshire, the site of Sanders' first win in the presidential nomination contests, just 3.3 percent of the population is Hispanic and the state is 94 percent white.
Clinton was looking at Nevada for much-needed momentum — and found it.
Las Vegas resident Jeff Eggelston walked into the Palace Ballroom at Caesars for the caucus day event for Clinton wearing red pants and a navy blue blazer embellished with stars. He's been a Clinton supporter since 2008.
"I feel that she's by far the most experienced person for the job," he said. "She did a lot as first lady; she wasn't just the president's wife."
Eggelston said he supports Clinton due to her focus on the economy — specifically building the middle class — as well as social and equal rights, and foreign policy.
"She's fought so hard for this, and this is a huge thing for Nevada," he said of Clinton's caucus win. "A win's a win but it's not over after today. Bernie having come so close today will only help him gain supporters."
Nevada Republicans will caucus Tuesday.
While Democrats caucused in Nevada, Republicans in South Carolina picked Republican Donald Trump in the first-in-the-South primary, according to CNN projections. And Republican Jeb Bush pulled out of the presidential race.
— Review-Journal writers Bethany Barnes, Adelaide Chen, Matthew Crowley and Ann Friedman contributed to this report. Contact Ben Botkin at bbotkin@reviewjournal.com or 702-387-2904. Find him on Twitter: @BenBotkin1