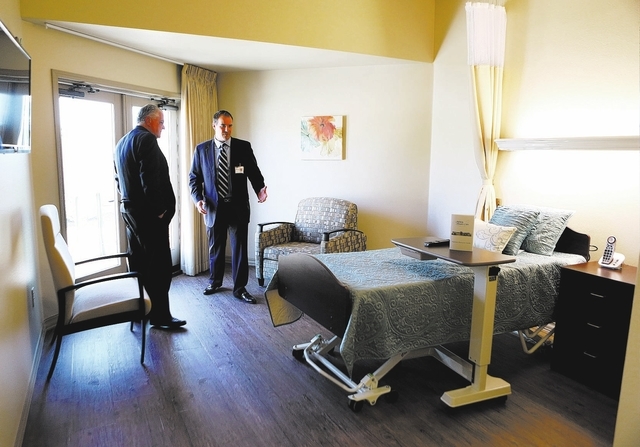 After nearly three years of planning, Infinity Hospice Care added a new facility to its family.
The business, which was originally at 7251 W. Charleston Blvd., opened a new 12-bed, inpatient facility at 6330 S. Jones Blvd. in August.
"It was and still is a huge financial commitment," said president Mary Bertram, "but I feel very honored that I am able to provide this kind of care."
According to Bertram, the inpatient facility offers a homey atmosphere. The rooms and hallways are full of natural light, medical equipment is hidden, and a tranquility garden out back allows patients to look at native plants and flowers.
"Most patients want to be treated at home," Bertram said, "but when home is not enough, we try to make this their home away from home. We want them to be as comfortable as possible."
The facility also caters to patients' families. A family room allows children to play and "feel normal." Patients and visitors can eat home-cooked meals in the family dining room, and individuals can reflect in the chapel.
"I've never designed something so advanced and state of the art," Bertram said, "but I know what they want and what they need."
Bertram received her bachelor's degree in nursing and became a certified nurse in critical care before transitioning into hospice care in 1989. She said she never looked back after that.
"It's very rewarding to be able to go into someone's home and put your arms around the whole situation and know you are going to be able to take care of them," she said. "Other than being a mother and a wife, this is the most rewarding work I've ever done."
In 2007, she started Infinity Hospice Care in Phoenix. Her sons Darren and Brian later joined the company.
"When I started in hospice, I fell in love with it so much that I thought it should be available to anyone regardless of where they lived," Bertram said. "I wanted to reach out and meet an unserved need."
Bertram soon opened locations in Las Vegas, Carson City and Pahrump.
"We want to raise the standard of hospice care in the communities that we serve," Bertram said.
Patients are admitted into hospice care when their prognosis is limited, according to Bertram.
"I believe when cure is no longer an option, hospice can be the best form of care available," she said. "When someone is facing a serious illness and they're no longer being treated aggressively, they still have lots of needs."
Infinity Hospice Care offers medical, spiritual and psycho-social care, including medications, supplies, equipment and visiting to inpatients and outpatients.
According to Katherine Weyandt, vice president of operations, outpatients are seen at their home once or twice a week.
During the visits, patients may receive care from a nurse, physician, social worker, chaplain or volunteer.
"All our care is patient- and family-centered," Weyandt said. "We tailor to their needs and goals.
"Once they're admitted, we review the medications, recommend changes and order medical equipment. Then we schedule visits with our staff."
Weyandt started with hospice care right out of nursing school. She stumbled into it by chance but stayed by choice.
"I liked the ability to really sit and care for the patient and family as a whole," she said. "I really felt like I was making a difference in their lives instead of just pushing pills at them."
In 2007, Weyandt joined Infinity Hospice Care and helped Bertram get the facility licensed and accredited.
"To me, it's like the gold standard for a hospice to have it's own inpatient unit because you can really give the highest quality of care in your own setting," Weyandt said. "The most common comment we hear is, 'We wish we knew about you sooner.' "
In addition to medical treatment, Infinity Hospice Care provides patients with spiritual care.
Staff counselors act as liaisons for religious patients to provide them with services from the community.
"We're all nondenominational," said Dee Williams, spiritual counselor. "We don't try to convert the beliefs of our patients. That's not the purpose of spiritual care."
Spiritual care is pertinent not only for religious patients. Counselors help all patients reminisce and accept the limitations of life.
"I can tell you that we're all nonjudgmental listeners," Williams said. "We provide a lot of active and reflective listening, and we try to help patients on the path of wholeness."
According to Williams, the center also provides care for families during the patient's illness and creates a bereavement plan after the patient passes away.
"We help them cope with the crisis that is going on in their lives," Williams said. "After the patient transitions, we call the family within the first 72 hours and check on them for the first few months."
Williams has worked at Infinity Hospice Care for six years. Before becoming part of the staff, she volunteered with hospices through her church.
"Working with seniors is not only something I enjoy, but they're my passion," she said. "My world becomes theirs, and it's just a joy to see them interact."
For more information, visit infinityhospicecare.com or call 702-880-7002.
Contact Southwest/Spring Valley View reporter Caitlyn Belcher at cbelcher@viewnews.com or 702-383-0403.