Nonprofit trains service dogs in tribute to mother's unborn son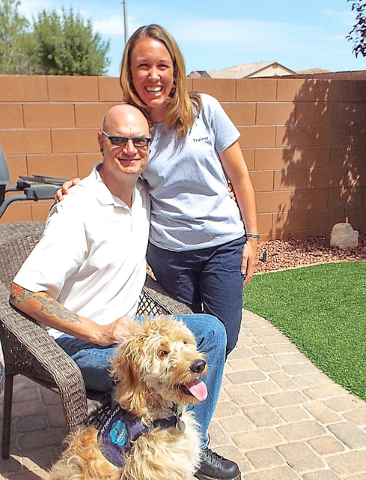 Stephanie Gerken's home in the Mountain's Edge community is not a lonely place. Two birds are singing, and two dogs are vying for attention.
Five-month-old Madelyn and 1-year-old Addyson are playing, napping, eating or smiling, and Gerken is answering phone calls and emails about her organization, Michael's Angel Paws.
Communication is an important part of Gerken's life. She has a degree in communications. She also completed a two-year degree in exotic animal training and management and had six weeks of specialty training related to service dogs.
Gerken moved to Las Vegas in 2006 to follow her husband, Bryce, while they were engaged. She completed her studies and worked as a dog trainer for four years before becoming pregnant for the second time; her first pregnancy ended in a miscarriage. She and her husband were excited as her pregnancy went into the second trimester.
Then came the news: the child inside, whom they had named Michael Charles Gerken, had multiple severe medical issues, so many that if he had survived, he never would have left the hospital. The couple decided to terminate the pregnancy. That was Sept. 13, 2011.
After that, Stephanie decided to use her training and do something in Michael's name. She formed a service-dog training organization called Michael's Angel Paws. She hired two dog trainers, Chandra Vail and Karen Harburdo, and put the word out that a new nonprofit was in Las Vegas dedicated to providing service dogs to individuals who needed them.
At about the same time, Stephanie and her husband learned she was pregnant again, and 13 months later, their second daughter was born. Now Gerken says life couldn't be better.
Bryce is stage manager for the showroom at the South Point, 9777 Las Vegas Blvd. South, and typically works nights. Bryce being home during the day gives Stephanie time to meet with clients.
"Bryce is a great father, and I'm doing what I love on all fronts," Stephanie said. "Our angel son Michael is teaching us new things every day."
Her organization trains service dogs to meet a client's needs, and each client is different. The canine companions can serve as hearing alert dogs, seizure and diabetic-alert dogs, dogs that assist individuals in wheelchairs and dogs that help people with psychological issues.
"Some clients take charge of a dog as a puppy and participate in the training of the dog," Stephanie explained.
She said training begins with younger dogs and typically takes about two years.
Among the organization's current clients is Anthony White, retired from the U.S. Marine Corps and diagnosed with post-traumatic stress disorder.
White is training his dog Summit, a goldendoodle, which is a mix of golden retriever and poodle. White has been training Summit since he was brought to the his home at 12 weeks old, two days before last Christmas.
The training of dog and handler involves Harbundo coming to White's home or to a public place once a week to work on obedience skills or help handler and dog confront various public situations, such as shopping, visiting medical offices, attending movies and meeting other dogs.
"In my case, Summit is not a pet; he's a companion," White said.
Another term for the dog is "battle buddy," Stephanie said.
White's wife, Toni, calls Summit and her husband "a match made in heaven." She said Summit has already made a significant difference in terms of her husband's sociability.
White discovered the program through the Veterans Administration, and his progress has been such that his medications have been reduced.
The cost of Summit's two years of training is being borne by Jewish War Veterans Post 65 in Henderson, where the Whites live. Military recipients pay $1,500 for the training while nonmilitary recipients pay $2,500. However, it costs Michael's Angel Paws $25,000 to train a dog.
White is one of 20 Michael's Angel Paws clients. Five dogs have graduated from the program and received their permanent service dog vests. The graduates are required to complete a series of final tests.
Stephanie and her trainers said they receive small salaries, with funds coming from donations, client fees and income generated when the trainers participate in community training classes for dogs.
"I have a great staff and board of directors," Stephanie said. "We are all dedicated to our mission, and that includes fundraising. Our goal is to obtain our own dog-training facility."
For more information about Michael's Angel Paws, call 562-355-0240 or visit michaelsangelpaws.org.