North Las Vegas Neighborhood News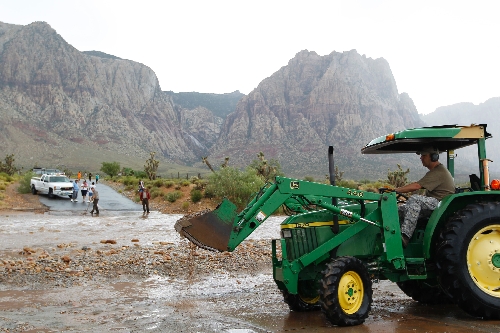 NORTH LAS VEGAS CITY COUNCIL CANVASSES ELECTION RESULTS
The North Las Vegas City Council canvassed its June 7 election results per a court order at a special July 14 meeting. Also on the agenda was the scheduled swearing in of Wade Wagner, who won the election by one vote, and the issuance of the election certificate. However, a district court judge issued a temporary restraining order on behalf of candidate Richard Cherchio, which stopped the council from going through with either agenda item. Neither Wagner or Cherchio were present for the meeting.
NORTH LAS VEGAS SPECIAL WARD 4 ELECTION CANCELED
As of press time, the special Ward 4 election scheduled for today had been canceled by a district court judge July 8. The judge also ruled that the North Las Vegas City Council must canvass its election results in the Ward 4 race and declare dentist Wade Wagner the winner.
An ineligible voter was allowed to cast a ballot in Precinct 4306 on June 7. Wagner had defeated incumbent Councilman Richard Cherchio by one vote in that election. Precinct 4306 runs from Cheyenne Avenue to Alexander Road and from Revere Street to approximately Interstate 15. Only 110 people in the precinct voted. There are 1,248 eligible voters in the ward . Despite losing the election, Cherchio won in that precinct 56 to 54.
NORTH LAS VEGAS PLANNING COMMISSION ELECTS NEW CHAIRMAN
The North Las Vegas Planning Commission elected Commissioner Steve Brown as chairman during its July 13 meeting. The former chairman, Commissioner Dilip Trivedi, will now serve as vice chairman. Both positions are one-year terms. The commission's next meeting is scheduled for 6 p.m. Aug. 10 at City Hall, 2200 Civic Center Drive. For more information, or to get a copy of the agenda, visit online at cityofnorthlasvegas.com.
NORTH LAS VEGAS CITY COUNCIL
SCHEDULED TO MEET WEDNESDAY
The North Las Vegas City Council is scheduled to meet at 6 p.m. Wednesday at City Hall, 2200 Civic Center Drive. The city staff is expected to present the council with a plan detailing $8.6 million in cuts to the fiscal year 2012 budget. For more information about the council, its meetings or to get an advance copy of the agenda, visit cityofnorthlasvegas.com and click on "Meetings and Agendas."
NORTH LAS VEGAS ACTING CITY ATTORNEY vaskov RESIGNS
Acting City Attorney Nicholas Vaskov resigned July 7, citing the city's "current political environment," according to the Las Vegas Review-Journal. Vaskov supervised a staff of 19 and was managing several high-profile cases on behalf of the financially strapped city. In a three-sentence resignation letter, Vaskov said he could "no longer effectively serve and defend the interests of the city and its citizens" because of the political environment.
NORTH LAS VEGAS CHAMBER BOWLING TOURNAMENT SLATED FOR TEXAS STATION
From 1 to 4 p.m. Friday, the Small Business Advisory Board is scheduled to host the North Las Vegas Chamber of Commerce's inaugural bowling tournament at Star Lanes Bowling Center inside Texas Station, 2101 Texas Star Lane. Registration and networking begins at noon. The tournament and awards ceremony will follow. There will be four bowlers per lane with three games, 8 Tap Bowling, Standard Bowling and Wacky Bowling. Awards will be given in all three games.
Registration for members is $20 for a single bowler and $80 for a foursome if prepaid by Wednesday. For non-members, fees are $25 per bowler and $100 for a foursome prepaid by Wednesday. Otherwise, fees are $35 per bowler or $140 per foursome. Tournament entry fees include three games, a bowling ball, shoes and lunch.
For more information, visit northlasvegaschamber.com or call
642-9595.
24-Hour Radiothon to benefit
The Caring Place
"The 24-Hour Radiothon," beginning at 10 a.m. Friday, is set to be broadcast from the Palms, 4321 W. Flamingo Road.
The event will benefit The Caring Place, a local nonprofit organization dedicated to easing the journey of those affected by cancer. Local and national sports and entertainment celebrities along with ESPN Radio 1100/98.9 have confirmed their participation. ESPN Radio listeners and others from around the country will have the opportunity to bid for a one-hour co-hosting spot with one or more of the participating celebrities, with most opening bids beginning at $100. Online bids can be placed at wearelv.com, with all proceeds benefiting The Caring Place.
A cocktail reception for the Sportsperson of the Year award will take place from 6:30 to 8:30 p.m., providing guests an opportunity to mingle with celebrities and sports figures. Tickets to the event are $75 per person or $600 for a table of 10, and can be purchased by calling 871-7333.
ALIANTE LIBRARY BOOK CLUB MEETING SCHEDULED FOR JULY 26
The Aliante Library Book Club is scheduled to meet from 7 to 8 p.m. July 26 to discuss author James Collins' "Beginner's Greek," and from 7 to 8 p.m. Aug. 30 to discuss author Markus Zusak's "The Book Thief."
For more information, visit cityofnorthlasvegas.com or call
839-2980.
NORTH LAS VEGAS LIBRARY LEGO CLUB SCHEDULED TO MEET JULY 27
The North Las Vegas Library, 2300 Civic Center Drive, is scheduled to get out the Legos for children of all ages to show off their creative abilities on the last Wednesday of each month.
Jigsaw puzzles also are provided. No registration is required.
The group is scheduled to meet from 5:30 to 7 p.m. July 27 and Aug. 31.
For more information, visit nlvld.org or call 633-1070.
BABY ITEMS NEEDED FOR MILITARY FAMILIES
Cannery Casino Resorts is teaming with Operation Showers of Appreciation to host a large baby shower for local military moms. Often military wives and enlistees come to Southern Nevada as part of a relocation where they're away from family and friends. Others are pregnant while their spouse may be serving overseas. Anyone can drop off new baby items, clothing and diapers at the valet area at any Cannery Casino Resorts property, including the Cannery Casino, 2121 E. Craig Road. Donations will be accepted through Saturday. About 100 expectant or recent mothers will be presented with the gifts during a shower planned for July 30 at the Eastside Cannery, 5255 Boulder Highway. For more information, call 507-5900.
ALIANTE LIBRARY STORY TIME SCHEDULED
The Baby Goose Story Time drop-in program is scheduled for 11 a.m. Thursdays through July 26.
Teddy Bear Time for Two's & Three's is scheduled for 1 p.m. Wednesdays through July 27.
The "One World, Many Stories" Summer Story Time is scheduled for 2 p.m. Saturdays through July 30.
For more information about library events, visit the community calendar at cityofnorthlasvegas.com or nlvld.org or call 839-2980.
montandon BOYS & GIRLS CLUB HOSTING SUMMER PROGRAMS
The Montandon Boys & Girls Club, 2627 Donna St., is scheduled to host a summer program that includes art, crafts, sports and computers, among other activities. Registration is available throughout the summer for an annual membership fee. Hours are 7 a.m. to 6 p.m. Monday through Friday.
The program runs through Aug. 26.
The cost is $20 for 6- to 12-year-olds and $10 for 13- to 18-year-olds. Financial assistance is available for those who qualify.
A free lunch will be provided.
For more information about the programs, call 564-7378.
HOME IMPROVEMENT PROJECTS COULD REQUIRE BUILDING PERMITS
Building permits are required by the city of North Las Vegas for residential and commercial improvement, maintenance or new construction projects. The online building safety page offers tools and guidelines to navigate the permitting process, track inspections and more.
To find out if a home or business site improvement project requires a permit, call the city's building division at 633-1550 or 633-1536 or visit the division offices at 2240 Civic Center Drive.
REGISTRATION, PASSES FOR SALE
AT AREA YMCAS, INCLUDING SKYVIEW
Day camp registrations and sales of Sizzlin' Summer passes, which provide four months of unlimited YMCA access, are available at the Bill & Lillie Heinrich YMCA, 4141 Meadows Lane, and the SkyView YMCA, 3050 E. Centennial Parkway in North Las Vegas.
Y day camp for kids 5 to 15 runs from 9 a.m. to 4 p.m. through Aug. 26. The Y provides free care for campers from 7 a.m. to 9 a.m. and 4 p.m. to 6 p.m. Camp includes weekly themes and activities such as swimming, arts and crafts, group games and character development activities. Weekly camp prices range from about $100 to $200, and a daily drop-in rate of $45 is offered. No one is turned away because of an inability to pay. Financial assistance is available.
Sizzlin' Summer passes are on sale through July. The pass is good for four months from the purchase date and can be used at all locations.
North Las Vegas Police Department office hours change
The lobby hours for both North Las Vegas Police Departments — the south command at 1301 E. Lake Mead Blvd. and the north command at 3755 W. Washburn Ave. — changed June 13 to match those of City Hall.
Residents will be able to file station reports from 8 a.m. to 6 p.m. Monday through Thursday only. Residents typically file station reports for non-emergency incidents including, but not limited to: burglary, destruction of private property, theft, harassing phone calls, injury to their vehicle and lost or missing property.
In order to reduce wait time, residents are encouraged to utilize the ePolice Reporting system available online at cityofnorthlasvegas.com. Response to emergency calls for service by uniformed police officers remains unaffected.
Nominations being taken
for Caregiver of the Year
Homewatch CareGivers, a provider of full-service home care, will be accepting nominations for its National Family Caregiver of the Year award through July 29.
Semifinalists will win a yearlong scholarship to Homewatch CareGivers University, where they can take various courses in gaining an educational foundation, skill set and confidence to continue improving their caregiving. The semifinalists also will be given eight hours of respite care. One winner will be awarded the $10,000 grand prize and the title of National Family Caregiver of the Year.
For more information on the program, visit homewatchcaregivers.com.