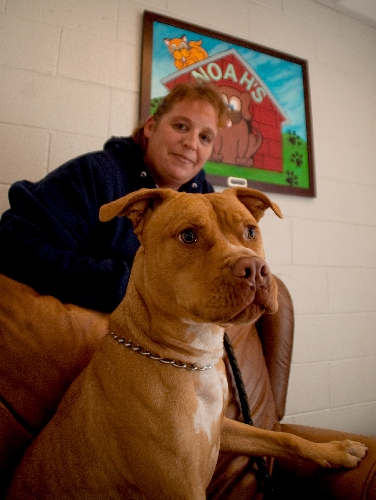 As the trailblazing pal to man's best friend — and his feline counterparts — nears its fourth anniversary, Noah's Animal House invites the community to celebrate by paying it forward.
The nonprofit organization is a division of the Shade Tree shelter for women and children escaping domestic violence and a refuge for dogs and cats caught in the cross hairs. Noah's Animal House started providing temporary boarding and support four years ago so families could maintain the warmth and support of their pet during a time of unrest, said founder Staci Columbo.
To celebrate its fourth anniversary, a charity event is planned from 6 to 9 p.m. Oct. 20 at Body English nightclub inside the Hard Rock Hotel, 4455 Paradise Road.
The event will include food, a live auction and recognition of the "Top Dog" honoree, said Las Vegas gaming executive and philanthropist Diana Bennett of The Bennett Foundation, who donated $1 million to Noah's Animal House.
Tickets are $100 each. Sponsorship packages also are available.
In addition to recognizing special people who have helped Noah's Animal House support more than 500 dogs in four years, a family that benefited from its helping hand is scheduled to speak.
April Monteleone, mother of a 16-year-old and 6-year-old and a red nose American Pitbull named Cowboy, is slated to serve as one of those voices.
The Las Vegas woman found her family unit rocked last May as she fled a violent situation.
Her children were temporarily in foster care, and the friend tasked with caring for Cowboy abandoned the 17-month-old dog.
"It was very heartbreaking," she said. "We got him during a difficult time for our family when we lost everything, and I refused for him to be lost, also."
The Shade Tree helped Monteleone bring her children home and find Cowboy. He was located in a hotel room, abandoned and sick.
"When I got him, he looked like a different dog," she said. "I have a picture of when he came out the door and jumped into my arms."
It is estimated that Cowboy was without food or water for five days, but Noah's Animal House brought Cowboy back to health. He has been at the facility since, and Monteleone and her children visit Cowboy daily.
"Now he has his own bus pass so we can take him wherever," she joked.
Cowboy's return has helped heal her son, who has bipolar disorder and depression.
"Cowboy calms him down and keeps him grounded," Monteleone said. "He's very therapeutic for him."
Stories like Monteleone's fuel Columbo, she said.
"We feel that the service really breaks down the final barrier for women to leave abusive relationships," she said.
Columbo was a member of the board of directors for the Shade Tree and she saw a need in victims who doubled as pet owners.
Many times shelters turn away pets, and their owners turn around and leave or hide the animal in their car, Columbo said.
She started fostering the women's cats and dogs until the 30-kennel facility in the North Las Vegas shelter was complete. Columbo said her research showed there wasn't anything like Noah's Animal House to serve as a model.
"We had no other comparisons to understand the scope and size of the need," she said. "Now, we could easily double the size of the operation and still feel the need."
Since Noah's Animal House opened, Columbo knows about 40 similar operations started around the country.
"That's the best part of all," she said.
The facility offers indoor and outdoor play areas for the pets and two Cuddle Rooms — or living room settings for families to spend quality time with their pet. Columbo said the rooms are quite popular.
"The women and children can sit down and have normalcy and family time in a comfortable environment," she said.
About 120 dogs and cats are fostered in the facility each year. The families' trust in Noah's Animal House still astounds Columbo, she said.
"I am in awe of their ability to trust when one of the greatest impacts of domestic violence is a breakdown of trust," she said. "I'm in awe of them for wanting to move forward so strongly that they took the courageous first steps."
The anniversary party is open to the public.
For more information, call 385-0072 or visit noahslasvegas.org.
Contact Centennial and North Las Vegas View reporter Maggie Lillis at mlillis@viewnews.com or 477-3839.