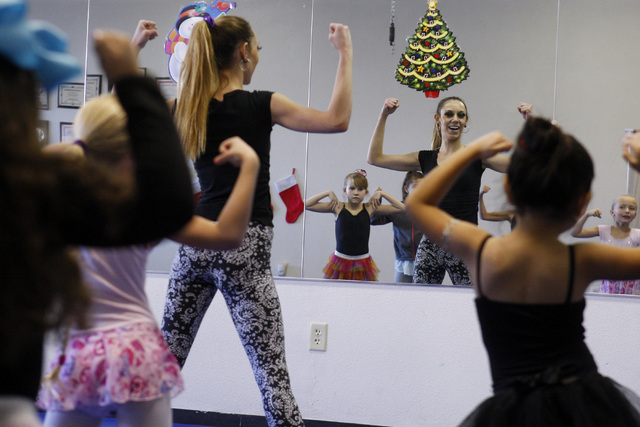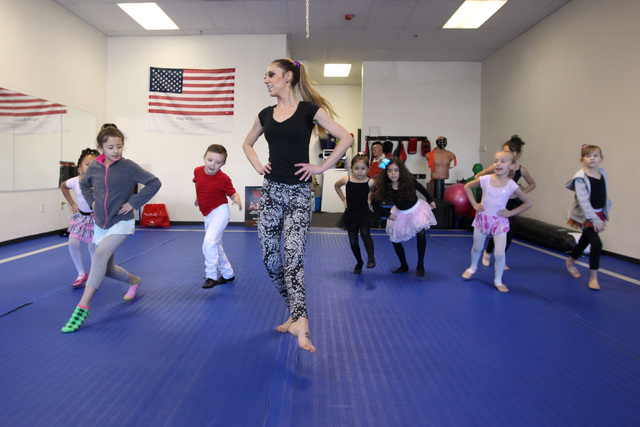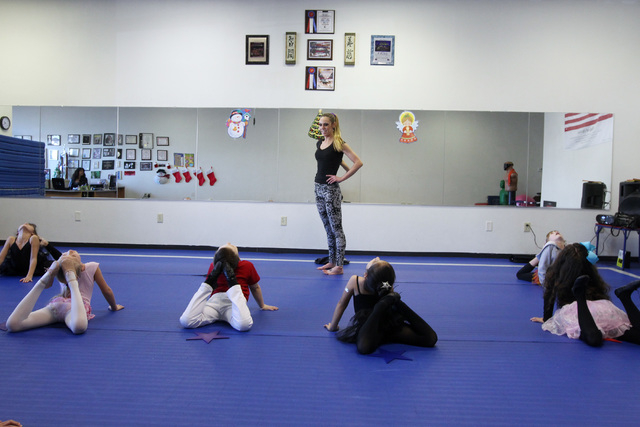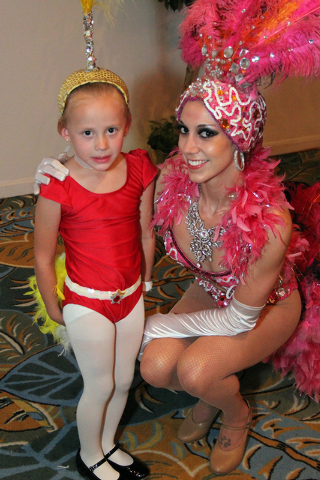 One of the greatest icons of Las Vegas is the showgirl, dancing with perfect poise and precision in glamorous attire.
For some people, it's an aspiration to be on stage in front of hundreds, but for others, such as 23-year-old Las Vegas native Mallory Huck, it's a reality. She doesn't only live the dream; she shares the limelight with her class of 3- to 8-year-old students.
"When I first performed as a showgirl, I was very nervous but excited," Huck said. "It was the life I've always wanted. I wanted to give my students a chance to be on stage. I remember how excited I was when I started performing, so I can only imagine my students' excitement."
The Centennial Hills resident started dancing jazz, ballet and tap at the age of 3.
She began teaching in 2006 at recreation centers and academies in the Las Vegas Valley. After taking a pilates class at the College of Southern Nevada in 2009 with professional dancer and showgirl Julie Langille, she became captivated by the beauty and glamour of showgirls. A year later, Langille reconnected with her because she needed a dancer to fill in for one of her showgirls. Huck was quick to say yes.
"Mallory is a great dancer," Langille said. "As a showgirl, you need to be flexible, poised and graceful, and she is just that. That's why she was the perfect fit."
In order to keep the glitzy yet family friendly side of Las Vegas alive, Langille formed the group Showgirls Across America, which performed its weekly "The Showgirl Show" in 2013 at the former hotel and casino, the Clarion.
Huck wanted to give her students a chance to shine, so while teaching at the Silver Mesa Recreation Center in North Las Vegas, Huck partnered with Langille to create a special section of the show where the children perform to the song, "What Does Las Vegas Say?", a parody of the 2013 hit song "What Does the Fox Say?"
"Everybody should have the opportunity as a child to learn what it's like to be on stage in the entertainment capital of the world that is Las Vegas," Langille said. "We want to inspire children to dream big and create a positive experience for them."
The duo created age-appropriate attire for Huck's students, complete with a headdress.
"Ms. Mallory has an amazing connection with the kids," said Tracie Shearer, mother of 4-year-old Brooklyn, who has been Huck's student for two years. "Brooklyn loved performing on stage. She was nervous at first, but it was an amazing opportunity to be in a classic Vegas show."
The show finished its contract before the casino closed in September. Showgirls Across America is looking for a new venue and continues to perform at local events and for charities.
This year, Huck is renting a space inside the Bob Chaney Karate Studio, 4990 W. Craig Road, No. 13, to teach jazz and ballet from 2 to 3 p.m. to 6- to 10-year-olds and from 3 to 4 p.m. to 3- to 5-year-olds every Saturday.
Classes are $30 for four-week sessions or $45 for two children.
The next session starts Feb. 7.
Those who are interested in performing on stage will be divided into teams by Huck. She said she plans to get her students on stage again once Showgirls Across America finds a new venue.
"We can't wait to start the show again," Huck said. "We want to bring the classy and family-friendly entertainment of the showgirls back to Vegas. Showgirls have always been a true icon of the city."
For more information, visit showgirlsshowlv.com or call Huck at 702-408-4969.
Contact North View reporter Sandy Lopez at slopez@viewnews.com or 702-383-4686. Find her on Twitter: @JournalismSandy.