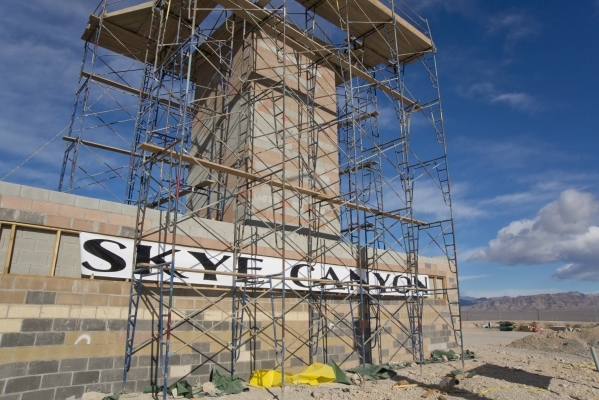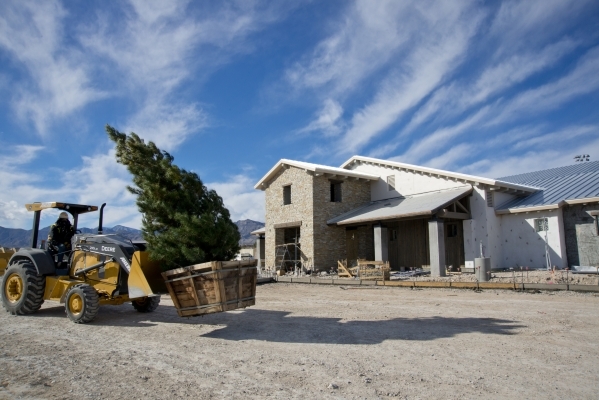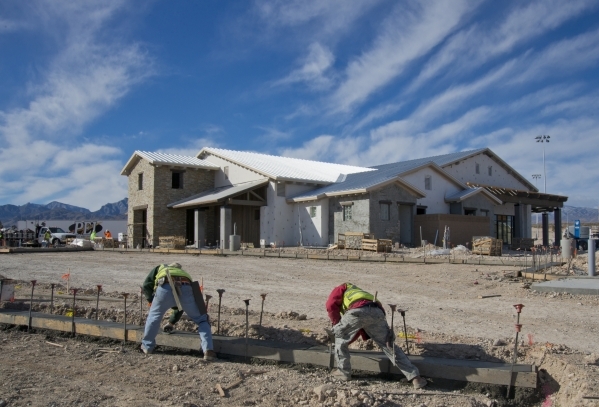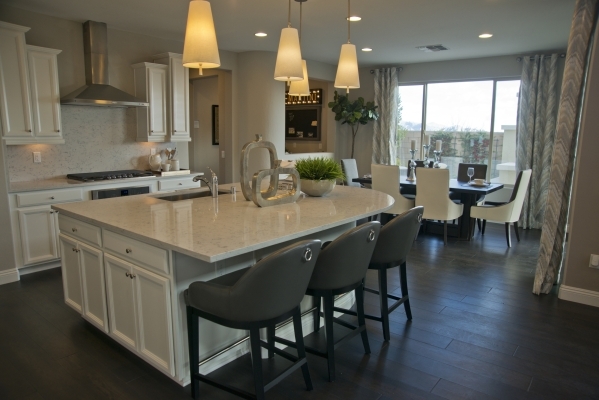 The 2016 new year brings new objectives and newfound hope for most individuals.
Sure, the University of Scranton found last year that just 8 percent of people achieve their New Year's goals, but city officials in Las Vegas and North Las Vegas remain optimistic that the new year will bring exciting possibilities.
MOVING FORWARD IN THE NORTHWEST
In Centennial Hills, Las Vegas Mayor Pro Tem and Ward 6 City Councilman Steve Ross said he has two goals in mind for 2016: increasing public safety and winning the primary election in June for Clark County Commissioner.
"I want to create a better relationship between the city and Clark County," Ross said of his running for commissioner.
His personal goals as Ward 6 councilman are to increase public safety by working with the Northwest Area Command to cultivate the relationship between Ward 6 and Clark County Sheriff Joseph Lombardo.
In terms of city development, Ross said he continues to work on the College of Southern Nevada's northwest campus, the Tule Springs Fossil Beds National Monument and the Skye Canyon master-planned community, which is set to host its grand opening in early March, according to Veronica Kawka, spokeswoman for Skye Canyon.
Another area of focus is the Centennial Bowl Interchange project.
"Next year, I'm going to focus on what we can do traffic-wise," Ross said. "That's why it's important that people support fuel revenue indexing in the 2016 voter ballot. That's the biggest job creator in Southern Nevada — about 9,000 jobs are created as a result. The amount of economic impact that fuel revenue indexing has is significant. It puts families to work and food back on the table."
All in all, Ross said he's pleased with the way development is headed. He said that with the recent announcement that Centennial Hills Hospital, 6900 N. Durango Drive, is set to add 36 rooms, and with prospective grocery stores such as Sprouts setting their sights on the northwest, "the future looks good." He said a grocery store also is planned for the neighborhood shopping center in the Providence master-planned community.
"My passion for job creation will never stop," Ross said. "I'll always work on helping the little guy and small businesses survive."
He encourages people to subscribe to his newsletter by sending a text to 66866.
"There are great plans for Centennial Hills, and I'm so excited about leaving 2015 on a high note in regards to economic development and motivation," Ross added.
In Clark County, District C County Commissioner Larry Brown also plans to put public safety high on his list.
"The biggest feedback I got this year from a lot of constituents was on overall public safety in the northwest," Brown said. "That's our police, our fire. We had almost no new hirings during the recession, so as we come out of the recession, I think it's critically important that we strengthen public safety … People want to feel safe in their homes, in their schools, in their businesses, and there's so much craziness in the world today that it's important we prioritize keeping our community safe."
Though the area continues to play host to heavy construction, progress is being made. Improvements to the 215 Beltway are set to start south of Lone Mountain Road and go behind Centennial Parkway just short of Hualapai Way, creating a seamless roadway free of traffic stops for that area. Improvements include an at-grade interchange at Lone Mountain and Ann roads, and a dedicated overpass planned for Centennial Parkway.
The construction will likely take two to 2½ years, Brown said.
On the upside of things, Brown said he is happy to see the expansion of Lone Mountain Regional Park, 9825 W. Lone Mountain Road, nearly completed with the trail open and the equestrian park set to open in mid-February. A new 10-foot-wide hiking trail encircling the base of the Lone Mountain and leading to the summit is also now open.
Construction is continuing on other new amenities that are coming to the park, including an equestrian practice arena, a children's equestrian-themed playground, a picnic pavilion and a horse trailer parking area, scheduled for completion in late February 2016.
"I think we are in the midst of a recovery, and I would put the cautionary note that it's going to be slow," Brown said. "We, the county government, see signs that the private sector is starting to move forward again with job creation and a lot of public infrastructure being done and businesses doing better. … We still have tremendous demands, and we are not seeing the revenue that we saw in 2008. We're just starting to see our revenue stabilize, so it's certainly forced us to do more with less and identify ways to partner more with the private sector and identify ways we can be more efficient, living within our own means. That's another one of our challenges as far as the overall picture: keeping an eye on our budget."
NORTH LAS VEGAS LOOKS TO CONTINUE RECOVERY
In no other place did the recession hit hardest than in North Las Vegas. City officials continue to work to get the city back on its feet and see 2016 as a pivotal year.
"My goal next year is to continue turning the financial corner and employ people in key areas that we have thus far had to keep vacated," said North Las Vegas Mayor John Lee. "That way, we can produce better results for the city in our ability to make sure we give businesses and residents the services they deserve."
With Faraday Future, an electric car company, coming to North Las Vegas, Lee expects to start producing additional income from such services within a year.
He also hopes that the recently acquired 150 acres that adjoin the North Las Vegas VA Medical Center, 6900 N. Pecos Road, will lead to medical development and jobs.
"Of course, the world is in flux right now, and I look for our national leaders to remember that while Wall Street may be very important to them, Main Street is the backbone of our country," Lee said. "The community that we live in is as equally important as the business that's done here."
Lee plans to invest more time and money into the downtown corridor and urban areas.
"I'd personally like to see the intersection of the city gateway off Lake Mead Boulevard and more urban parts of the community start getting some of the attention that they need," Lee said. "I'm working with Councilwoman (Pamela) Goynes-Brown and Councilman (Isaac) Barron to see that the inner part of the city isn't left behind. It's happened too many times before."
"My own personal wish is that the residents of North Las Vegas see their property values start increasing again," Lee added.
North Las Vegas now has all of its pools open in the summer, its libraries up to full capacity, and Craig Ranch Regional Park, 628 W. Craig Road, gives residents a chance to experience cultural events, said Lee, for which he is grateful.
"In 2016, residents can expect to see their mayor and city council fully committed to overcome the last of remnants of the Great Recession," Lee said. "We're not quitting until we can write this city off financially … which we'll hopefully do by the end of next year. Every two months, we're going to be making another announcement about another company coming to our community."
Peter Guidry, a North Las Vegas Air Force veteran and co-founder of the nonprofit Forgotten Not Gone, an organization dedicated to helping to save veterans and their families from the destruction of suicide, said he hopes the city shifts its focus on veterans' mental and physical well-being in 2016.
"With Clark County housing the largest veteran population and one of the largest suicide rates in the country, why aren't there any resources for veterans after hours?", Guidry asked. "There is too much lack of support for locally founded nonprofits in preference for the nationally corporate-established brands."
Hoping to strengthen those type of community ties next year is North Las Vegas Police Chief Alex Perez.
"High on my list is community engagement," Perez said. "We're trying to start programs to get community input and establish community relationships."
Perez has plans to host Latino Community Connection, a program aimed to facilitate, increase and reinforce communication between the Spanish-speaking residents of North Las Vegas, in January. He also hopes to host a Chief Advisory Council in the middle of 2016 to create additional community engagement.
"I'm excited about these types of grass-root approaches that open honest communication between the police department and North Las Vegas residents," Perez said.
Like most city officials, Perez hopes 2016 brings continual growth in the business and residential sectors. He believes the fact that the police department is hiring again brings "newfound energy into the department" and is a good sign of progress, which he believes will continue into the new year.
"The mayor and city officials are doing an exceptional job in getting us going in the right direction," Perez said. "We've had an exciting couple of weeks, and I really feel that this is only the beginning."
— To reach North View reporter Sandy Lopez, email slopez@viewnews.com or call 702-383-4686. Find her on Twitter: @JournalismSandy Summerlin reporter Jan Hogan contributed to this story.